Wednesday, November 15th, 2017
Officials: Field fix timeline unknown
Baseball season starts in March, councilman notes
By William Kincaid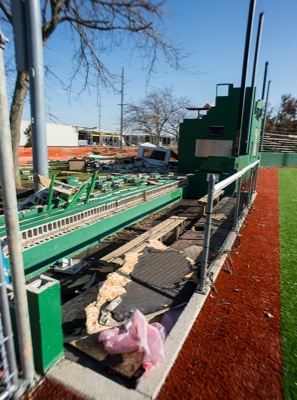 CELINA - City administrators still don't know how much it will cost to repair tornado-ravaged Montgomery Field or when the work will happen.
City councilman Myron Buxton at this week's meeting asked administrators when the field will be restored, pointing out that the Wright State University-Lake Campus baseball team's season usually starts in March.
The Celina High School baseball team and Lakers share the field in the spring, and the Grand Lake Mariners and Celina ACME team call it home in the summer.
"I assume we're going to do it soon. I assume it's under insurance," Buxton said.
Mayor Jeff Hazel said city safety service director Tom Hitchcock recently showed the city's insurance representatives all the city-owned areas that had been damaged during the Nov. 5 EF2 tornado. They also took measurements and photos of the damage.
"We're still in that determination phase of what they will cover or not," Hazel said. "I agree we'd like to have it done as soon as possible, but our first step is we have to wait to have that determination from the insurance."
Buxton then asked if the city would meet with the stakeholders to keep them updated.
"Honestly, (what) it does come back down to is the entity that writes the check probably is going to have the most say-so," Hazel replied. "It doesn't mean that we won't contact (the teams) and say, 'hey, here's what's going on.' "
City officials will use whatever settlement they get from the insurance company to rebuild the field, Hazel said.
"I don't think that decision's been fully made yet," he said.
Celina baseball coach Andy Mikesell last week met with Grand Lake Mariners board member Bill Miller at Montgomery Field to view the tornado's aftermath.
Most of the fence was bent or torn to pieces. A pair of light poles were snapped in two. The press box-concession building was decimated with the top part being torn away. The first base-visitors dugout was literally blown away. The bleachers were in shambles, and the batting cage was hard hit.
"We have talked about the long-term plans, trying to redo the dugout, the concession stand is a mess, and the press box is tiny," Mikesell told the newspaper last week. "Do we want to go ahead and put up a nice building that contains all three of those? But if that's the case, what's our time frame going to be on that? What kind of return are we going to get back from insurance?"
Hazel on Monday night also revealed that "an entity" has expressed interest in helping to pay for a larger concession stand and press box. He offered no specific details.
However, the new artificial turf, completed just a few weeks ago, emerged unscathed after the storm.
"Because it went from the south to the north," Hazel said. "We had just finished that turf laying, the $172,000. That was just laid down, and it did not get touched. It didn't roll up at all, so we were very fortunate of that."
Buxton also asked how much city officials intend to charge Montgomery Field users next year.
"The fee schedule is another ordinance that we need to bring you for probably the next meeting or two meetings from now to start discussing," Hitchcock said.
Hazel in March assured Montgomery Field users that increased rental fees would not take effect until 2018, giving them time to prepare for any increase.
In February, city administrators discussed hiking the fee for Montgomery Field from $50 to $230 a day.
Public works superintendent Joe Wolfe had said the suggested increase reflects the cost of maintaining the Eastview Park field.