Friday, November 17th, 2017
Stores weather closings
St. Marys managers confident
By Sydney Albert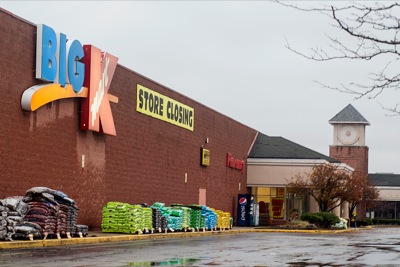 ST. MARYS - Despite the closing of big-box stores Kmart and JCPenney, managers of other businesses in St. Marys Square are mostly confident the loss of foot traffic brought in by those chains won't affect them.
Alyssa Ruppert is a manager at Maurices, a women's clothing chain that neighbors the now-empty space that once housed JCPenney. She said she hasn't noticed any change in business since the department store left earlier this year, and she doesn't expect the closure of Kmart on the other side of the square to affect the store either.
Managers of businesses that offer unique goods or services that neither JCPenney or Kmart offered, such as K9to5 Doggy Daycare or Epic Vapes, were unperturbed, saying customers would continue to seek them out as always.
K9to5 manager Kylee Walterbusch said the shop's patrons tended to find the business online or in other ways and weren't just drawn in as foot traffic drawn by the larger businesses. She believed other businesses might feel a difference once Kmart is gone but thought customers would still be drawn to the area without the department store.
"I think it (limits) the amount of traffic in the parking lot, but you still have all these restaurants around that are still bringing people over this way," Walterbusch said.
Austin Howe, manager of Epic Vapes, said while fewer new customers may notice them when they are initially drawn in, he doesn't expect a noticeable change overall.
"The stuff we sell here, they don't really sell it over at Kmart or JCPenney," Howe said.
Hallmark manager Cathy Miars, however, is worried.
"With Penneys gone, that was a big store at one end, and now with Kmart gone, I think it's going to have a pretty hard effect on us. There's not going to be that much to bring the people out to this location anymore," she said. "As far as us, I just don't know how it's going to affect us. I know it's going to affect us, but as far as how much, I don't know."
Foot traffic from larger stores can offer free advertising for stores such as Hallmark that aren't a destination by themselves.
"It just helps bring traffic in. You know, like people come to the lake in the summer and they run out, and even if they're not real familiar with the area they run out to the plaza. They run in at Kmart for pop, paper plates, stuff like that, they see Hallmark and say 'Oh, I'll stop in here.' But those options aren't going to be open anymore."
Mike Herzfeld from Reisenfeld and Co. is handling the marketing of the empty spaces at St. Marys Square. He said he has reached out to several retailers about filling the storefronts, but nothing concrete has been settled.