Friday, November 24th, 2017
Redskins of '92 bring back title
Curtain Call
By Robb Hemmelgarn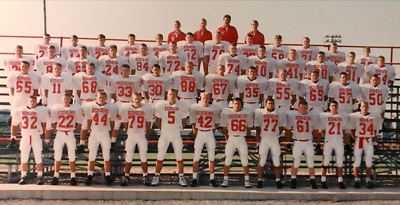 For the past quarter-century, anytime that Tom Clune, Tom Hoying, Keith Buschur or Matt Liette get together, it doesn't take long for discussions to morph toward St. Henry's 1992 football season.
The four were all sophomores when the Redskins won their first state title in 1990, and they each held lofty expectations heading into their senior campaigns.
"I wouldn't say winning state was embedded in our thoughts, but we thoroughly understood that if we took care of our business on a daily basis that we would put ourselves into position to win," said Clune, a kicker/receiver in 1992. "Our coaches deserve most of the credit. They instilled the expectation to be responsible and to sacrifice for the team and kept us focused all season."
The Redskins opened the season with convincing triumphs over Miami East, Tiffin Calvert and Lima Central Catholic before dismantling Marion Local, 28-0. At 4-0, the stage was set for their battle with the unbeaten Minster Wildcats.
"Minster was very good at what they did. They had athletes all over the field," Clune said. "We knew they weren't going to beat us throwing the ball, but keeping their offense off the field wasn't going to be easy either. We knew we had to eliminate turnovers and execute when the opportunity presents itself."
The Redskins steamrolled to a 37-6 triumph over Minster, a victory which seemingly ignited them for the rest of the season.
"I don't recall the coaches doing anything special to prepare for the Minster game," said Hoying, a future Ohio State Buckeye who was first team All-Ohio as well as 1992 MAC Offensive Player of the Year. "We stayed diversified between the run and pass on offense and played great defense. I was surprised at the final score, but it wasn't easy. We played very well and controlled the game, but Minster played a very physical game. I think it was then that we all felt we could do something special as a group the rest of the season."
In their final five games of the regular season, head coach Tim Boeckman's crew averaged more than 40 points per game, and with an average margin of victory of more than 30 points, they finished 10-0 and claimed their second outright MAC championship in three years.
"We knew we could be successful that season and we knew the coaches felt the same," Buschur, a first-team All-MAC center, said. "Each game was a time to put that belief into our game plan and the coaches did an incredible job preparing us for victory each and every week."
The Redskins opened the Division V postseason with a rematch with seventh-ranked Minster, who hadn't lost since their early-October meeting in St. Henry. This time around, the Wildcats made things much more interesting as the only difference in the battle was a touchdown pass from Tom Hoying to Brad Nietfeld early in the third quarter as St. Henry held on for the 7-0 victory.
"We knew going into the game that Minster would have a chip on their shoulders, so we had mixed emotions about what to expect," Liette, a first team All-MAC offensive tackle and linebacker, pointed out. "It was a very cold night in Celina with a winter mix across the field which didn't play in our favor, but I feel our struggles that night strengthened our team as we learned to adjust and overcome."
The Redskins followed up in Weeks 12 and 13 with a pair of lopsided victories over Cedarville and Liberty Center to advance to the Division V state championship game against the top-ranked Newark Catholic Green Wave.
Before the MAC began dominating small-school football in Ohio, there were Newark Catholic and no one else. In the previous 17-years, the Green Wave had appeared in the state finals 11 times and won four straight titles from 1984-1987 as well as the gold trophy in 1991.
"They definitely had earned their reputation at the time. They were big, quick, strong and well-disciplined/coached," Liette, who led the MAC in tackles, recalled. "We knew we would have to utilize our strength and especially our quickness, in order to capture the win. Our coaches fed our excitement all week long with the visualization of bringing home another state title."
The tilt between the state's top two teams in Division V lived up to all of its hype as a defensive battle. Newark Catholic held a 3-0 lead with less than a minute to play in the first half, but a 57-yard punt return touchdown by Doug Speck and ensuing PAT by Clune, gave the Redskins a 7-3 lead at intermission. As it turned out, that was all of the scoring for either team the rest of the way. Defenses prevailed in the second half, including interceptions by Liette, Nietfeld and Mark Gels to seal the victory and cap off an unscathed 14-0 season.
"Looking back at that season, it was very special – we got along so well on and off the field and our coaches were great leaders," concluded Buschur. "We played with a lot of heart and passion for the game and had great attitudes – that was our recipe for success just as it is in all sports as well as in business and in life."