Tuesday, November 28th, 2017
One person airlifted after 2-vehicle crash
By Sydney Albert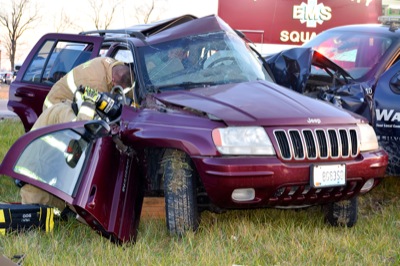 CELINA - Two people were injured, including one who was airlifted to St. Rita's Medical Center, Lima, as a result of a crash at the intersection of state routes 29 and 118 at about 4:42 p.m. Monday.
Teresa Burckholter, 55, Celina, was driving northbound in a Jeep Grand Cherokee on Burkettsville-St. Henry Road, according to Mercer County Sheriff's Capt. Doug Timmerman. She stopped at a stop sign before pulling out in front of David Klosterman, who was eastbound on State Route 29 in a pickup truck owned by the Wabash Mutual Telephone Co.
Both vehicles sustained disabling damage, with debris scattered across the roadway, he said.
Both Burckholter and Klosterman, 59, Celina, were taken to Mercer Health Community Hospital by Celina EMS. Timmerman did not have information on Klosterman's condition but said Burckholter had later been airlifted to St. Rita's. Her condition was not available at press time this morning. A representative of Community Hospital said this morning that Klosterman was not listed as a patient.
Timmerman said speeding and alcohol did not appear to play a part in the accident but noted Klosterman was not wearing a seatbelt.