Friday, December 1st, 2017
Free throws lift Riders past Rangers
By Dave Stilwell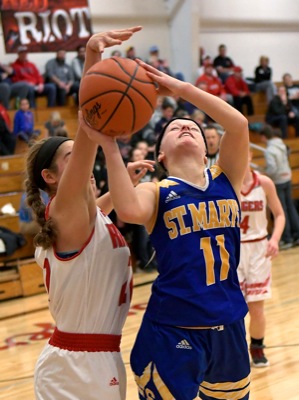 NEW KNOXVILLE - St. Marys senior Sydney Cisco hit a pair of free throws with 5.9 seconds left to cap a wild fourth quarter and secure a 53-51 Roughrider victory over New Knoxville on Thursday night at The Barn.
The final two minutes of the game saw three lead changes, two ties and four different players foul out of the game.
"We're so happy to come out of this gym with a win," St. Marys coach Jonathan Burke said. "It's really hard to play here and I thought we did a good job of handling the pressure down the stretch."
Sydney Cisco opened the fourth quarter scoring with a three-pointer to give St. Marys a 42-35 lead.
The Rangers chipped away with a couple inside buckets from sophomore Megan Jurosic and then pulled to within one, 45-44, on a three-pointer from Erin Scott with 4:32 left to play.
New Knoxville added a basket from Morgan Leffel and two free throws from Jurosic to take a 48-45 lead with 2:02 left.
However, on the Riders' next trip down the floor, Jurosic picked up her fifth foul, taking her team-high 17 points and nine rebounds to the bench. Two seconds later Scott was whistled for her fifth foul as she raced for a loose ball following a St. Marys free throw.
Sydney Cisco hit a pair of three throws at the 1:13 mark to tie the game at 48, but Tayler Doty scored with 57 seconds left to regain the lead for the Rangers.
Sydney Cisco answered at the other end with her fifth three-pointer of the game to give the Roughriders a 51-50 lead.
With 22.4 seconds left Mele picked up her fifth foul, which sent Leffel to the free throw line. She was unable to connect on two opportunities. However, Doty grabbed the second miss and was fouled by St. Marys' Madi Howell, who exited the game with her fifth personal.
Doty made one of two charity tosses to tie the game at 51 with 21 seconds on the clock.
St. Marys appeared to be working for the last shot, but turned over the ball with 11.5 seconds left to play. The Riders got a steal on the ensuing inbounds pass under their own basket and Syd Cisco was fouled in the act of shooting.
After sinking both free throws for the 53-51 lead, the Rangers worked the ball down the floor for a 27-foot three-point heave that came up short.
"It was tough with our two best scorers having fouled out of the game," New Knoxville coach Tim Hegemier said. "But credit the girls that were still in there. They were able to score. We just couldn't stop St. Marys from scoring."
St. Marys led at every quarter break and opened the second half with the first four points to build the biggest lead of the game at 28-20.
New Knoxville answered with a 13-2 run to take a 33-30 lead, but St. Marys responded with a 9-2 run at the end of the third quarter for a 39-35 edge heading into the final eight minutes.
Cisco scored 10 of her game-high 27 points in the fourth quarter.
"Syd gave us the leadership we needed," Burke said. "She stepped up and really rallied everybody together, and when we had our two bigs foul out, she took charge, and we really needed that."
Howell added 14 points and 10 rebounds for St. Marys before she fouled out.
Leffel and Doty backed up Jurosic with 10 points each for New Knoxville.
St. Marys, now 2-1 on the season, hosts Lima Central Catholic on Tuesday and then opens the Western Buckeye League season at Wapakoneta next Thursday.
New Knoxville, 1-2, hosts Houston on Tuesday and then opens the Midwest Athletic Conference season at home next Thursday against Fort Recovery.