Saturday, December 2nd, 2017
Running away with the title
Huelsman's three TDs gives Minster its third state football championship
By Colin Foster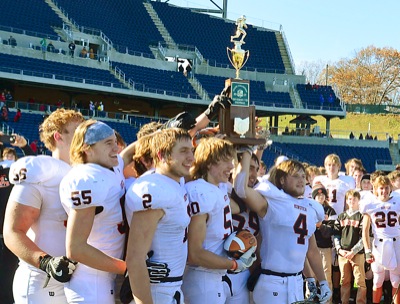 CANTON - Minster peaked at the right time.
On Friday, the Wildcats completed their climb to the peak of Division VII football with a 32-7 victory over Cuyahoga Heights in the state championship game at Tom Benson Hall of Fame Stadium.
Jared Huelsman rushed for 221 yards and tied a Division VII championship game record with three rushing touchdowns as the orange and black scored 25 unanswered points over the final three quarters to claim their second title in four years and the third in program history.
"Today was a display of who our seniors are and what they stand for," Minster coach Geron Stokes said. "I just thought everyone in attendance saw the resiliency, the toughness, the amount of care that they had for one another on those red-zone stops, just the way they were competing. They were having fun, and they slap fives more than any team in the country. I thought it was a cool display of who these guys are."
Minster outgained Cuyahoga Heights 398 yards to 246 and seized the momentum with two long touchdown drives to end the first half. The Wildcats collected four interceptions on the day, including three in the second half when Cuyahoga Heights was trying to get back into the game.
The Wildcat defense came up with a clutch stop after an early turnover by the offense.
Austin Brown had a pass slip through his fingers and into the hands of Alex Studniarz on Minster's second offensive play.
"We just told him right after that to bounce back," Huelsman said. "It doesn't matter. Forget it. It's in the past. You can't do anything about it."
Brown soon made up for it when he picked off Ryan Polk on a fourth-down pass attempt into the end zone.
"Their defense came out and stopped us right away, which I thought was a really key part of the game," Cuyahoga Heights coach Al Martin said.
Back on offense, Brown caught a 44-yard strike from Huelsman to put the Wildcats in front 7-0 with 7:07 left in the first.
The Redskins tied the game 3 1/2 minutes later. They had three third-down conversions on a 10-play, 64-yard drive, which was capped by a 28-yard touchdown pass from Polk to Dylan Drummond.
But all the subsequent highlights belonged to Minster.
The Wildcats started a series at their own 6-yard line with just more than 10 minutes on the clock before half. They covered the distance in 14 plays and took more than five minutes off the clock. Minster used a series of quick-hit passes to Brown and dumps to Isaac Schmiesing in the flats to move the chains. Huelsman put the Cats in front 13-7 with a 3-yard touchdown run.
Huelsman did a lot more running before the half was over.
After forcing a Cuyahoga Heights' punt, Minster received the ball on its own 17 with 3:17 left before halftime. Huelsman rushed for 66 yards and added a 17-yard completion to Brown. Huelsman scored a 3-yard touchdown on a fourth-and-goal as the half ended.
"That offensive line comes in and a lot of those guys don't play on the other side of the ball," Martin said. "Our guys are playing on offense, and they've got to dig in on defense. They are big and strong. I thought they wore on us a little bit in the first half. I thought we came back and responded a little better in the second half, but yeah, it was a concern for sure when they took it 170 yards on those two drives."
Schmiesing intercepted Polk on the third play of the second half. Moments later, Huelsman slipped past four or five defenders and into the end zone from 9 yards out with 8:06 left in the third to tie the title game TD record.
"It's just a credit to the O-line for giving me holes and just letting me run," Huelsman said.
"He's a really good football player," Martin said of Huelsman. "He's a really confident kid and really talented. But that's a really good offensive line. Everybody wants to run behind that offensive line."
The Redskins worked their way into Minster territory twice more in the second half, but Schmiesing and Alex Lehmkuhl ended the drives with interceptions.
Schmiesing added a 3-yard touchdown with 3:41 remaining in the game. Defensively, he finished with eight tackles and two interceptions.
"Isaac Schmiesing was a terrible free safety in the middle of the year," Stokes said. "He had two picks today and a ton of tackles. Good things happen to really good people. Look all over the world, it happens all the time. It's not an accident or a coincidence that they played their best football at the end of the year. All these guys are really high-character people."
Huelsman completed 12-of-20 passes for 141 yards. Brown had seven catches for 92 yards. Jacob Hoying led the defense with nine tackles. August and Anthony Boehnlein added seven apiece.
The Wildcats had also won football titles in 1989 and 2014. Friday's victory marked the 32nd state championship in Minster history.
"It's just a credit to our work ethic and our practices this year," said Lehmkuhl, who finished with three catches for 19 yards.
"It never gets old," Schmiesing added.