Monday, December 4th, 2017
Flyer Nation witnesses domination
No. 1 Marion Local routs No. 2 Kirtland to win 10th state championship
By Colin Foster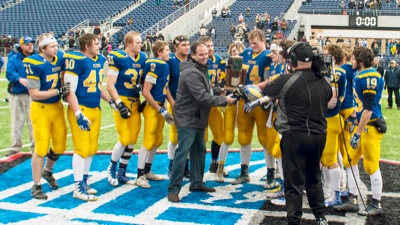 CANTON - Marion Local fans had to sit through nail-biters in the Division VI state championship during the last two seasons.
Not this time.
Flyer Nation and the rest of the 8,062 attendees witnessed domination on Saturday - as the No. 1 Flyers left zero doubt as to who was the best in Division VI with a 34-11 dismantling of No. 2 Kirtland at Tom Benson Hall of Fame Stadium in Canton.
"We had the goal all week that we were going to come over here and play our best game of the season," Marion Local coach Tim Goodwin said. "The last two years we really haven't done that. I obviously haven't watched the film yet, but I think offensively, all phases, defensively, all phases, and we also had some really nice returns on punt return. I think we did (play our best), and it feels really, really good to play your best game of the year in Week 15."
Marion Local (15-0), which held off Cuyahoga Heights for a 21-17 victory in last year's title game, won its sixth championship in seven seasons and 10th in program history, moving into sole possession of second place all-time in OHSAA history behind Cleveland St. Ignatius (11).
The Hornets (14-1) were the last team to defeat the Flyers in the playoffs, having come from behind to defeat them in the 2015 title game, 22-20. And yes, that loss was a topic of conversation leading up to Saturday's game.
"Playing against a team that beat you and kind of embarrassed your program, it's a great motivator," said Marion Local senior lineman John Dirksen, who sat out the 2016 title game with an injury. "When you've got the lead, you just got to keep building it and then have fun with your teammates. It's the last game and you want to go out on top."
The game-opening drive by Kirtland began at the 34-yard line and took more than six minutes off the clock. The Hornets ran 13 plays (12 runs, one pass) before being forced to settle for a 33-yard field goal by Dylan Aquila.
The Flyers were forced to punt on their first drive, but the punt was muffed by Kirtland and recovered by Caleb Bruns at the Hornet 40.
Nate Bruns connected with Nick Tangeman for a 22-yard gain on a wheel route to begin the series. Marion Local went 40 yards in seven plays. Nolan Habodasz finished it off by punching in from one yard out and then added a two-point conversion run to put his team in front 8-3 with 1:05 left in the first.
Then it was Tangeman time.
Marion Local got the ball at its own 47 after a punt early in the second quarter. Bruns found his favorite target for a 26-yard pickup on the first play. Tangeman followed with a 14-yard run on a counter play. The six-play drive ended in the end zone, with Tangeman making a diving 10-yard TD catch at the 9:30 mark of the quarter.
"He was just big and he knew how to go up and get the ball," Kirtland defensive back Mike Zeuli said of Tangeman. "It was nothing we were doing wrong in coverage. It was just him out-jumping us and getting it."
And the Flyers extended their lead to 20-3 by halftime with an 11-play, 80-yard drive. Habodasz, Alex Partington and Jack Buening all had big runs and the Bruns-Tangeman combo struck again with a 31-yard gain. Buening punched into the paydirt from three yards out with 2:38 to go in the half.
Kirtland traveled 51 yards on its opening series but gained just 46 yards on the next three and had to punt each time.
"We got in the locker room and talked about what was going good and what was going wrong," said Ben Homan, who finished with six tackles in the win. "We knew we couldn't give up because we knew they weren't going to. So we had to play until there wasn't time left on the clock."
Marion Local marched to the five-yard line on the opening drive of the second half before an offensive pass interference call set up third-and-goal from the 20. Little did it matter. Bruns scrambled to avoid the rush and threw on the run to Tangeman, who made a sliding catch in the end zone to cap a 12-play, 59-yard drive that spanned 4 minutes and 34 seconds.
"Nick did a good job out there," Bruns said. "I was throwing the ball to him and he was making plays. You know, the one play, he skied up to get the ball. He did a good job and the line did a good job of protecting me and protecting the running backs. It's pretty easy when the line's protecting you like that."
Partington added a one-yard TD run with 11:30 left in the contest to cue the running clock.
Dylan Fulco had a six-yard touchdown pass to Joey Torok with 2:29 remaining in the game for Kirtland, which was outgained 331-184 on the day.
"Their size was probably the biggest thing that hurt our defense," Kirtland coach Tiger LaVerde said.
The Hornets, who had been held below 30 points just twice this year, scored a season low. Their pair of All-Ohio running backs, Took and Jake Neibecker, combined for just 130 rushing yards on 27 carries.
"We did play them two years ago and we found that after we see a team, typically the second time we play them, our defense plays a lot better," Goodwin said. "That was important for us to go through that. I believe that football is all about matchups. Our defense was big and stout this year, whereas two years ago we weren't. It was just a tough matchup. We just didn't have those kids, you know, like these linebackers, like these defensive linemen. We were much thinner two years ago."
Bruns completed 10-of-15 passes for 178 yards. Tangeman hauled in six catches for 120 yards. Buening led a balanced rushing attack with nine carries for 46 yards, Partington added 11 carries for 44 yards and Habodasz contributed 12 totes for 33 yards.
Marion converted 11-of-13 third downs as it surpassed the 30-point mark for the fourth time in five playoff games.
"Nate extended a couple of those and made a couple of really good throws. He's really done that the last three weeks, just moving the chains one way or another. I said 'Stretch that 6-foot-6 frame out there and get a first down one way or another. I don't care.' He did really well against Coldwater, last week against Liberty-Benton and again today."
Most importantly, the Flyers avenged the 2015 loss to Kirtland - the one that got away. And they couldn't have been much more dominant.
"It was a big one for all of us players, but I think it definitely means a lot to coach Goodwin," senior Tyler Mescher said. "I mean, that loss two years ago, we had the lead going into half - a pretty decent lead. And just coming out in that second half and getting beat. It was a tough loss."
Added Goodwin: "When you get it rolling like we have ... you have talent in the right spots. You have coaches that have worked together for a decade. The parents know what the expectations are. You just have to keep working it. The players buy in and work extremely hard in the weight room so when it's their turn, they're ready to go."