Monday, January 15th, 2018
Indians defeated on late basket
Longtime coach Al Souder honored
By Colin Foster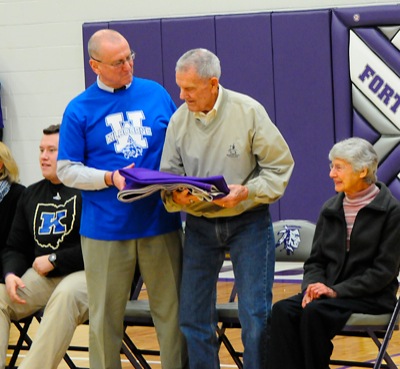 FORT RECOVERY - Al Souder won many games during his 15-year tenure as Fort Recovery's boys basketball coach, including the 1971 Class A state championship.
On Saturday night, his son, Tom, was a winner in Fort Recovery, too.
Tom Souder returned to his hometown on Saturday night as coach of Worthington Kilbourne. His team scored its second win of the season in dramatic fashion.
Thomas Wilson collected an offensive rebound and scored with 4.5 seconds remaining to lift Worthington Kilbourne to a 55-54 victory over Fort Recovery at Fort Site Fieldhouse.
"We've lost a lot of games like that this year," Tom Souder said. "I just told our team we didn't play particularly well. We played well enough. We got a bounce when we needed to get a bounce."
Al Souder was honored before the game with a video tribute from the 1971 run and also presented with the state championship banner, drawing a standing ovation from the packed house on hand.
"This is such a special place - always has been, always will be, just because of the people that are here," Tom Souder said. "I love coming back."
Fort Recovery let a 14-point first quarter lead slip away as it fell to 6-4 on the season. The Indians led by double digits early in the third quarter, but the Wolves continued battling and took their first lead of the game late in the fourth quarter.
"I thought for most of the game our effort was great," Fort Recovery coach Mike Bashore said. "We just have to find a way to finish games and not let our foot off the gas pedal. Hats off to Worthington. They never got rattled. They just kept battling and found a way to win."
Payton Jutte scored 10 points in the first quarter, finishing it off with a three-pointer just before time expired. The Indians held Worthington Kilbourne scoreless for the first 4 1/2 minutes and held a 16-4 advantage by the end.
But Fort Recovery hit a dry spell in the second quarter, finishing 3-of-12 shooting. And Kilbourne made a run to get back in the game by halftime, outscoring the Indians 18-10 in the frame to make it a 26-22 game.
The Indians again opened up a double-digit lead in the third, using their pressure defense to create turnovers and capitalize early on. Jutte and Ryan Braun had six points apiece in the quarter, but Worthington Kilbourne cut the lead to 42-35 by the end.
Fort Recovery's Grant Knapke and Kilbourne's Zach Wilson traded multiple baskets to start the fourth. Soon, Kilbourne cut the lead to single digits on a trey by Brayden Carter with just more than five minutes to play. A three-pointer by Jake Hirschy made the score 52-51 and then Thomas Wilson made a layup in traffic to give Kilbourne its first lead with 1:40 remaining.
Kilbourne tried stalling with the lead, but Clay Schmitz came up with a steal and called a timeout as he fell to the floor. Jutte was fouled while going up for a layup with 20.2 seconds left and knocked down both free throws to give Fort Recovery a 54-53 lead.
With time winding down, Kilbourne's Brayden Carter drove to the paint and missed a layup, but Thomas Carter was there for the rebound and go-ahead basket with 4.5 seconds left. The Indians missed a long three-point try as time expired to give Tom Souder a win in his return to Fort Recovery.
"I had two tapes on (Fort Recovery)," Souder said. "They play hard. The Jutte kid is a handful. The Braun kid is a load inside. They've got a nice team. They kind of defer to Jutte, and that's what we were kind of counting on because he had to be tired and he was going to have to take a long shot. I said just keep him in front and make him work and make him take a tough one."
Hirschy led the Wolves with 13 points and Zach Wilson added 10.
Jutte had a game-high 25 points for Fort Recovery. Braun netted 11 and Knapke 10.