Saturday, February 24th, 2018
R.I.P.: Scout secures marker for ex-mayor
Leader served during 1880s
By Sydney Albert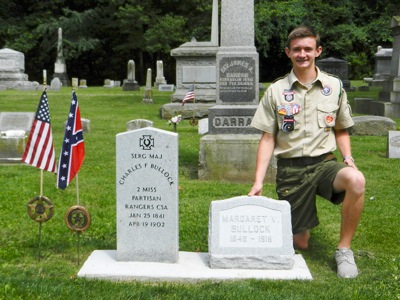 ST. MARYS - After more than a century, a former St. Marys mayor has finally received a headstone thanks to the efforts of Michael Jaros, a Memorial High School senior.
Jaros has been working to secure a headstone for former mayor Charles Francis Bullock for two and a half years as part of a required community improvement project to attain the rank of Eagle Scout. While searching for a possible project, he heard that a past St. Marys mayor had been buried in an unmarked grave in Elm Grove Cemetery and decided to investigate further.
Bullock was elected mayor in 1882 and served for four years and was widely popular, according to Jaros. Despite this, however, he and his wife, Margaret Baldwin, were long buried in unmarked graves. Cemetery board president Craig Noble says it might have been for Bullock's protection and that Bullock's friends and family may have feared his grave would be vandalized. Despite endearing himself to the local population, Bullock had served the Confederate Army in the Civil War.
Born in Macon, Georgia, in 1841, Bullock served in the Confederate Army for a little over four years. After the war, he studied and practiced law in Memphis, Tennessee, before eventually accepting a position as paymaster and general overseer of construction of the Columbus, Hocking Valley and Toledo Railway. He eventually found his way to St. Marys in 1878, and was elected mayor four years later. He died in 1902.
In life, Bullock was so popular he even managed to befriend old foes. A post of the Grand Army of the Republic, a group of Union veterans, made Bullock a commemorative cane for being the "most popular candidate for mayor" in 1882.
Jaros was able to secure headstones for both Bullock and his wife thanks to local donors and the Department of Veterans Affairs, with the VA actually paying for Bullock's headstone.
"We thought we had to get next of kin, like permission, so we were researching his genealogy, trying to find next of kin. We even went all the way to Fort Wayne to get genealogy records," Jaros said.
Later, a VA representative told them the requirements had been changed, and all that was needed was permission from the cemetery superintendent. Jaros had already been in contact with Noble, who he said had long been on board with the project. Jaros estimated Bullock's headstone cost between $800 and $1,000, while his wife's headstone cost $600.
After so long, Jaros' project is complete and he has since been promoted to the rank of Eagle Scout.
"I'm just glad I got a good head start on it, because if not, I mean, I don't know where I'd be," he said, laughing.