Monday, March 12th, 2018
Raffle to help Minster family fight son's rare skin disease
Boy to receive bone marrow transplant
By Ed Gebert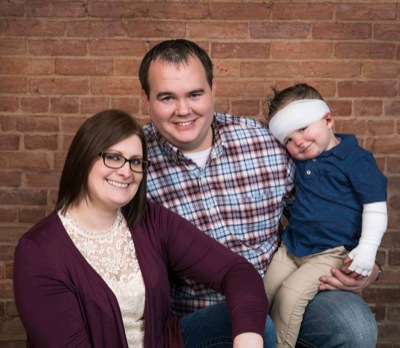 MINSTER - A Minster family plan to raffle off a 2018 GMC Sierra 1500 truck and several cash prizes to raise funds to help cover medical expenses for their 2-year-old son's upcoming bone marrow transplant.
Eli Monnier, son of Alex and Lindsay Monnier, was born with a recessive genetic condition, dystrophic epidermolysis bullosa, a genetic mutation that causes the connectors holding the layers of skin together not to adhere properly. As a result, friction or trauma to the skin can cause disruptions such as painful blisters or open wounds. Children who have EB are referred to as "butterfly children" because of the fragile nature of their skin.
"He was born with no skin on his feet, and when they were cleaning him up after birth, the skin literally just wiped right off of his hand, and when they suctioned out his mouth, they actually suctioned the skin out of his mouth," Lindsay Monnier said.
Eli was taken to the newborn intensive care unit, where he stayed for about three weeks. During that time his parents learned about the condition and how to properly care for and bandage his wounds.
The Monniers received Eli's genetic testing results about two months later and learned he had one of the most severe types of EB - recessive dystrophic. This type affects Eli's inner connective tissue along with his outer skin.
"It affects his entire GI tract," Lindsay Monnier said.
Eli gets blisters in his mouth simply from chewing, and bowel movements can be very painful for him. He now has a feeding tube. His mother said before the feeding tube, Eli was losing weight because he couldn't eat properly due to the trauma to his mouth.
Also, the areas of skin that are most problematic are his feet, shins, joints, right hand and the sides of his belly where his parents picked him up, she said.
Eli now is 21/2 and has grown to 30 pounds and 36 inches tall with the help of the feeding tube.
Lindsay Monnier said he is a joy to be around despite his troubles.
"He is generally a pretty happy kid, especially in public places," she said. "He is the friendliest person that you could possibly ever meet. He says 'hi' to everybody that walks by him, and he wants to give people hugs all the time. He's a very social, outgoing little butterfly boy."
EB has no cure, but a few medical trials are available to lessen its effects. Eli has been approved for a bone-marrow transplant at Masonic Children's Hospital at the University of Minnesota in Minneapolis. He and his mother will live there for about four months overall, preparing for the transplant, undergoing care and monitoring afterward. Alex Monnier will be the bone-marrow donor. He will spend at least a month in Minneapolis.
Lindsay Monnier had worked at Kettering Health Network and Upper Valley Medical Center but resigned to care for Eli. She has been invited to reapply for the job if and when she is ready to return. Alex Monnier works at First National Bank, New Bremen, but will take an unpaid leave of absence for the surgery.
The Monniers hope the raffle will cover some of their mounting travel and medical expenses and their reduced income. The drawing will be held online on May 3 or later, depending on ticket sales. The family wants to sell 1,400 tickets. They need to sell 700 just to break even. As of late last week, 550 had been sold.
The grand prize winner can take the truck or the $50,000 cash option. Cash prizes ranging from $500-$10,000 also will be given to second through 10th places.
Tickets are $100 each and can be purchased at all Minster Bank and Osgood State Bank locations, Schwieterman Pharmacy in Minster and Coldwater and many other area businesses. Interested buyers also can call Kim Emrick at 419-778-0256.