Tuesday, August 7th, 2018
Memorial to honor Vietnam vets
Wall built at New Bremen natural area
By Tom Stankard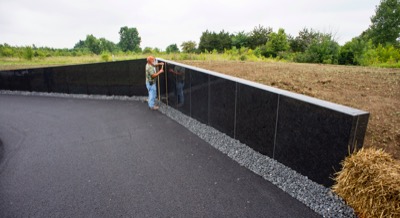 NEW BREMEN - A memorial honoring Vietnam War veterans is being constructed at the Kuenning-Dicke Natural Area.
The monument was designed by architect John Freytag of Sidney and is nearing completion after construction had begun in May. Freytag said he wanted it to make a statement and to be immediately recognizable. So he created a small-scale version of the famous black-granite memorial in Washington, D.C.
"When people walk up to it, they're going to recognize it and know what it is and know why it's there," he said.
But unlike the capital's memorial, the soldier's names won't be engraved into the granite, he said.
Instead, the New Bremen Foundation, which is funding the project through collected donations, is raising money to purchase a plaque that will accompany the memorial. The plaque is expected to be completed in six to eight weeks, foundation director Anna Rammel said.
Crown Equipment Corp. employees helped construct the monument, with each stone weighing about 400-600 pounds, Freytag said. The stones are sealed with black caulk to match.
Freytag also designed the Civil War and World War II memorials at the park, all honoring the Kuenning family's rich military history, Rammel said.
Brothers Tom Sr. and Bob Kuenning served in the Army and Navy, respectively, while Tom Kuenning Jr. served in the Air Force, Rammel noted.
The foundation hopes the memorials "provide a beautiful and quiet place for the community to remember their loved ones who also served," Rammel said.
Land for the park, which sits along the Miami-Erie Canal on the north side of the village, was donated by the Kuenning family to the New Bremen Foundation 13 years ago, Rammel wrote in an email.
The park includes 71 acres of wildlife protection and a peaceful site for outdoor recreation, according to the foundation's website. More than 800 trees have been planted there to spur the return of native plant and animal species. Within the park are 2.5 miles of walking trails and a three-acre lake.
Development of its infrastructure and the memorial are funded through donations.