Monday, October 8th, 2018
Bulldogs take over to beat Cavs 8-3
By Gary R. Rasberry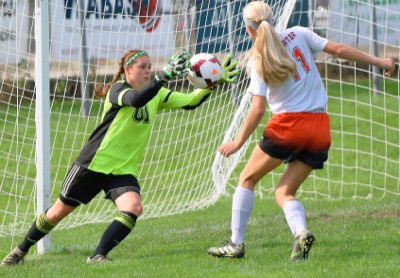 CELINA - Fifteen minutes into Saturday's girls' soccer match, Celina trailed Coldwater 2-0 after a pair of quick goals.
The Bulldogs took control over the final 65 minutes, tying the match at 3-3 by halftime and then scoring five goals in the second half to win the Mercer County Derby 8-3 over the Cavaliers at the soccer stadium.
Celina put pressure on Coldwater sophomore Elise Kramer, who had taken over this week in goal after senior Grace Bruns tore her ACL. The Bulldogs fired five shots at the goal early on, with Kramer making the saves on all five.
Coldwater, looking for its first-ever win over the county neighbor after having gone 0-7-1 the last eight matchups, had a couple shots early, but nearing the 25 1/2-minute mark, Ava Giere went to work, going on a breakaway and putting a shot past Celina netminder Kennedy Henry for the first goal. Thirty-six seconds later, Giere put in her own rebound to make it 2-0.
"We didn't start out very well," Celina coach Eric Gerker said. "Got to give Coldwater credit. They came out and surprised us with a few things we weren't prepared for."
Celina quickly responded. Mekenna Klingshirn put the Bulldogs in the ledger with a goal nearly 90 seconds after the last Coldwater goal. Reilly Cox followed with her first goal of the afternoon with a rebound shot with just under 20 minutes to play in the half. Three and a half minutes later, Cox scored again to put Celina up 3-2. Coldwater stopped the run with 10:45 to play in the half on Megan Sigler's goal to knot the score at 3-all at the half.
"Girls did a good job of gathering themselves and staying focused on what we were trying to do," Gerker said. "Once we got our passing game going, we were fine."
"They definitely picked up the pace and capitalized," said Coldwater coach Lisa Brackman. "We're dealing with injuries that have us low on numbers. It wasn't in our favor today."
The Bulldogs needed just 43 seconds to take the lead for good in the second half with Cox's third goal of the day. Play simmered for the next 17 minutes before Celina applied the coup de grâce over the final 21 1/2 minutes of play. Natalie Braun scored the first goal at 21:38 followed by Emily Braun at 12:56. Larisa Orick scored with 11:13 to play with Jena Wilson tacking on the final goal with just over five minutes remaining.
"I think we really wore them down in the second half," Gerker said. "We ran 23 girls at them today. We were putting a lot of pressure on them at the end of the first half and start of the second half."
Both teams are back in action on Tuesday. Celina (8-3-3) travels to state-ranked Shawnee for a WBL match while Coldwater (6-7-1) travels to Ottoville.