Thursday, January 10th, 2019
Friday Night Spotlight
Pair of Russians square off on Friday
Rosenbeck leads St. Henry against Francis, New Bremen
By Colin Foster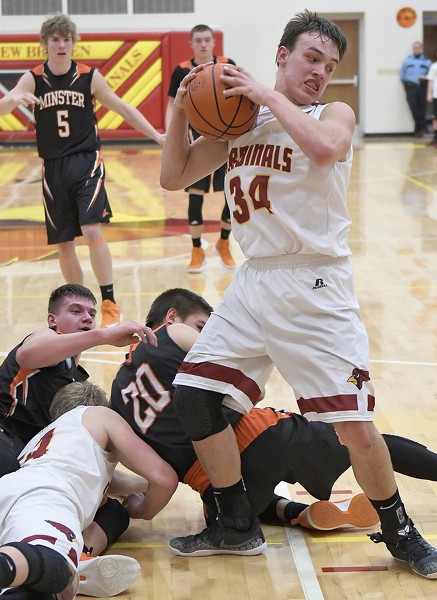 The Friday Night Spotlight Game of the Week is New Bremen at St. Henry.
But long ago, the opposing coaches shared the spotlight at Russia High School.
The first basketball chapter for both St. Henry coach Eric Rosenbeck and New Bremen's Brad Francis began at Claire C. Naveau Gymnasium in Russia around the turn of the century. Rosenbeck, then a sophomore, played for a Francis-led junior varsity team that finished 19-1. Over the next two years, Russia's varsity team had a successful run with Rosenbeck playing and Francis assisting head coach Paul Bremigan.
"I am looking forward to Friday," Rosenbeck said. "We went 19-1 together in his first JV year. We had a lot of success, and I see a lot of the same traits that he's instilling at New Bremen. I think (former New Bremen coach) (Adam) Dougherty did a really good job of getting the kids to play hard. Coach Francis has done a good job of getting the kids to continue to play hard and really work. As they grow on their fundamentals and skills, they're only going to get better."
A few seasons ago, Francis spent the year as an assistant under Rosenbeck. He then took the head coaching position at Houston before the opportunity to lead New Bremen presented itself.
"I learned a lot (at St. Henry)," Francis said. "I was with Paul (Bremigan) for 19 years at Russia. Being with Eric, I learned a lot. I use a lot of his thoughts and ideas. I learned a great deal. I enjoyed my time there greatly.
"It's going to be fun," Francis added. "It's not going to be weird. We had a scrimmage the other week with me and Bremmy and (current Russia coach Dave Borchers). It was very competitive, but it was a lot of fun. Me and Eric are both competitors. We'll shake hands before the game and we'll shake hands after the game. We'll be on opposite sides, but it'll be a lot of fun."
Now, to Friday's game.
St. Henry (7-2, 1-1 MAC) enters on a five-game winning streak in the series. New Bremen (4-4, 1-1) hasn't beaten St. Henry since Feb. 1, 2013. The Cardinals will be an underdog this year, too, as the Redskins enter with the top ranking in the Associated Press Division IV state poll.
That, however, doesn't mean St. Henry will take its opponent lightly. Rosenbeck said he was impressed with New Bremen's scrappiness, energy, rebounding and depth.
"The first thing that stands out with New Bremen is how hard they play," Rosenbeck said. "The kids really, really work for everything. Our No. 1 priority will be rebounding the basketball and limiting them to one shot as many times as possible. They really attack the glass, between (Brandon) Heitkamp and (Nolan) Bornhorst as well as a slew of other guys. They're very deep. They play nine, 10, 11 guys."
On the other side, Francis said he was very impressed with the state's top-ranked team. He knows it will take near-perfect execution to knock them off.
"They just don't have any lulls," Francis said. "They can shoot it. They can rebound it. They can defend. They are disciplined. They do a lot of things that good teams do. That's what it boils down to. They have experience. They have depth. They have height. They have speed and quickness. They have a lot of attributes that good teams have.
"It's going to take discipline and focus," Francis added. "Those are my two biggest stresses for this week. We've got to have great shot selection. In order to have great shot selection, we have to have great discipline."
St. Henry is led in scoring by Caden Niekamp (11.4 points per game) and Ethan Thieman (10.9 ppg). The Redskins were handed their first conference loss last Friday at Marion Local but rebounded with a 83-32 thumping of Bath the following night.
Nolan Bornhorst (9.2 ppg) and Patrick Wells (9.0 ppg) lead the Cardinals offensively. New Bremen split last weekend's contests, having lost to Versailles 49-34 before defeating Mississinawa Valley 47-30.
Other area games slated for Friday:
Celina at Bath. The Bulldogs (3-7, 1-1 WBL) enter this game on a six-game losing streak. Bath (1-9, 0-2) is coming off a 83-32 loss to St. Henry last Saturday.
Coldwater at Minster. The Wildcats (6-3, 1-1 MAC) enter on a three-game winning streak. Coldwater (4-6, 1-1) picked up its first MAC victory last Friday against Parkway and then lost to Shawnee the next evening.
Fort Recovery at Delphos St. John's. The Indians (6-4, 1-2 MAC) won their last contest on Payton Jutte's last-second 3-pointer from 30-feet away against Lincolnview. St. John's (3-3, 2-0) has won back-to-back games, having defeated New Knoxville on Friday and then Lima Central Catholic in their traditional Sunday afternoon rivalry game.
Marion Local at Parkway. The Flyers (4-3, 2-0 MAC) are ranked fifth in the first Associated Press Division IV state poll. They knocked off top-ranked St. Henry last week and then fell on Saturday to Anna, the fifth-ranked team in Division III. The Panthers (5-5, 0-2) have won three of four games, most recently defeating Lehman on Dylan Hughes' buzzer beater.
New Knoxville at Versailles. The Tigers (7-4, 2-1 MAC) have won four consecutive contests. The Rangers (2-7, 0-2) ended a four-game slide last Saturday with a 47-44 win over Ada.
Shawnee at St. Marys. Shawnee (10-1, 2-0 WBL), coached by former Roughrider Mark Triplett is in a three-way tie with Ottawa-Glandorf and Elida for the league lead. St. Marys (3-4, 0-2) is coming off back-to-back losses to Van Wert and Piqua but lost those games by a combined three points.