Friday, January 11th, 2019
Wild night at the Nest
Redskins hold on to defeat Cardinals
By Gary R. Rasberry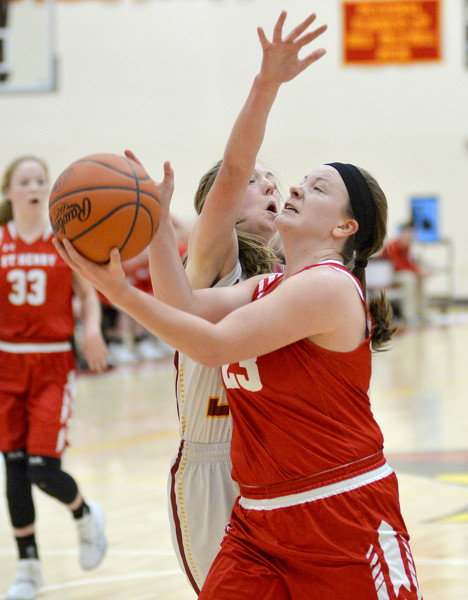 NEW BREMEN - The magic word for St. Henry girls basketball coach Wendi Moorman was "finish."
That was her message after the Redskins gave up a 10-point halftime lead to New Bremen to trail by one going into the fourth quarter.
St. Henry did finish, scoring the first seven points of the final period to go back ahead and fend off the state-ranked Cardinals 44-38 in MAC action at Cardinals Gymnasium.
"That's what I was proud of. We had a great first half," Moorman said. "In the third quarter, New Bremen inched their way back and our girls responded in a really positive way and didn't fold when the game got close."
The fact that New Bremen was in the game when the final horn sounded was an accomplishment. The Cardinals scored just nine points in the first half on 1 of 19 shooting.
"They're long and athletic," said New Bremen coach Chris Burden of St. Henry. "When you are long and athletic, you can take away or alter a lot of shots. Shots that are normally open aren't there. Credit to them. They took us out of our game."
Despite the cold shooting, New Bremen only trailed 19-9 at the half, thanks to 12 Redskin turnovers and the Cardinals making all six free throw attempts.
New Bremen got hot to start the third quarter. Kelly Naylor had a hoop-and-harm three-point play. Hanna Tenkman followed with a bucket and then Abbi Thieman hit a 3 to cut the deficit to 19-17. Alyssa Buschur knocked down a trey to stretch St. Henry's lead back to four, but the Cardinals continued to push, finally taking a brief 25-24 lead on a Naylor basket. But seconds later, Danielle Lange connected from deep to send St. Henry back in front. Kaylee Freund's basket tied the game at 27-all and then after Buschur made a free throw to make it 28-27, Madison Cordonnier hit two free throws to put the Cardinals up 29-28 at the end of the period.
"I just think we went out there and played like we normally do, especially on the offensive end" Burden said. "We weren't moving enough in the first half. In the second half, we started moving, got some steals and some easy baskets."
Buschur started the fourth quarter by putting St. Henry back in front 31-29 with a 3. Lange followed with two free throws and then Cora Stammen scored to quickly make the score 35-29 before Naylor snapped the run with a bucket. The Cardinals only managed to get within three points before St. Henry pulled away down the stretch.
"We told them we needed to finish the game," said Moorman of her talk to the team before the fourth quarter. "Their defense had us rattled, so we had to play our tempo of game, be patient, but execute."
"Credit our kids hanging in there in the second half and battling back," Burden said. "(St. Henry) made plays down the stretch to win."
Lange finished with a game-high 14 points for St. Henry (10-3, 3-1 MAC). Buschur had 12 points and Allison Siefring finished with 10 points and eight rebounds.
Naylor and Cordonnier each scored 10 points to lead New Bremen (9-4, 2-2 MAC).
Both teams return to the court for action on Tuesday. St. Henry travels to Franklin Monroe and New Bremen hosts Auglaize County neighbor St. Marys.