Saturday, January 12th, 2019
'Cats pull away
Coldwater struggles shooting in 51-42 loss to Minster
By Colin Foster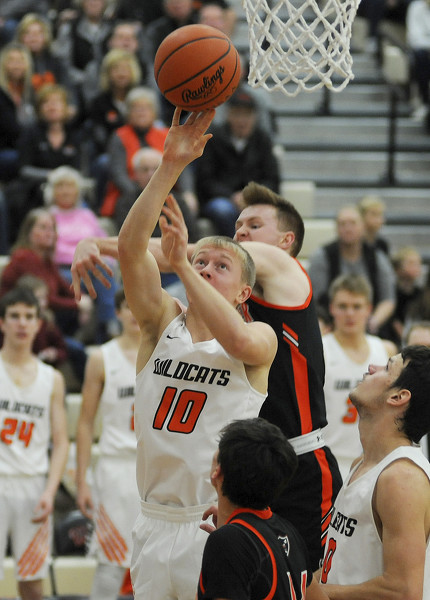 MINSTER - As his team walked onto the floor to start the fourth quarter, Coldwater coach Nick Fisher said to an assistant "Our shooting woes have continued."
It didn't get any better for the Cavaliers in the final quarter, either.
Coldwater did not shoot the ball well on Friday night. Minster did.
The Wildcats went 21 for 44 (47 percent) from the field and 7 for 16 from the 3-point line. The Cavaliers shot 15 for 55 (27 percent) in the game and 6 for 23 from deep, which included a 1 for 13 performance in the fourth quarter. Minster led 41-39 entering the final quarter and pulled away for a 51-42 victory at Wildcat Gymnasium.
Mike Ketner hit four 3s and scored a game-high 16 points for Minster. Jarod Schulze scored 10 and Cody Frericks added eight, including six in the final four minutes.
"We just get a lot of doubles in the post," Minster coach Michael McClurg said. "There's not many teams that are going to guard Jarod in the post. He's big enough and he's skilled enough, so we get a lot of doubles in the post. We get a lot of open shots, so we've just got to knock them down."
Coldwater's Marcus Bruns and Cole Frilling finished with 13 and 12 points, respectively. But that duo, like the entire team, struggled shooting, finishing a combined 8 for 25.
"(The shooting has) been kind of frustrating through this grind that we are in," Fisher said. "It's something we spend a lot of time on. But I just challenged them, what we're doing in practice, the way we're shooting, we've just got to step it up a notch. I'm still proud of our effort. I'm still proud of what we tried to do defensively. But when you're shooting 28 percent, it's hard just to maintain."
Ketner scored five points in the first quarter, Schulze added four and Jack Heitbrink cashed a 3 just before the buzzer that gave Minster a 16-11 lead.
Frilling opened the second quarter with a steal and dunk. Coldwater bridged the gap to two points twice early in the frame, but Ketner followed with 3s each time. Frilling had seven points in the quarter and Ben Wenning tallied five, including a 3 that tied the score at 28-all with 1:20 left. An inside bucket by Schulze provided Minster with a two-point halftime cushion.
Minster had nine points off of treys in the third quarter, with Ketner, Noah Enneking and Heitbrink all hitting. The Cavs led 31-30 after a Bruns' 3 to start the quarter, but Ketner followed with his fourth triple and the Wildcats never relinquished the lead again.
Minster led 41-39 entering the fourth, and the score was stuck there until Enneking's jumper more than three minutes into the quarter. Schulze added two free throws. Bruns' 3 was the only bucket for Coldwater in the quarter and it came with 3:40 to play. Frericks scored the next six points to put the game on ice.
"He came up big in the end," said McClurg of Frericks. "I thought he did a good job guarding Frilling. Frilling was killing us in the first half, but I don't think he had many points in the second half. Cody kind of took charge there. … I was more proud of how we guarded in the second half, but, man, we turned the ball over way too many times tonight. We're not going to be great if we do that."
"When you can't throw the ball in the ocean, small mistakes become big mistakes," Fisher said. "It felt like it was 41-39 for forever. We were talking about it, I think we had one possession when we had three good, open shots. You've got to hit them."
Minster improved to 7-3 overall and 2-1 in Midwest Athletic Conference play. Coldwater fell to 4-7 and 1-2 in conference action.