Friday, April 12th, 2019
Efficient efforts
Pitching dominates in St. Henry; Redskins beat Cardinals 3-0
By Colin Foster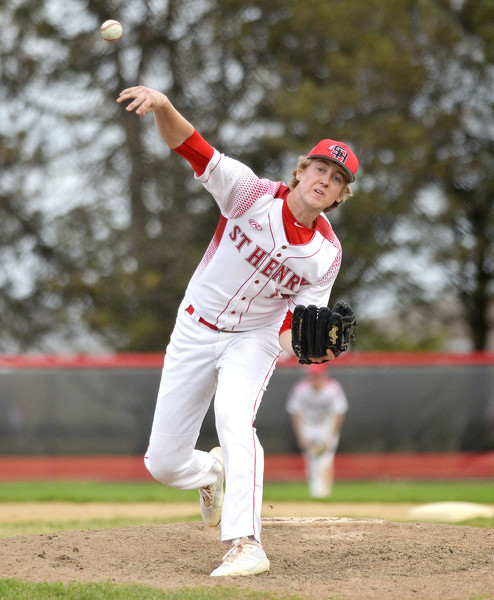 ST. HENRY - Both St. Henry's Marc Siefring and New Bremen's Spencer Alig had efficient efforts on the mound Thursday.
As is usually the case in pitchers' duels like this one, the winning team made fewer mistakes.
St. Henry took advantage of two Bremen errors in the second inning to score all three of its runs, and Siefring later finished his 85-pitch complete game with a 1-2-3 seventh for a 3-0 victory at the Wally Post Athletic Complex.
The Redskins won a fifth straight contest in improving to 7-2 overall and 2-1 in MAC play. The Cardinals fell to 7-2 and 2-1 in conference play.
"You knew it was going to be a low-scoring game," St. Henry coach John Dorner said. "We were able to take advantage of a couple of their miscues in the second inning. Very pleased with the way we played the game, with how we approached at the plate and with Marc's performance on the mound. It was a nice MAC win."
Siefring allowed five hits while striking out three and walking one. Alig threw just 87 pitches in his six innings of work. He also gave up just five hits while striking out four and walking one.
St. Henry scored all of its runs in the second. The inning began with back-to-back singles by Jay Knapke and Ethan Thieman. A sacrifice bunt by Siefring moved them into scoring position. Knapke scored when Andrew Lange hit a dribbler to Alig. Alig's throw to first base was missed, and Thieman scored as well. An infield error on Kent Buschur's at-bat allowed Lange to score.
"Spencer did a nice job," New Bremen coach Chad Wells said. "He filled up the zone and attacked guys. We made a couple critical errors that came back to cost us against a good team. It was a quality game. Two quality teams going at it. Unfortunately, we came out on the wrong end of it."
Siefring retired the New Bremen side three times. The Cardinals had runners on several times but couldn't get them across.
Justin Tenkman connected for a one-out single during New Bremen's first inning. Grant Selby followed with a line drive to shallow right. Right fielder Rylee Deitsch fielded it and threw out Selby at first.
In the third, New Bremen's Bryce Blickle and Mitchell Hays had back-to-back one-out singles. But Tenkman hit a ground ball to shortstop Daylen Froning, who threw to first baseman Sam Lefeld for an out. Lefeld turned and fired home to Buschur, who tagged out Blickle to complete an inning-ending double play.
After getting a base hit and moving to second on a wild pitch in the sixth, Tenkman was stranded as Siefring forced a lazy pop up and groundout to end the frame.
"(Siefring) did a nice job of filling up the zone as well," Wells said. "He mixed his pitches. I thought we put together some quality at-bats. We had some balls that we hit right at people."
"They're a very good team," Dorner added. "They hit some hard balls. Fortunately, they hit some right at us. Rylee Deitsch made a huge play in the first inning on what looked like a base hit. He threw him out at first base from right field. Otherwise, they've got guys on first and second with one out and their cleanup batter coming up. That was huge play in a low-scoring game."
Tenkman was the only player in the game with two hits.
Prior to the opening pitch, there was a moment of silence for Minster's Jackson Hogenkamp, who passed away late last week after a battle with bone cancer. St. Henry and New Bremen teamed to collect a donation for the Hogenkamp family and joined together after the game for a group picture.
"I just feel awful for Minster, for Minster schools and most importantly, the Hogenkamp family," Dorner said. "So we're going to do anything we can. When Chad and I spoke today, we just felt like it's something Mike Wiss would have done if we or anyone else in the conference was in that situation. It's just the right thing to do."