Monday, January 20th, 2020
Kid Courage
The cancer was aggressive. Unresponsive to chemotherapy. Amputate the leg or gamble on the cancer spreading. Pick one.
By Leslie Gartrell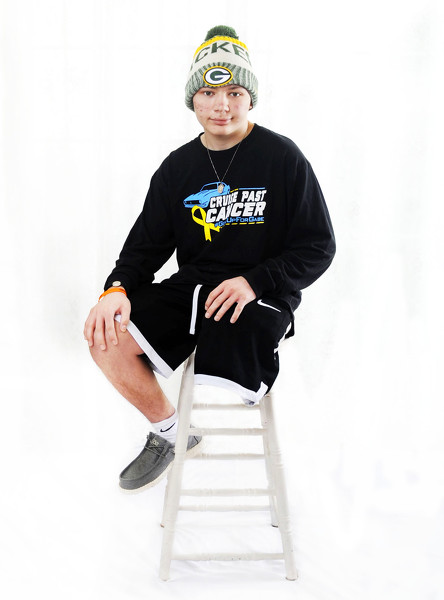 COLDWATER - Gabe Andrews will turn 15 tomorrow and plans to celebrate with a cake that's shaped like a leg.
It may seem like an odd choice, but Andrews finds it fitting since he recently lost a leg of his own.
The Coldwater High School freshman had pain in his left knee in early November. His mom, Meredith May, thought it might be growing pains or perhaps a track-related injury since Andrews was a sprinter. Once the swelling started, however, May took him to the Orthopedic Institute of Ohio in Van Wert.
After nearly breaking his hip last April, Andrews was referred to the OIO for care. The same doctor who had helped him through the injury last year was the same one who noticed a shadow in scans of Andrews' legs.
The Lord works in mysterious ways, May said. Perhaps it was God's will that Andrews was injured last year so they could meet the doctor who would help them identify a far more serious condition.
After an MRI at another OIO facility in Lima, doctors and radiologists said they thought the results seemed questionable. So the family was next sent to Nationwide Children's Hospital in Columbus on Nov. 21. A biopsy revealed a mass on Andrews' left femur that had broken out of the bone and into the surrounding tissue.
The teen was diagnosed with osteosarcoma, a rare cancer that starts in the bones. According to the American Cancer Society, osteosarcoma occurs most often in children and young adults, but teens are the most commonly affected group. Andrews' second cousin, Joe Klosterman, had been diagnosed with osteosarcoma and died at the age of 22.
By Nov. 22, the family had settled in at the hospital and were bombarded with information and tests.
"We didn't have time to think, didn't have time to process," May said.
Osteosarcoma usually starts in areas where the bone is growing quickly, the ACS says. Most tumors develop in the bones around the knee, either in the distal femur (the lower part of the thigh bone) or the proximal tibia (the upper part of the shinbone).
The cancer has been aggressive, May said. What had started in the bone had spread to his lungs, meaning it had metastasized. After roughly a month had passed, the cancer was unresponsive to chemotherapy and instead continued to grow rapidly in the bone. The pain was unbearable, Andrews said.
By the end of December, May was presented with a choice: Andrews could have his left leg amputated above the knee or risk allowing the cancer to spread farther throughout his body. May waited for the new year so Andrews could enjoy the holidays and then told him about the potential procedure. Andrews said he was unfazed.
"I will do anything I have to do to get back to my life," he said.
On Jan. 3, the teen had his left leg amputated, May said. After the amputation a neurosurgeon performed targeted muscle reinnervation. TMR can reroute damaged or cut nerves into motor nerves in nearby muscle, re-establishing neural circuitry and giving the nerves somewhere to go and something to do, according to the Ohio State Medical Center.
Andrews is nothing but casual about the amputation. While the amputation was "a big deal," he didn't mind the sacrifice. All he needs to know is what he needs to do to get better, he said.
"It's just another step in the road,"Andrews said matter-of-factly. "I can think about it later in life."
Andrews will eventually get a prosthetic, something that made the amputation easier to deal with, he said. For now, he uses crutches to get around and occasionally teases his mammoth cat, Billy Bob.
Andrews returns today to Nationwide Children's hospital for chemotherapy on his lungs, which still confuses him and his family. The teen never had an inclination there was anything wrong with his lungs until they found the cancer in his bone.
May said she's unsure how many chemo treatments her son will endure or for how long. The words "lung surgery" have been used in passing, but neither May nor Andrews knows if that will be necessary.
For now, Andrews will focus on getting through chemotherapy. His matter-of-fact attitude is rivaled only by his strong work ethic, which he plans to put to use when it's time for his prosthetic.
"I've powered through everything,"Andrews said. "I know I've got to do a lot of work for (the prosthetic). My life is focused on this right now, and when I beat (cancer) I can get back to normal."
It's not a matter of if Andrews beats cancer, but when. He has unbridled confidence that he will overcome cancer, and it's contagious.
May has made a Facebook page called "Cruise Past Cancer/Gear Up for Gabe" to give updates on Andrews's condition. The name was created by Andrews' girlfriend, Julie Bertke, who knew of his love for cars.
Once he beats cancer, Andrews plans to get back to track and to join his dad, Mike, in repairing a 1979 Z28 Chevrolet Camaro together.
Grandmother Margaret Klosterman said she's amazed how the community has come together for the family. Grand Lake United Methodist Church in Celina will host a spaghetti dinner at 5 p.m. Saturday to benefit the family, and Pla-Mor Lanes in Coldwater has a "Cruise Past Cancer" bowling benefit at 8 p.m. Feb. 8. A savings account was created to help the family with expenses at The Peoples Bank in Coldwater under the name "Gabe Andrews Family Fund."
"It's amazing how nice people have been, how kind," Klosterman said. "He's been through so much."
The chemotherapy makes Andrews lose his appetite, so he won't be eating much over the course of his four- to five-day stay at the hospital. However, he fully plans to have his leg-shaped cake and eat it, too.
"It doesn't overwhelm me,"Andrews said. "I'll do the work. I know I'm going to beat it."