Tuesday, January 21st, 2020
Winning streak
Flyers defeat Bulldogs for second straight victory
By Colin Foster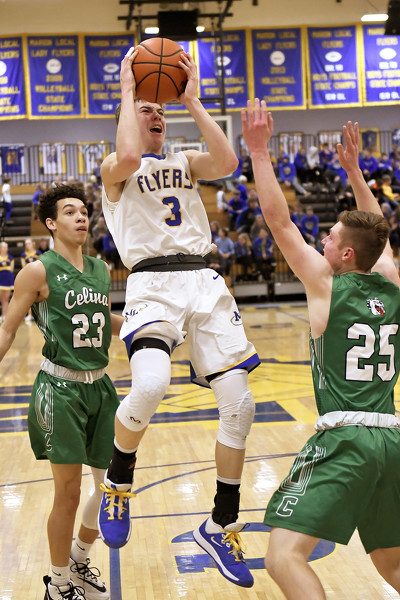 MARIA STEIN - Kurt Goettemoeller had waited all season to say it.
After Monday's 49-25 victory over Celina, the Marion Local boys basketball coach could finally utter those winning words.
"I said after the game, 'You know what this is called boys, don't you?' They kind of looked at me and I said, 'This is a two-game winning streak,' " Goettemoeller said.
Two nights after defeating state-ranked Jackson Center 31-26 in double overtime, the Flyers (4-9) won again at the Hangar thanks to a third-quarter scoring spree and another quality defensive effort.
The result denied Celina (2-11) its first two-game winning streak of the season. Bulldogs coach Jay Imwalle credited the Flyers for doing a defensive number on his team.
"We tried a bunch of different things offensively," said Imwalle, whose team also lost to Marion 42-39 at the Asset Allocation Associates Holiday Classic on Dec. 28. "They're a good defensive team, plain and simple. When you do get an open look, you've got to knock it down. We got some open looks and we didn't knock them down, and we didn't get enough stops at the other end."
Josh Rasawehr scored 10 of Celina's 12 first-half points. He muscled his way up for three buckets down low and was also the beneficiary of two nice post feeds from Ethan Wilson and Max Thobe. But Marion Local hung around, taking its first lead on Alex Eyink's 3-pointer one minute before halftime. The Flyers led 13-12 after shooting just 4-of-21 in the first half.
Marion Local didn't miss a single field-goal attempt in the third quarter, though. Eyink had himself a 12-point frame, connecting on two more triples as the Flyers outscored the Bulldogs 21-9.
"We just talked at halftime about coming out and being more confident," Goettemoeller said. "We needed some easy baskets. We needed to see it go through the hoop a couple of times. In the third quarter, I think we got two layups to start. We said our defense had to make it happen, and I know one of those was a tip, a steal and a layup. Once we saw it go through the hoop a couple times, we got a little more confident."
Eyink netted 15 and Peyton Otte added 11 for Marion Local, which shot a sizzling 14-of-20 in the second half to finish 18-of-41.
"I think in the second half they just said they're going to beat us off the dribble and get it to the hole and they did," Imwalle said. "We didn't do a very good job of flattening dribblers out. When we did get beat, we didn't do a very good job of helping."
Rasawehr led the Bulldogs with 15 points. Celina's leading scorer, Ethan Wilson, was shut down, however. Coming off a 34-point outing against Bath on Friday, Wilson was limited to just two points on 1-of-5 shooting. As a team, the Bulldogs made 11-of-28 shots.
"We've got a pretty good sophomore defender in Peyton Otte," Goettemoeller said. "He's a very savvy and competitive kid. Give him a lot of credit. Reece Hess also helped out when he subbed in for Peyton. Those two guys did a whale of a job. Wilson's a nice player."
Celina visits Ottawa-Glandorf (second-ranked in Division II) on Friday. Marion Local will look for its third straight win - and second against a state-ranked opponent - when Delphos St. John's (No. 9 in Division IV) visits the Hangar on Friday.
"Now we've got another home game, another big game, with Delphos St. John's and we're trying to make it three (in a row)," Goettemoeller said. "Hopefully we're starting to get a little confidence and getting this going at the right time."