Monday, August 31st, 2020
1 killed in car-semi accident
By William Kincaid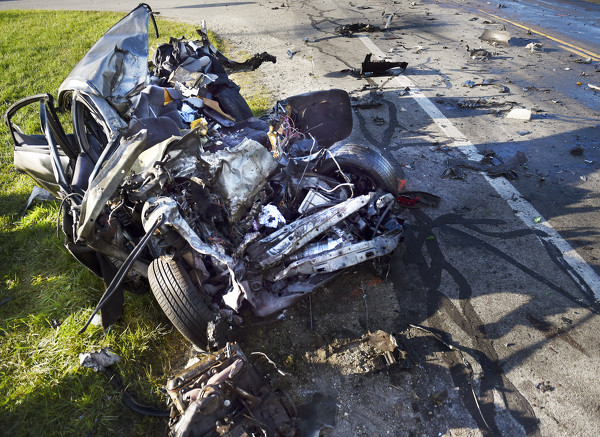 DUBLIN TOWNSHIP - Tragedy struck on Sunday afternoon when a commercial semi Freightliner and a silver Pontiac Grand Prix collided in a head-on accident on U.S. 127 near the intersection of Shelley Road, claiming the life of one of the drivers.
At 3:33 p.m. a silver Pontiac Grand Prix was traveling southbound on U.S. 127 when it went left of center, striking a semi Freightliner headed northbound, Ohio State Highway Patrol Trooper Ryan Lamarr of the Wapakoneta Post told the newspaper on the scene of the accident.
"The silver Pontiac travelled left-of-center in a head-on collision," Lamarr said. "The single driver out of the Pontiac sustained fatal injuries as a result, and the semi truck driver had minor injuries."
The investigation is ongoing. Alcohol or drugs are not suspected at this point, Lamarr said.
"At this time we're not releasing the names until all parties can be notified," he said.
Wapakoneta post personnel officials could been seen reconstructing the accident to the backdrop of the badly mangled Grand Prix and wreckage debris strewn about the highway.
Wapakoneta post, the lead agency, was assisted on the scene by the Rockford Fire Department, Mercer County Emergency Medical Services, Mercer County Sheriff's Office, Mercer County Emergency Response Volunteers and Motor Carrier Unit of the Ohio Highway Patrol.
A stretch U.S. 127 north of U.S. Route 33 and south of State Route 117 remained closed for some time as emergency responders worked the scene.
This was the fifth fatal traffic accident in the county this year.