Wednesday, September 23rd, 2020
Architects present plans for Marion Local addition
By Tom Millhouse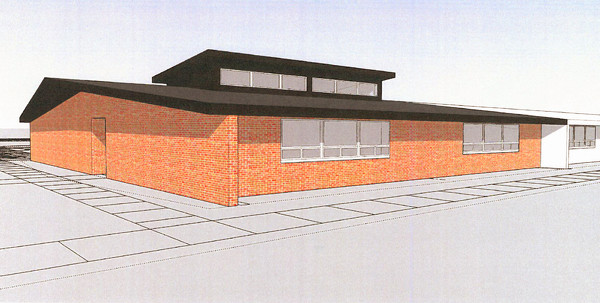 MARIA STEIN - Marion Local Board of Education members on Monday night learned about plans for possibly adding four elementary school classrooms.
A presentation by Garmann/Miller Architects-Engineers's Matt Hibner, Andrew Huelsman and Kellen Mescher revealed a detailed floor plan and exterior rendering. The classrooms would be attached to the existing kindergarten rooms on the southwest corner of the building.
The preliminary cost estimate ranges from $1.5 million-$1.8 million, which includes the construction, furnishings, site work, technology and renovation of some existing building space, superintendent Mike Pohlman said.
He said the project would be financed with funds the district has accumulated in recent years. An additional tax levy would not be needed.
The new classrooms are needed to accommodate increased enrollment. Pohlman said the 2021-2022 kindergarten class is projected at more than 100 students, up from 73 this year, and the higher enrollment trend is expected to continue.
"There is a great need for additional classroom space at the elementary school," he said.
Board members continue to study the project, Pohlman said, noting action to proceed could be taken at the Oct. 12 board meeting or at a special meeting.
If board members decide to proceed, Pohlman said the goal is to have the classrooms ready for next school year, although the completion might be a couple of months later. Some rearranging of existing space could be required when school opens if construction is incomplete.
Starting Oct. 1, a federal grant will allow students to receive free lunches through Dec. 31. Pohlman said Renee Hartings, food services supervisor, applied for the grant. He said local tax funds are not being used for the free lunches.
High school principal Tim Goodwin reported 86 students are taking college-credit courses at the school, up from 52 a year ago. College credit classes offered are precalculus, English, Spanish, psychology and physics.
Elementary school principal Nick Wilker reported Restart Readiness Assessments are being conducted to determine possible student learning gaps due to the school's closing last spring at the start of the pandemic.
Pohlman told the board he was pleased with some data on the district's state report card. However, because state tests were waived due to the pandemic, "we have a very watered-down district report card," he said.
District treasurer Heather Cramer reported the district's casino tax has been greatly reduced, mostly due to the pandemic. The district received $12,240 for the period of January-July, down from $23,981 a year ago.
Board members also,
• approved the following one-year supplemental contracts for coaches: Mindy Puthoff, head softball; Brianna Groff and Russ Puthoff, assistant softball; Kyle Grabowski and Alex Hemmelgarn, co-head track; Danielle Sutter and Danielle Otte, assistant track; Rod Pleiman, head junior high boys' track; Jeff Kaup and Jeremy Link, assistant baseball; Kathy Dirksen, co-head track; Jason Winner, assistant track; Sandy Bruns, head junior high girls' track; and Matt Schmackers, junior high assistant track.
• approved the resignation of Cassandra Osterholt as dishwasher.
• approved a one-year contract for Gina Fleck as dishwasher for two and a half hours per day.
• agreed to pay Northwest Ohio Area Computer Services Cooperative $45 per hour for payroll services while Katie Heitkamp, assistant to the treasurer, is using Family and Medical Leave Act time.
• approved an agreement with Private Duty Services Inc. at $40 per hour for preschool special education nursing services.
• approved a contract with Deborah Goettemoeller for preschool special education nursing services at $29.20 per hour.
• learned from Pohlman that administrators have decided the district will continue to have three-hour delays due to inclement weather, but the school day will end at 3:12 p.m. instead of being extended an hour.
• authorized Cramer to seek bids for the replacement of an air-conditioning chiller at the high school.
• accepted donations of $1,500 each from St. Henry Bank, Lamm Insurance and Ohio Production Paint and Assembly Corp. to sponsor NFHS network livestreaming of Marion Local athletic events.
• heard first reading of 10 district policies.
• approved the district's gifted education plan.
• went into a 90-minute executive session to discuss the employment of a public employee. No action was taken after the closed-door meeting.