Friday, August 13th, 2021
'Packy'-ing up a trophy
Hanrahan wins PBA regional event at Minster
By Gary R. Rasberry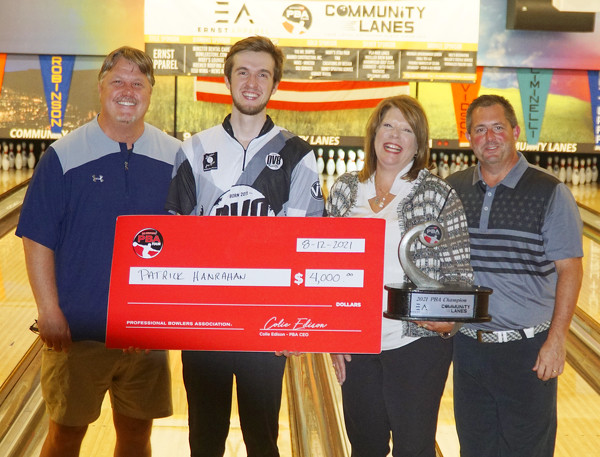 MINSTER - For his first-ever visit to Minster, Patrick "Packy" Hanrahan made a good impression.
The Wichita, Kansas, native put together a solid effort to defeat Anthony Lavery-Spahr 214-167 in the championship match of the Professional Bowlers Association Central Region's Ernst Apparel Classic at Community Lanes in Minster.
"It's my first Central Region win and second overall, which is super cool," said Hanrahan after receiving the trophy and check for $4,000.
The win was nice as the tournament was held for the first time in Minster.
"I'm friends with Mike Davidson," said Hanrahan, referring to the Versailles grad and professional bowler whose father Doug owns Community Lanes. "They do a great job here.
"It's a super nice town," Hanrahan said of Minster. "The fans that come are real nice and welcoming, which is awesome."
Hanrahan entered the five-player stepladder finals as the second seed after tying Lavery-Spahr after qualifying ended. Lavery-Spahr won a roll-off to take the top seed and a spot in the championship match as the others battled through.
In the first match, Shawn Maldonado defeated British bowler Richard Teece 182-165 to advance to the second round against Tom Daugherty. Daugherty finished with a 195, but Maldonado had a chance to win in his 10th frame if he bowled two strikes and got eight on his final throw. Maldonado rolled 9-spare on his first two balls and then got the elusive strike to finish at 185.
Daugherty and Hanrahan battled in the semifinal, where Hanrahan bowled smoothly to get the 203-170 win to face Lavery-Spahr.
Both bowlers started out with two strikes. In the third frame, Hanrahan went 9-spare, but Lavery-Spahr rolled a six and left a split, managing to just get three pins for the open 9. The pair each went spare-strike-spare in their next three frames to give Hanrahan a 13-pin lead going to the seventh.
Lavery-Spahr managed a 7 on his first throw in the seventh, but was only able to get one pin on his second throw for an open-8. Hanrahan got a strike for the seventh, a spare in the eighth and a strike in the ninth to increase his lead to nearly 30 pins. Lavery-Spahr spared in the eighth but left a pin in the ninth for an open ninth, locking up the victory. Lavery-Spahr went strike-7-spare in the 10th while Hanrahan had strike-8-1 to close out the victory.
"I just tried to stay patient," said Hanrahan. "I knew I'd have a little better look when (the lanes) were fresh. I stayed mentally positive."
Lavery-Spahr earned $2,100 for second place. Daugherty received $1,600 with Maldonado earning $1,250 and Teece $1,000. Michael Davidson finished 11th overall to earn $800.
Hanrahan and a number of the other bowlers who completed in Minster will get to know the area a little more as they compete in the PBA Bowlerstore.com Open this weekend at Pla-Mor Lanes in Coldwater.
"Got a little momentum going in," said Hanrahan. "Hopefully I can stick to whatever I did here."