Friday, October 15th, 2021
St. Marys blanks Celina
By Tom Haines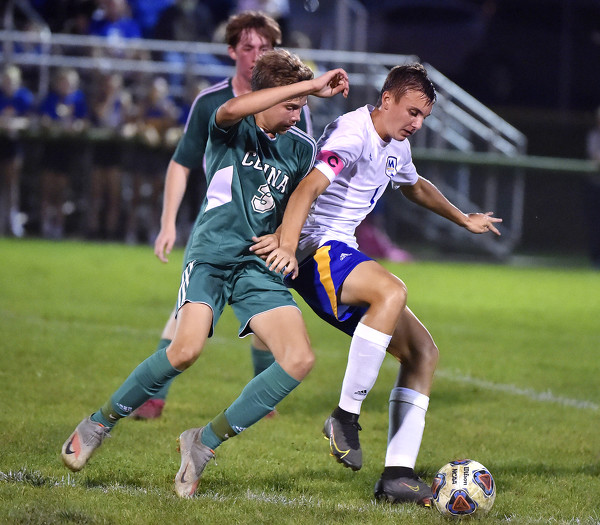 CELINA - St. Marys broke through 10 minutes into the match, and that proved to be enough.
Celina's offense came up empty and the Roughriders tacked on two more goals in the final 15 minutes for a 3-0 Western Buckeye League win in a boys soccer match on Thursday.
"We left three goals on the table in the first half, I thought it should have been at least 3-0 us at halftime," St. Marys coach Josh Hertenstein said. "Sometimes you've got to win ugly."
St. Marys (10-3-3, 6-2-1 WBL) generated three close calls in the first 10 minutes, starting with a pair of direct kicks missing high and wide before a throw-in bounced off a Bulldogs defender in front of the net and almost turned into an own goal.
With 30:39 left in the first half, the Roughriders put a shot on target. Wyatt Chapman got a pass from Cody Birt about 30 feet out on the left side and fired the ball over keeper Logan Smith's head for a 1-0 lead.
"We turned it over in the back, and they made us pay for the turnover," Celina coach Ryan Jenkins said. "It's one of those, when you're playing a good team, if you make a mistake, they try to make you pay for it, and they did in that first half."
The rest of the first half, Celina (6-7-3, 3-4-2 WBL) looked in vain for an equalizer. After a few deep balls that quickly fizzled, the Bulldogs finally mustered a sustained attack with under 10 minutes to go in the half. Zach Greber gave the Bulldogs a promising look that Zach Stein headed towards the left post, but it was blocked by a St. Marys defender and bounced out of bounds.
On the ensuing corner, Celina couldn't get a good look and the Roughriders took over.
"We didn't fear Celina's offense at all," Hertenstein said. "They haven't been a scoring machine this year, so we knew that if we kept pressing, we could get some more. We didn't want to sit on (a one-goal lead), that's just too dangerous."
But the Bulldogs' defense prevented the Roughriders from extending the lead. Stein blocked a shot by A.J. Dieringer from the right corner of the box, and a moment later Connor Milner had a look on the back post and kicked it over the goal.
St. Marys managed two more shots on goal in the first half and pushed a couple others wide as the Bulldogs kept the deficit at one.
"(Milner) just hit it too hard and it sailed on him," Hertenstein said. "Went right over the goal when it should've been a tap-in. That one stood out to me."
The Roughriders almost added on seven minutes into the second half after Chapman got behind Smith on the left side, but two Celina defenders were able to delay him long enough for Smith to get back and make the save at the left post. Two minutes later, St. Marys keeper Cayden Ballweg knocked down a direct kick on the other side and the shot on the rebound went high.
The Bulldogs took three more shots, including a shot by Max Baumstark that was blocked inside the box, and St. Marys paid for its aggressiveness on the attack when Kyle Steininger drew a yellow card late in the second half. But two minutes later, Chapman broke through the middle and fired off a shot inside the right post as Smith broke left to give the Roughriders a 2-0 lead with 11:18 left.
"Before they got the two goals in the second half, we had some looks where we had chances," Jenkins said. "We just didn't put them in, and they put their chances in."
With seven minutes remaining, Celina was called for a foul inside the box and Chapman came up to take a penalty kick, tucking it in the left side to complete a hat trick.
"You got to love a Celina kid having a hat trick against Celina," Hertenstein said. "He lives in Celina, he's an open enrollee and he had a heck of a game. Of course he's going to be extra pumped up for this game, so it was a no-brainer letting him take the PK. His shot was on all night."
Chapman now has 15 goals on the year to lead the Roughriders. His third goal marked the 73rd of the season for St. Marys, breaking the record of 72 from the 2000 season.
Both teams move into tournament play, with St. Marys hosting Defiance on Monday and Celina traveling to Kenton on Thursday.