Saturday, October 16th, 2021
Faber says there's too much federal COVID-19 aid
State auditor tells officals to ask now or pay up later
By William Kincaid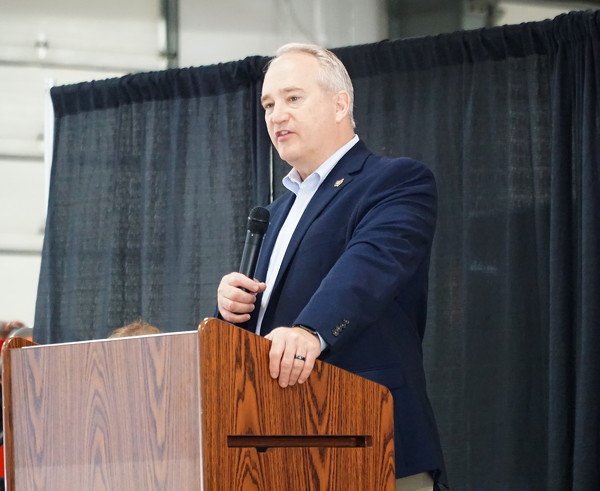 ST. MARYS - Ohio Auditor Keith Faber, a Republican from Celina, this week urged local government officials who have questions about allowable uses of federal COVID-19 relief dollars to consult with his office before spending the money.
He also blasted the massive release of money through President Joe Biden's American Rescue Plan Act, saying local governments are hard-pressed to come up with ways to spend the money that meet federal guidelines.
Faber, a keynote speaker at Midwest Electric's annual political action breakfast, said he is tasked with evaluating government expenditures made with American Rescue Plan Act funds in what is called a single audit for the federal government.
The plan was designed to help states recover from the coronavirus pandemic. The U.S Department of Treasury oversees the use of the money and has said recipients have wide flexibility to decide how best to use the money in five broad categories: supporting public health; addressing negative economic impact to workers, households, small businesses and industry; replacing lost public sector revenue; providing premium pay for essential workers; and investing in water, sewer, and broadband infrastructure.
Many local governments, though, have more money than they know how to spend and are looking to get creative, he said. That's where the state auditor's office steps in.
"You've heard this statement sometimes, 'It's easier to seek forgiveness than to seek permission? Well, in our world we don't give forgiveness," Faber said. "I always tell local governments, 'If you don't ask us before you spend the money, it's real tough for me to help you after."
Faber said he will issue citations and findings for recovery in cases where local governments make inappropriate expenditures with American Rescue Plan Act dollars.
He also heavily criticized the American Rescue Plan, which came on the heels of the federal Coronavirus Aid, Relief and Economic Security Act.
"How many of you have heard that during the pandemic, local governments were really fiscally strapped, they all had difficult problems meeting their budgets and the federal government had to jump in and bail everybody out?" Faber asked. "The reality is that's just not true."
Over 80% of state cities and counties, Faber said, "ended the year of COVID with more money in the bank than they started the year of COVID."
Some of that was due to good management, and some from having so much money from other sources, Faber said.
Most saw their revenues actually increase.
"For the state of Ohio, our revenues went up by more than $1.2 billion," Faber said. "When you look at the federal money and other things that come into it, these gentlemen ended the fiscal year for the state with nearly $4 billion more than was budgeted a year before COVID started."
Faber said he knows that fellow keynote speaker U.S. Rep. Warren Davidson, R-Troy didn't vote for American Rescue Plan Act but asked him to send a clear message to those in the federal government.
"We don't need any more of our kids' and grandkids' money to bail us out, at this point and to spend money on programs we don't need,"Faber said.
The federal government in March sent trillions of dollars to the same local governments who had more money than they could spend, he said.
"Now they're all struggling to figure out how to spend this money," he said.
The legislation passed only with Democrats and the money is targeted to places that are preferred communities, Faber said, before talking about a conversation he had with Darke County commissioners.
"They got roughly between 25% and 50% of their annual total budget in a bonus payment from the federal government under the American Rescue Plan," he said. "We are not (Democratic lawmakers') preferred community. If you talk about Cuyahoga County or Cleveland, they got more than 100% of their annual budget in American Rescue Plan money."
Faber, a former three-term state representative and Ohio Senate president, was elected Ohio auditor in November 2018. A few months later, he was sworn in as Ohio's 33rd state auditor.
His office, he explained, is a watchdog over spending by 6,000 government entities in Ohio.
"We do roughly 4,800 audits a year and in that capacity our job is to catch people who are lying, stealing and cheating with government money," he said. "Since I've been your auditor we've put more than 27 such individuals into one of the state's finer facilities, including a corrupt county sheriff that's doing six years that we've prosecuted."
The office conducts fiscal compliance audits on every government entity in the state every year or every other year depending on the fiscal cycle, he said.
"Our job is to go in and vouch for the credibility of their books and records and point out things that they're doing wrong," Faber said.
Thirdly, the office offers performance audits where officials look at government operations and suggest ways to do things better, faster and cheaper.
"In doing performance audits since I've been state auditor we've now saved over a half a billion dollars for Ohio taxpayers," he said.

- The Associated Press contributed to this story.