Monday, May 2nd, 2022
EMA in annual hazardous drill
About 50 people involved in exercise
By William Kincaid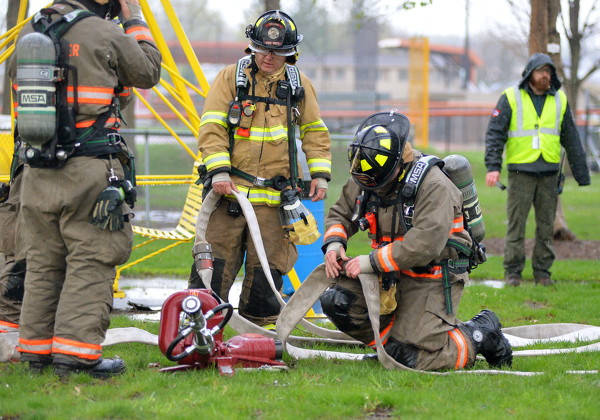 Photo by Paige Sutter/The Daily Standard
COLDWATER - Scores of firefighters, cops and other responders rushed to Coldwater Memorial Park on Saturday morning on calls of a hazardous chemical release resulting in injuries and medical conditions.
It was only an exercise but emergency responders treated it like the real deal, followed proper procedures and tended to a handful of children who played the part of victims, said Mike Robbins, director of Mercer County Emergency Management Agency.
Roughly 50 people took part in the staged event that involved Mercer Health Community Hospital; Coldwater fire and police departments and emergency medical services branch; St. Henry fire and police departments; Mercer County EMA, medical reserve corps, health district; and emergency response volunteers.
"This is the annual hazardous materials exercise under the Local Emergency Planning Committee. LEPCs were created under federal regulations and regulated and funded through the State Emergency Planning Commission, to collect hazardous material data for the county, create and annually update a hazardous material response plan and annually test the plan with an exercise," Robbins said.
Saturday morning's event was a full-scale exercise required every four years, Robbins said. However, all LEPC exercises involve the release of a hazardous chemical at a facility or transportation accident.
The scenario that unfolded Saturday morning involved a simulation of a delivery truck with an unsecured load. A mock cylinder of chlorine fell off the truck, resulting in a small leak of chlorine.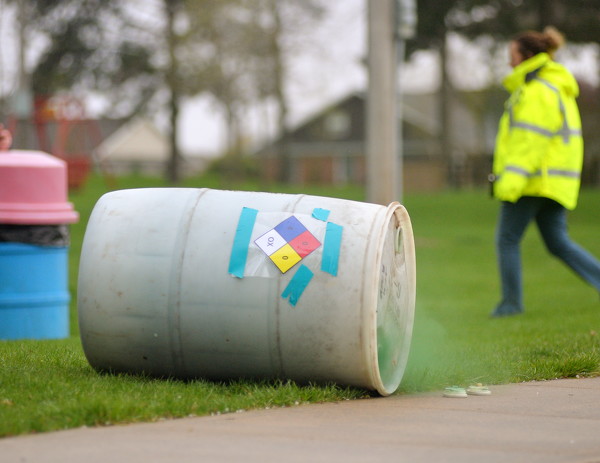 Photo by Paige Sutter/The Daily Standard
"It's an extremely hazardous substance," Robbins said. "In our scenario the truck driver was very seriously injured."
Chlorine burns skin and mucous membranes, he said.
"In Ohio, the fire chief of the district is in charge of any hazardous material incident," he said.
The Coldwater Fire Department arrived on scene, with fire chief Dave Penno immediately establishing instant command, Robbins said.
"He's a very analytical, calm individual," Robbins said of Penno. "He just looks at everything and doesn't make rash decisions. He makes very good decisions."
Responders set up a decontamination line consisting of hoses, baby pools and showers, Robbins said. Children with simulated medical conditions and responders who came in close contact with the mock chlorine were processed through the line.
"With chlorine, just a lot of water is what you would use to decontaminate," Robbins said. "It will rinse off with water but with copious amounts. Especially they'd have to rinse the eyes very well."
It was too cold though to actually use water.
"Our scenario also had some kids over at the track, and the coach in the scenario actually evacuated them," Robbins said.
Once decontaminated, those with simulated conditions were transported by squad to the hospital. No lights or sirens were activated.
The entire exercise lasted roughly two and half hours in rainy conditions.
"It rained off and on," he said. "Real emergencies don't always happen when the weather's nice."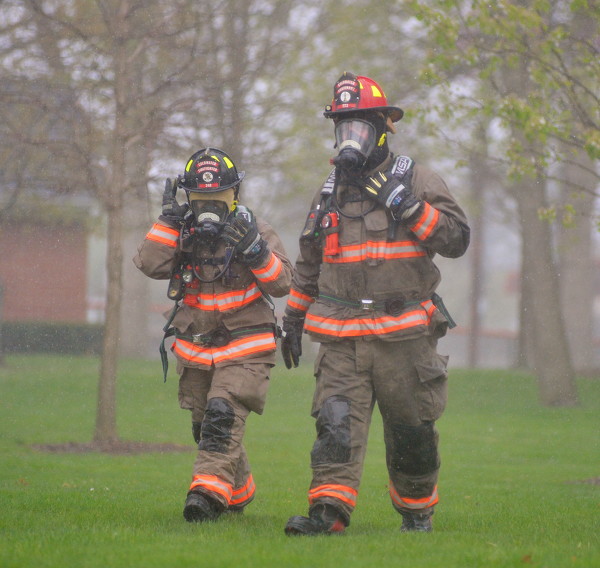 Photo by Paige Sutter/The Daily Standard
The exercise was overseen by Ohio EMA officials, Robbins said. They review initial notification (911 calls), initial incident assessment, communication, incident command system, emergency medical services, hospital services, response personnel safety and population protective actions.
A final assessment of the exercise is still being processed, Robbins said on Sunday.
Robbins said it was a successful exercise that will likely lead to some tweaks in training.
"I've never done an exercise where we don't want to tweak something either in the fire departments, their SOPs (standard operating procedures) or if I have to change something in the hazmat plan. Once we go through this that will be tweaked," he said. "We're not testing people, we're testing plans and procedures to find need for training."
Officials say that's critical because hazardous material spills occur from time to time in Mercer County, usually involving diesel fuel released during truck accidents.
"It's not that often you get something really bad like this and part of that is the way the transports are made for those like the propane trucks and anhydrous trucks. They're made the same way. It's compressed liquid and gas and then they're pretty tough," Robbins said. "I've been on probably three propane trucks on their side and none of them leaked."
Firefighters in Mercer County are skilled and well-trained, Robbins said.
"Our fire departments - we only have one paid department, the rest are volunteer - they train constantly. Most of them train at least weekly if not monthly," Robbins said. "The Celina fire guys, they train every shift."
He also said emergency responders work well together in Mercer County.
"Mercer County response and government agencies have shown, though many situations, great cooperation and communications with each other for the good of the citizens of Mercer County," Robbins said.