Thursday, September 20th, 2018
Roughriders, Wildcats battle for 1st
By Colin Foster
St. Marys head coach Doug Frye has gone against many great Kenton teams throughout his career.
"Over the years, in my first time (at St. Marys) and my last time here, and also during my time at Wapakoneta, you know, (we played against Kenton) when the Mauks were at quarterback, and Cornell's dad (Brandon) was actually a receiver who went on to Michigan State and then moved on to Louisville. They just do a lot of things well. We knew coming into the year that the Western Buckeye League was going to be loaded - and it sure is."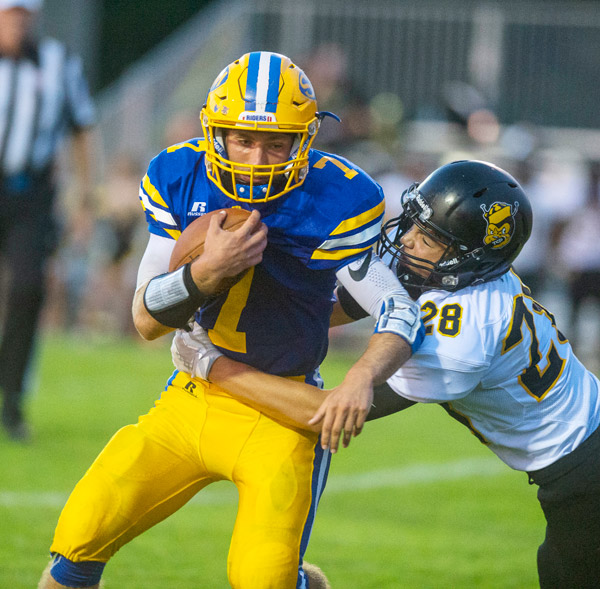 Photo by Mark Pummell/The Daily Standard
It's been a few years since Kenton had a say in the WBL title race, but quarterback Jason Sharp, wide receiver Jayden Cornell and the Wildcats have had a resurgence this season and will make the trip to St. Marys' Skip Baughman Stadium on Friday with sole possession of first place in the league up for grabs.
The Wildcats, ranked 12th in Division IV, are seeking their first WBL crown since 2013. The Roughriders, ranked first in Division IV, have captured two straight WBL titles (shared in 2016 and outright in 2017).
This game will also be important in the Region 14 playoff standings, as St. Marys and Kenton hold the top two spots. A win would keep the Roughriders in the top position. A loss would allow the Wildcats to surpass them as No. 1.
Fans will get a glimpse of conflicting offensive styles when the teams take the field. Kenton has a pass-happy offense, with Sharp entering the game averaging 301 passing yards. The team also averages 122.8 rushing yards. St. Marys averages 254 yards on the ground and 65 through the air.
Kenton (3-1, 3-0 WBL) lost to Coldwater 52-27 to start the season but has since posted wins over Celina (49-13), Defiance (48-10) and Wapakoneta (15-10). Sharp is making a strong case for WBL Offensive Player of the Year, having completed 67-of-121 pass attempts (55 percent) for 1,206 yards with 14 touchdowns and just three interceptions. Sharp is also the team's leading rusher with 54 carries for 344 yards and four scores. Jayden Cornell is the top receiver with 24 catches for 475 yards and nine TDs. Landon Rush has added 18 catches for 418 yards and three scores.
"Their quarterback play and their receiver play (stand out). Obviously their offense jumps out at you first," Frye said. "When you think of Kenton, that's what people think first because of (Jason) Sharp and (Jayden) Cornell and the way they play. But also, they're playing extremely well defensively."
St. Marys (4-0, 3-0 WBL) steamrolled its first three opponents, having outscored Sidney, Ottawa-Glandorf and Van Wert by a margin of 122-19. But the Roughriders survived an upset bid last week by Shawnee, coming away with a 27-26 win.
"A week ago, I thought Shawnee played really well, and for some odd reason, that matchup between us and Shawnee has become one where we tend to get the best from Shawnee each and every year," Frye said. "We were up 14-0 early in the game and we were up 27-13 late in the game and we just couldn't quite ice the game.
"We got Ty Schlosser back for his first game of the year for us (last week)," Frye added. "He was a starter in the backfield for us last year and he was limited. He'll see a lot more time this week, which is a good addition for us. Time will tell what we found out (against Shawnee). I just thought Shawnee did an excellent job and we didn't play as well as we're capable of."
First Team All-WBL selection Sean Perry has picked up where he left off last year, having amassed 363 yards on 62 carries with three TDs. Quarterback Braeden Dunlap has completed 14-of-27 passes for 260 yards with five TDs and no interception. He also has a team-leading seven scoring runs. Christian Triplett ranks second in rushing with 34 carries for 213 yards and Eddie Fowler has added three scoring runs.
The Roughriders won last year's contest with the Wildcats 30-13 and have a three-game winning streak in the series.
Thursday, September 20th, 2018
Computer Points In Review
Cardinals prove computers wrong with win over Indians
By Bruce Monnin
Later in the season, we will use various computer websites which predict the results of all the games remaining in the season and use this information to project the final computer point standings. By the final four weeks of the season, these websites generally predict about 85 percent of the games correctly.
However, in the early weeks of the season, high school boys can surprise number-crunching machines. Such was the case last week, as the computers only picked the winner in two of the five WBL games (wins by St. Marys and Celina), and only two of the five MAC games (wins by Coldwater and Marion Local). These "upsets" made for an interesting week in the computer points standings.
The biggest surprise may have been New Bremen defeating Fort Recovery. Besides my almost never having seen one high school team kick four field goals in their game, the Cardinals vaulted into the recently unexperienced position of probable playoff qualifier, while the Indians have dropped from being a likely playoff team to needing to win four more games against a very tough remaining schedule.
Anna (an overtime winner over St. Henry), Van Wert (also triumphant in an extra period over Ottawa-Glandorf) and Kenton (with its five-point victory over Wapakoneta) were also huge winners in the computer point standings this week.
Kenton visiting St. Marys is the big WBL game this week, though Celina traveling to Ottawa-Glandorf is probably more important for both teams. In the MAC, eyes will be watching to see if more upsets can occur, such as with New Bremen visiting St. Henry or Fort Recovery hosting Coldwater.
The complete computer points for the five regions involving most area teams can be found throughout the season at: http://user.nktelco.net/bdmonnin/football.htm
Division III Region 12:
Team - Ranking (Computer Points)
Wapakoneta - 3rd (6.35)
Celina - 7th (5.20)
Hamilton Badin - 8th (4.98)
Elida - 12th (3.68)
Shawnee - 22nd (1.35)
Wapakoneta's loss to Kenton only causes a one-position drop in the standings. The Redskins, along with Celina, remain one of the only eight teams with a 3-1 or better record in this region. A win at Elida should keep Wapakoneta in the top portion of these standings.
Celina only moved up one position after having defeated winless Bath. This week's matchup at Ottawa-Glandorf is one of four remaining games against teams with two or more losses so far. A sweep of these four games would likely be enough to get the Bulldogs into postseason play.
Division IV Region 14:
St. Marys - 1st (8.70)
Kenton - 2nd (8.28)
Shelby - 8th (5.78)
Van Wert - 12th (4.73)
Bath - 23rd (0.00)
St. Marys survived against Shawnee. A win is a win in the computer points, so St. Marys is again king of this particular mountain. A win this week at home against Kenton should keep the Roughriders in first place.
Kenton is right on St. Marys' heels after having defeated Wapakoneta. The Wildcats will inherit the top spot if they can pull off the Auglaize County double. The winner of this game is almost assured of a playoff spot. The loser also looks rather good for postseason play.
Division V Region 18:
Anna - 2nd (6.80)
Pemberville Eastwood - 8th (4.93)
Ottawa-Glandorf - 12th (3.93)
Versailles - 21st (1.35)
Anna springs to near the top of the region, thanks to its overtime win over 3-1 St. Henry. A win this week at undefeated Marion Local (or later in the season against Coldwater) would just about ensure the Rockets reach the postseason. Their other four opponents have a combined record of only 5-11, and defeating all four would leave Anna where they may or may not make the playoffs.
Ottawa-Glandorf and Versailles both suffered heavy damage to their postseason hopes last week. The Titans host Celina this week while the Tigers welcome Delphos St. John's.
Division VI Region 24:
Coldwater - 1st (9.25)
Marion Local - 4th (6.90)
Troy Christian - 8th (4.58)
St. Henry - 10th (4.08)
Fort Recovery - 12th (4.03)
Parkway - 20th (1.53)
Coldwater tacked another high-value, computer-point win to its resume with a victory over 3-1 Minster. It is hard to conceive a scenario where the Cavaliers do not only make the postseason, but also host their first game, especially if they defeat 2-2 Fort Recovery this week.
Marion Local continues to advance up the standings, now into fourth place. The meat of the Flyer schedule begins this week with a matchup against 3-1 Anna. With the increased competition comes the opportunity to earn more computer points, as five of their remaining six opponents have a winning record.
St. Henry and Fort Recovery both dropped slightly in the standings with their close losses last week. The Redskins may return to the top eight with a win over 3-1 New Bremen this week. The Indians should too if they can upset 4-0 Coldwater.
Parkway gets on the board with its win over 1-3 Versailles, but the Panthers will need to beat 3-1 Minster this week to start challenging in this region.
Division VII Region 28:
New Bremen - 3rd (5.78)
Minster - 4th (5.43)
Waynesfield-Goshen - 8th (3.68)
Delphos St. John's - 16th (1.38)
New Bremen's win over Fort Recovery did not affect its third-place spot in these standings, though it increased the Cardinals' playoff chances immeasurably. Only two more wins will likely take New Bremen to the postseason (three will definitely do the trick). It will be challenging to earn one of those wins this week at St. Henry.
In contrast, Minster's loss to Coldwater drops them three places into fourth, one spot below New Bremen. However, it did not really affect the Wildcats' almost certain playoff spot. The difference is that Minster should benefit from their non-conference victims picking up about 10 more wins this season, while New Bremen's are more likely to win three to five games. Minster needs just two more wins, and a home game against Parkway could get them halfway there.
Thursday, September 20th, 2018
Two-Minute Drill
By Daily Standard Staff
CELINA AT OTTAWA-GLANDORF
Titan Stadium (7 p.m.)
Last Season: Two early touchdowns held up to improve Celina to 3-1 in WBL play with a 14-7 win at Celina Stadium.
About the Bulldogs: Celina scored 50 points for the second straight game in beating winless Bath 50-14. The Bulldogs tallied over 400 yards of offense and kept Bath scoreless until the third quarter. The tandem of Kyle Zizelman, Chase Stephens and Brett Schwieterman have combined for 928 yards rushing this season with 12 of the team's 16 rushing touchdowns. The Bulldogs are playing the second of back-to-back road trips this season. After next week's game at Defiance, Celina will have four home games plus the short trip to St. Marys for the Battle of Grand Lake.
About the Titans: Ottawa scored twice in the final 5 1/2 minutes of regulation to force overtime against Van Wert, only to be unable to score on its possession en route to a 40-34 Cougar win at Titan Stadium. Quarterback Jeremy Leopold passed for 230 yards and three touchdowns and added 68 rushing yards. Running back Jasper Scarberry leads the team with 332 rushing yards and three touchdowns.
All MAC games begin at 7:30 p.m.
COLDWATER AT FORT RECOVERY
Barrenbrugge Athletic Park
Last Season: Ben Wenning rushed for 149 yards, including a school-record 99-yard touchdown run, to lead the Cavaliers past the Indians 33-7. Will Homan had 176 yards and the lone Fort Recovery score with two minutes left in the second quarter.
About the Cavaliers: Coldwater led 28-13 early but needed a Blake Dippold field gal late in the fourth quarter to ice its 31-20 victory over Minster. Jake Hemmelgarn passed for 244 yards and four touchdowns and rushed for 138 yards in the victory.
About the Indians: Fort Recovery took a 15-12 lead with five minutes to go only to have New Bremen score in the final two minutes for a 19-15 loss. Clay Schmitz passed for over 200 yards and two touchdowns and a two-point conversion. Schmitz has five receivers with 100 or more yards receiving in four games this season. Lineman Josh Muhlenkamp has three sacks and six tackles for loss this season.
ST. HENRY AT NEW BREMEN
Cardinals Stadium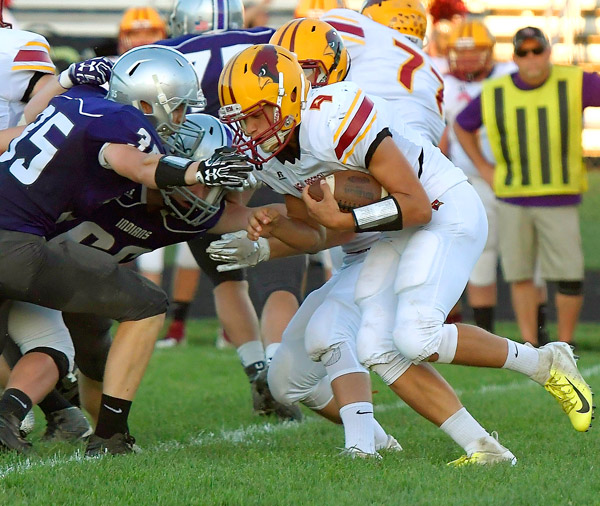 Photo by Nick Wenning/The Daily Standard
Last Season: Daylon Lange passed for three touchdowns and Ryan Luttmer ran in two more scores and kicked five PAT's in the Redskins' 35-0 win.
About the Redskins: St. Henry led 14-0 at halftime, only to have Anna rally, come back and force overtime. The Redskins missed on a two-point conversion in the extra session to give the Rockets a 28-27 win. Zach Niekamp rushed for 230 yards and three touchdowns in the loss.
About the Cardinals: Ryan Bertke kicked four field goals and an extra point in New Bremen's 19-15 win over Fort Recovery. The lone touchdown was the winning score when Nolan Bornhorst found Bryce Blickle for a 30-yard scoring strike with 1:49 left in the game. Bertke is 4-of-5 on field goals this season (2-for-2 on attempts from 30-39 yards) and 10-of-12 on point-afters. Brandon Heitkamp and Jacob Rindler have combined on 15 tackles for loss and seven sacks this season.
ANNA AT MARION LOCAL
Booster Stadium
Last Season: Nolan Habodasz rushed for 96 yards and fullback Jack Buening had three touchdowns in the Flyers' 32-7 win over the Rockets in Maria Stein.
About the Rockets: Trailing 14-0 at halftime, the Rockets tied the game late to go to overtime, scored first and then stopped St. Henry's two-point conversion try for a 28-27 win. Riley Huelskamp rushed for 148 yards and three touchdowns, including the go-ahead score in the extra session. Defensive back/kicker Kam Steward had 13 tackles and kicked four PATs to help with the win.
About the Flyers: Marion scored 39 unanswered points after the first quarter to pull away and beat Delphos St. John's 53-7 at Stadium Park. Goodwin cleared the bench early with eight different players carrying the ball on running plays. The St. John's touchdown, which came on a blocked punt returned for a touchdown, was the first points the Flyers have allowed in the first quarter. All 21 points Marion has given up this season have come in the first half (139-21). Marion has outscored teams 49-0 in the second halves of games.
PARKWAY AT MINSTER
Memorial Field
Last Meeting: The Wildcats wrapped up an 8-2 regular season in beating Parkway 35-20 on Oct. 30, 2015. The teams did not play each other the past two seasons due to the MAC's formula-based scheduling.
About the Panthers: Parkway shut down Versailles after having allowed a touchdown in the first quarter en route to snapping a 22-game conference losing streak in a 21-7 win over the Tigers. The last time the Panthers won in the MAC was Sept. 23, 2016 in a 41-10 win over New Bremen. Nick Hawk rushed for 164 yards and two touchdowns and Eli Rich passed for a touchdown and rushed for another.
About the Wildcats: After having scored early, the Wildcats gave up 28 straight points to Coldwater en route to a 31-20 loss at Cavalier Stadium. Alex Schmitmeyer scored all three touchdowns for Minster, two on rushing plays and the final score on a 64-yard fumble return score. Quarterback Jacob Niemeyer has thrown for 712 yards this season with just one interception.