Thursday, November 15th, 2018
Regional rematch
Flyers, Cavs meet with state berth up for grabs
By Colin Foster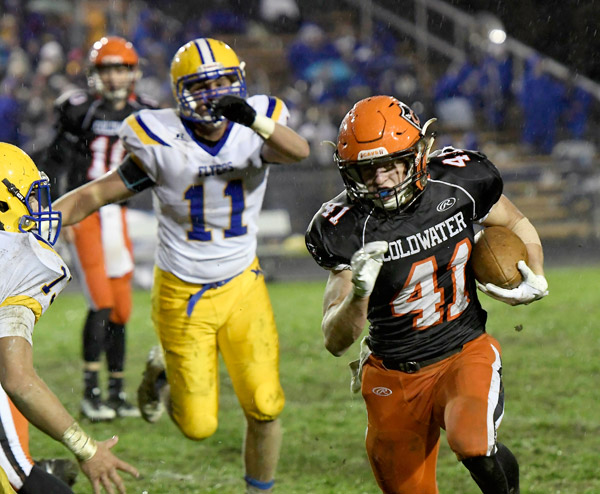 Photo by Nick Wenning/The Daily Standard
Marion Local-Coldwater is always the biggest game of the regular season.
Over the last two years, the teams have faced off in the biggest game of the Division VI Region 24 postseason.
The Flyers exited Cavalier Stadium in Week 10 with a bad taste in their mouths after a 26-20 loss to Coldwater in double overtime.
Marion Local (11-1) gets a shot at redemption Friday when it meets Coldwater (10-2) at Sidney Memorial Stadium/30-0 Field.
The defending state champion Flyers are seeking an eighth straight trip in the state semifinals.
"With how the first game went, with us making that really nice comeback and having several chances to win the game, I think everyone is excited that we have another shot," Marion Local coach Tim Goodwin said. "We have another shot to show up and play better."
Coldwater is looking to earn a trip back to the state semis after having lost to Marion Local in last year's regional title. The Cavaliers are making their 12th straight appearance in the regional final.
"We knew we'd be facing a lot of good teams this season and we didn't really know how it would play out," Coldwater coach Chip Otten said. "But at the beginning of the season if you would have told us then we'd be 10-2 and be playing for the regional title, we'd say 'We'll take that right now.' Now that we've got here, we certainly want it to continue."
Some tidbits leading up to kickoff:
FIRST MEETING
Coldwater forced four turnovers in the first half and built a 20-0 lead on Marion Local. Then the Flyers scored 20 unanswered points to force overtime.
Both teams had their first drives of overtime end with interceptions. The Flyers drove to the 1-yard line in the second before a holding penalty set them back. Marion missed the go-ahead field goal attempt, and Ben Wenning then sealed the victory for the Cavs with a 1-yard touchdown run.
"We had five turnovers and 14 penalties, and you don't beat a team like Coldwater unless you play well," Goodwin said. "We're working hard to prepare. We plan on showing up Friday night, playing well and seeing what happens.
"It's two evenly matched teams that are pretty close together in overall skill," Goodwin added. "Sometimes games are necessarily won, they're lost. Obviously we want to show up and not lose the game."
SINCE THEN
Coldwater opened the playoffs with a 49-14 thumping of Deer Park at Cavalier Stadium. The Cavs' Week 12 game against St. Henry was a lot tougher, though. Mitch Niekamp ran for 159 yards and two TDs on 25 carries, Jake Hemmelgarn threw an 18-yard scoring pass to Jacob Wenning for a 19-13 lead and then Blake Dippold booted the point-after attempt through the uprights, which turned out to be the difference maker. St. Henry scored in the fourth quarter but saw its game-tying PAT bounce off the upright. Coldwater held on for a 20-19 victory in Sidney.
Marion Local blasted Spencerville 55-7 at Booster Field in Week 11, putting the game on ice by scoring four times in the final 3 1/2 minutes of the first half. Last week, Nate Bruns threw three touchdown passes (two to Matt Rethman, another to Nick Tangeman) as the Flyers bounced Lima Central Catholic from the playoffs with a 33-17 victory.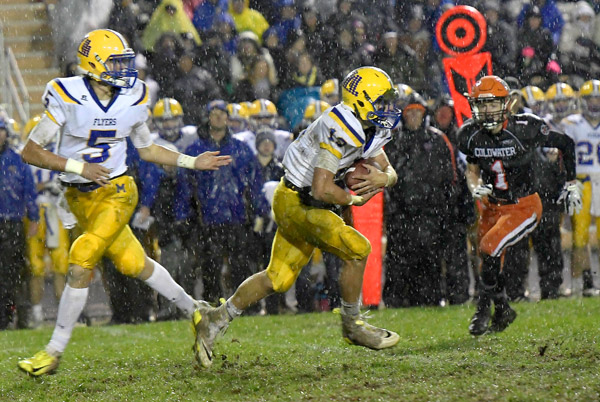 Photo by Nick Wenning/The Daily Standard
GOOD PLAYERS GALORE
The All-MAC regional final features a lot of first team All-MAC selections - including the MAC Defensive Player of the Year in Marion Local outside linebacker Sam Huelsman.
First team selections from Marion include Nick Tangeman (WR), Brandon Fleck (P), Bruns (QB), Nolan Habodasz (RB), Huelsman, Darrin Hays (DL), Rethman (CB) and John Tangeman (S). Among the first-team selections from Coldwater include Cole Frilling (WR), Dippold (kicker), Hemmelgarn (QB/Athlete), Niekamp (ILB) and Wenning (OLB).
HARD TO BEAT EM' TWICE
Stat of the day: Marion Local has been beaten by the same team twice in the same season just twice this century. Delphos St. John's was the culprit each time, in 2005 and then again in 2009.
Otten knows it'll be a big challenge for Coldwater to become No. 3.
"It's hard to beat them anytime, let alone twice," Otten said. "You just have to play really well throughout the whole game and try to prevent those big plays. Of course this year, more than any other, they have such big-play type guys with their two wideouts and their tailback, and their quarterback can throw the ball so well. Defensively, it's hard to score touchdowns on them. We felt like the last time we played them, they gave us some opportunities and we didn't capitalize with touchdowns, even though we got points. … They're well coached and they play so hard."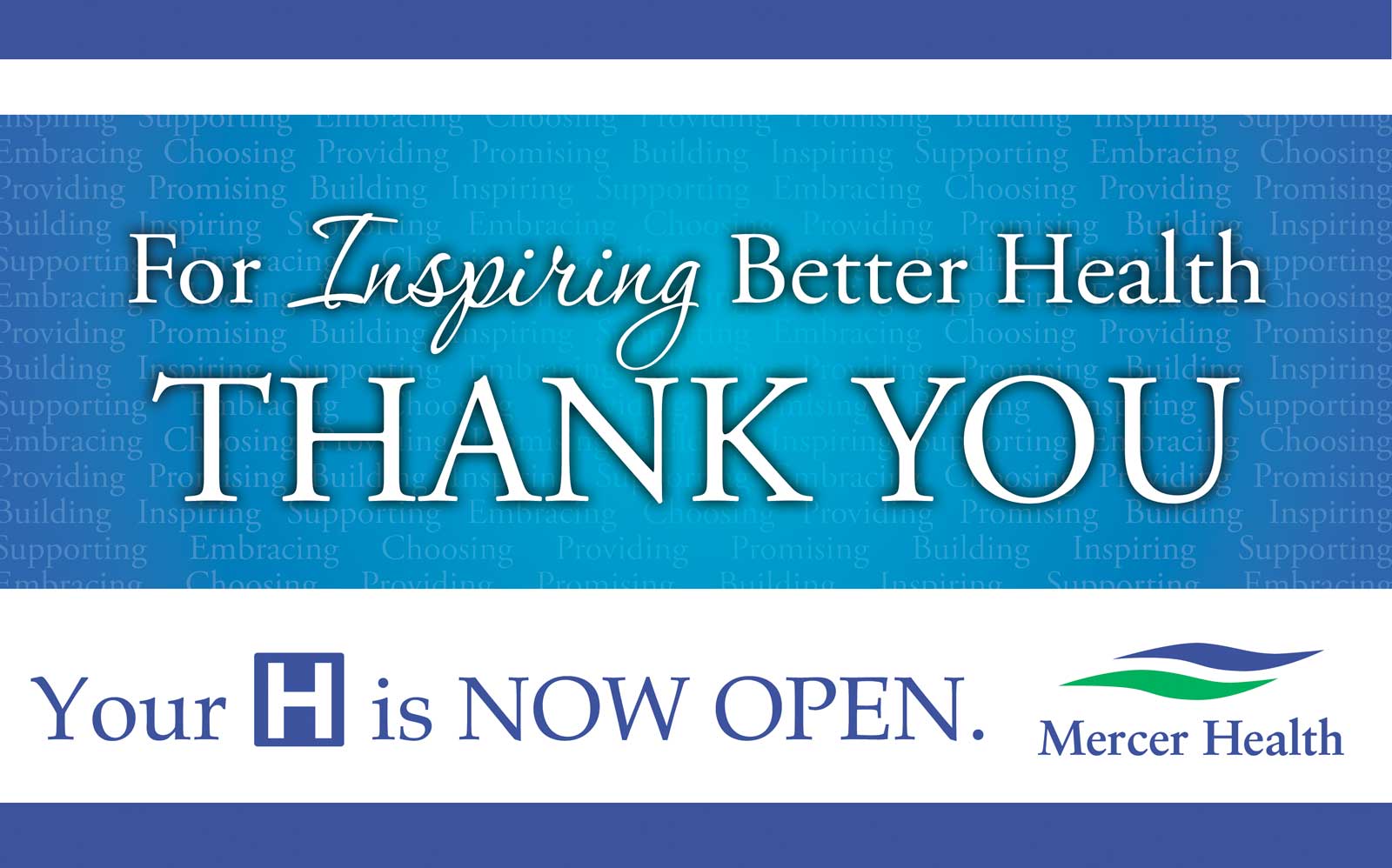 Thursday, November 15th, 2018
Roughriders ready for showdown
St. Marys clashes with unbeaten Clear Fork in regional final
By Gary R. Rasberry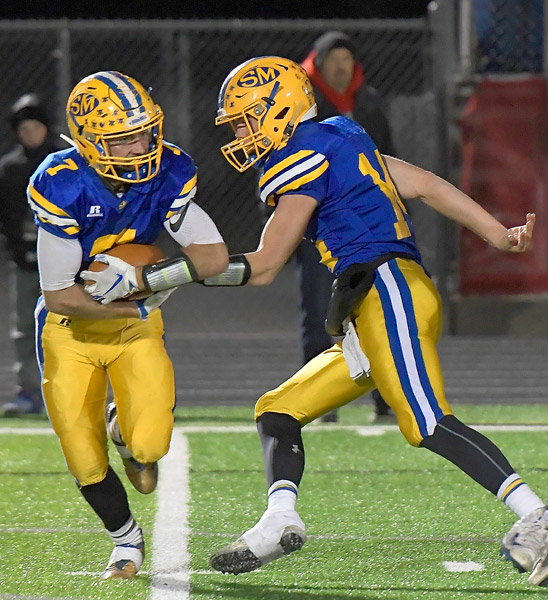 Photo by Nick Wenning/The Daily Standard
While St. Marys will play Clear Fork for the first time in school history when the two teams take to the turf at Acu Sport Stadium in Bellefontaine at 7 p.m. on Saturday night in the Division IV Region 14 championship game, Roughriders coach Doug Frye is no stranger to Clear Fork coach Dave Carroll.
"Coach Carroll was the head coach at Urbana when we played them in the Chicken Bowl (St. Marys' home scrimmage and chicken dinner fundraiser) and we played against them in the 2002 playoffs (an 8-0 win by Urbana)," Frye said. "He also followed me (as coach) at Danville after I went to Bucyrus. We know each other pretty well and are good friends. His brother Mike is the defensive coordinator and was head coach at Cardington."
The Colts, located in Bellville, just southeast of Mansfield, have gone undefeated in the regular season the past two seasons and are 12-0 after winning the Mid-Ohio Athletic Conference.
Clear Fork brings a unique two-quarterback attack on offense. Senior Jared Schaefer and junior Brennan South are interchangeable, rotating series-by-series at times. Both have thrown for more than 1,000 yards this season with Schaefer passing for 1,209 yards and 14 touchdowns and South adding 1,039 yards and 11 TDs.
"They do a great job bringing those guys in and out," said Frye. "Both are very explosive athletes."
The skill spots are also solid. Senior Trevon Trammel, the MOAC Player of the Year, has rushed for 1,315 yards and 18 touchdowns this season. Schaefer has added 548 yards and 10 scores.
Mount Union-bound Caden Flynn is the leading receiver with 28 catches for 890 yards and 10 touchdowns. AJ Blubaugh has snagged 32 passes for 467 yards and six scores. Zach Homerick has 25 catches for 408 yards and three scores while Trammel has added 282 yards on 21 catches and five scores.
"They're a very explosive offense. They're (in) a wide-open spread much like Elida or Van Wert with tremendous speed and athleticism," Frye said. "There's a reason they haven't lost a regular season game in two years."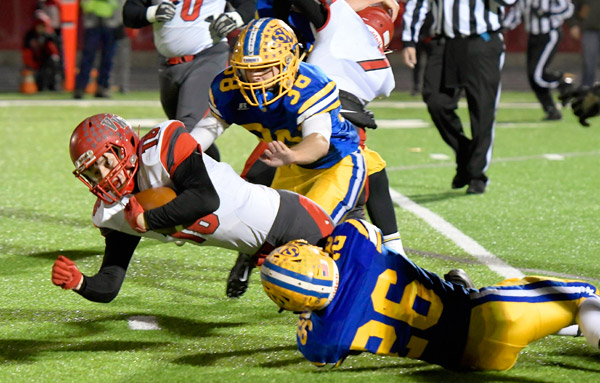 Photo by Nick Wenning/The Daily Standard
Keying the Colts' offense is a sizable line. Tackles Hunter Tollison (6-2, 295 pound), Michael Chillemi (6-2, 265) and guard James Watt (6-1, 250) provide a big challenge for the St. Marys defense.
"They're big," Frye said. "We're going to have to get on the hip and do our best to move them. All three of them play both ways on D-line and O-line. They are big and physical."
Defensively, Clear Fork allowed more than 14 points once this season, a 59-35 shootout win over Galion in Week 7. The Colts have allowed just 14 total points in playoff wins over Bryan and Lorain Clearview. The St. Marys offense will be challenged as Clear Fork allowed just 85 yards per game on the ground during the regular season
Chillemi leads the team sixth 62 tackles and eight sacks. Trammel adds six sacks from the linebacker spot with Jay Swainhart tallying four sacks and 42 tackles.
"They're good on defense and special teams, too," Frye said. "It will be a challenge for us.
"We're decent size, but not that big in the trenches. We'll have to do a good job to use our speed. Their physical size reminds me a lot of Celina's team from about two years ago when they had the big defensive linemen."
The big focus point for St. Marys on defense to keep the Colts from breaking out for big plays.
"We can't give up big plays. We have to make them earn everything they get.," said Frye. "Everybody knows what we do offensively (with the Wing-T). We have to execute our offense. … We have to make plays when we have the chance, either with our quarterback or out of play-action passing."

Thursday, November 15th, 2018
Goal Line
The Daily Standard's Weekly High School Football Preview Section
Impact Players of the Week
Offense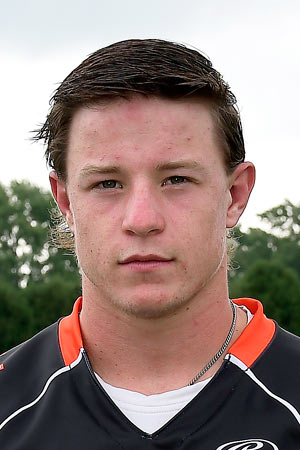 Mitch Niekamp, Running Back Coldwater
25 carries, 159 yards and 2 TDs in 20-19 win over St. Henry
Defense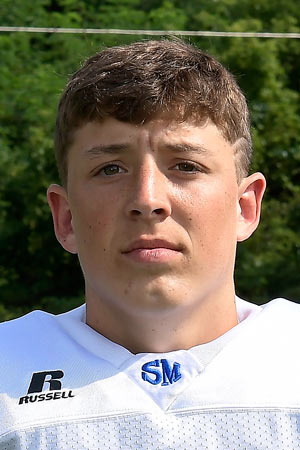 Carter Ballweg, Cornerback St. Marys
School-record 10th interception and third return for TD in 55-20 win over Van Wert

Thursday, November 15th, 2018
Regional Final Pairings
Division I - Games at 7 p.m. Friday, Nov. 16
Region 1
1 Mentor (11-1) vs. 7 Lakewood St. Edward (8-3) at Euclid Community Field
Region 2
4 Olentangy Liberty (8-4) vs. 2 Dublin Coffman (11-1) at New Albany Veterans Field at Eagle Stadium
Region 3
1 Hilliard Davidson (11-1) vs. 6 Pickerington Central (10-2) at Gahanna Lincoln Wilbur C. Strait Field
Region 4
1 Cin. Colerain (12-0) vs. 3 Cin. Elder (8-4) at Mason Dwire Field, Atrium Stadium
Division II - Games at 7 p.m. Friday, Nov. 16
Region 5
1 Akron Hoban (12-0) vs. 2 Maple Hts. (12-0) at Twinsburg Tiger Stadium
Region 6
1 Tol. Central Cath. (12-0) vs. 3 Avon (11-1) at Clyde Robert J. Bishop Jr. Stadium
Region 7
1 Massillon Washington (12-0) vs. 3 Wadsworth (12-0) at North Canton Hoover Memorial Stadium
Region 8
1 Cin. Winton Woods (11-1) vs. 7 Cin. Anderson (9-3) at Lakota West Firebird Field
Division III - Games at 7 p.m. Friday, Nov. 16
Region 9
1 Canfield (11-1) vs. 2 Chagrin Falls Kenston (11-1) at Warren G. Harding Mollenkopf Stadium
Region 10
4 Norwalk (9-3) vs. 6 Sandusky (8-4) at First National Bank Field at Bellevue Athletic Facility
Region 11
4 Cols. Eastmoor Academy (11-1) vs. 6 Thornville Sheridan (11-1) at Lancaster Fulton Field
Region 12
1 Kettering Alter (11-1) vs. 2 Wapakoneta (11-1) at Piqua Alexander Stadium
Division IV - Games at 7 p.m. Saturday, Nov. 17
Region 13
5 Girard (11-1) vs. 3 Hubbard (11-1) at Niles McKinley Bo Rein Stadium
Region 14
1 Clear Fork (12-0) vs. 2 St. Marys (11-1) at Bellefontaine AcuSport Stadium
Region 15
1 St. Clairsville (12-0) vs. 7 Newark Licking Valley (9-3) at Zanesville Sulsberger Stadium
Region 16
1 Cin. Wyoming (12-0) vs. 6 London (11-1) at Centerville Stadium
Division V - Games at 7 p.m. Saturday, Nov. 17
Region 17
1 Orrville (10-2) vs. 2 Akr. Manchester (9-3) at Canal Fulton Northwest Dr. Martin Smilek Stadium, Jim Schalmo Field
Region 18
1 Genoa Area (12-0) vs. 2 Liberty Center (11-1) at Millbury Lake Community Stadium
Region 19
1 Johnstown-Monroe (11-1) vs. 3 Byesville Meadowbrook (9-3) at Zanesville Maysville Athletic Complex
Region 20
1 Wheelersburg (11-1) vs. 2 Middletown Madison (12-0) at Hilliard Darby Stadium
Division VI - Games at 7 p.m. Friday, Nov. 16
Region 21
1 Mogadore (11-1) vs. 2 Kirtland (12-0) at Aurora Veterans Stadium
Region 22
1 Seneca East (11-1) vs. 7 Fairview (9-3) at Findlay Donnell Stadium
Region 23
4 Shadyside (10-2) vs. 2 Beverly Ft. Frye (11-0) at Byesville Meadowbrook Eugene Capers Field
Region 24
1 Coldwater (10-2) vs. 3 Marion Local (11-1) at Sidney Memorial Stadium
Division VII - Games at 7 p.m. Saturday, Nov. 17
Region 25
1 Cuyahoga Heights (10-2) vs. 7 Warren John F. Kennedy (7-5) at Macedonia Nordonia Boliantz Stadium
Region 26
5 McComb (11-1) vs. 2 Edgerton (12-0) at Defiance Fred Brown Athletic Complex
Region 27
1 Lucas (10-2) vs. 3 Glouster Trimble (11-1) at Hamilton Township Alumni Stadium
Region 28
1 Fort Loramie (11-1) vs. 2 Convoy Crestview (11-1) at Lima Spartan Stadium