Wednesday, November 22nd, 2023
Remembering the '98 Bulldogs
Players from Celina's last state tournament team see similarities
By Gary R. Rasberry
Celina fans have been enjoying the ride their football team has enjoyed this season.
After a few lean years, the Bulldogs are 12-2, Western Buckeye League champions for the first time since 1995 and playing in the state semifinals for the first time since 1998 when they face Columbus Bishop Watterson on Friday at Xenia's Doug Adams Stadium.
For those members of the 1998 team, this run brings back fond memories.
"It sure does," said Bret Baucher, one of the key receivers on the 1998 team, who later served as an assistant football coach and now is the head coach for girls basketball. "We had great teams we looked up to and wanted to be better than. Now being 25 years ago, having coached and knowing some of these kids, you want them to have that same success and same experiences. We're thrilled for the kids."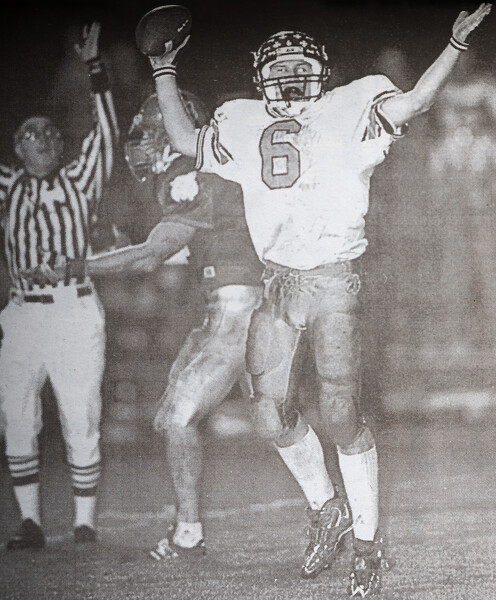 Photo from The Daily Standard Archives
The 1998 team was a prime example of the "Air Harris" offense run by veteran coach Jerry Harris, with Baucher and Chad Highley catching passes from Trent Dysert to go with a strong defense. The '98 Bulldogs also went 8-2 with both losses coming in WBL play to finish tied for second behind Kenton.
"Coach Harris was ahead of the times throwing the ball," said Baucher, who had 56 receptions for 790 yards in 1998. "We were fortunate to have the personnel to do that at a high level. As a receiver, it makes things more fun going out and catching passes."
But the run was nearly ended at the end of the regular season when the initial computer points report had Celina fifth in Division II Region 6, in an era where only the top four teams moved on rather than the 16 currently advancing.
"I think it was coach Harris and coach (Drew) Braun who found the error in the computer rankings and talked to the (OHSAA)," said Dysert, whose 2,851 passing yards and 33 touchdowns earned him Division II state Offensive Player of the Year honors. "They ended up finding an error, I think it was three-tenths of a point difference. We were at the movies watching "The Waterboy" and my mom and a couple of friends' moms stopped in and said we were in the playoffs. At the time I think we were embarrassed our parents were in looking for us."
Celina had close victories over Bowling Green and Sylvania Southview to win the regional and earn a rematch from the season before against Lebanon. Lebanon won a shootout over the Bulldogs 70-43 en route to capturing the Division II state title.
"Make it to the final four, score 43 points in that game, and you didn't win," said Baucher. "We weren't really close. We got a three-and-out on the first defensive series, but (defensive end) Dusty Messner broke his ankle and we didn't have the depth at that position, and Lebanon scored the next 10 possessions."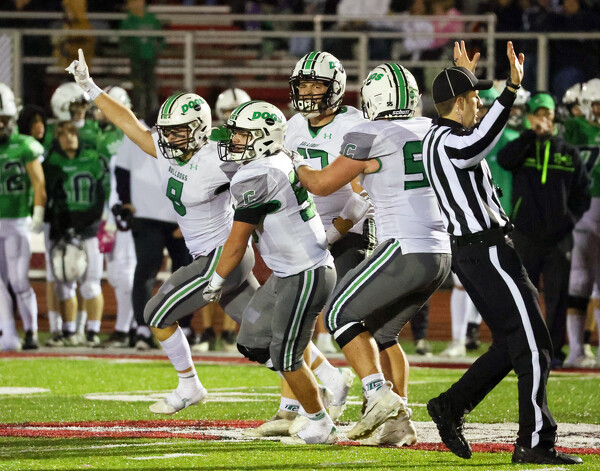 Photo by Paige Sutter/The Daily Standard
The 2023 Bulldogs don't run the Air Harris offense, but some of the 1998 alumni see a lot of similar traits between the teams.
"I see a lot of similarities," said Highley, a first team All-Ohio receiver who still holds the school records for receiving yards in a season (1,488 in 1998) and in a career (2,654). "We weren't the biggest, fastest or strongest players on the field, but we found a way to win to win games. This year's guys do the same thing."
Baucher and Highley are at Celina games regularly and have seen a number of grads make it back to watch the current squad.
"Seeing the alumni coming back and seeing some familiar faces is a lot of fun," said Baucher. "Trent and I got together over the summer to play some golf and reminisce. It's been exciting to see everyone get interested and experience Celina football the way we did in high school."
Highley was one of many who had a feeling this year's team had a magic to them.
"Each week, the excitement grows, as does the expectations," said Highley. "It's exciting how they're playing this year."
Dysert, who lives in Centerville, will make the short trek to Xenia on Friday for the state semifinal.
"I'll definitely be there this Friday," said Dysert.
And the hope is that there will be another week of play after this, but pride is already booming.
"We're proud of everything they have done," said Highley. "Anything else is icing on the cake."
Wednesday, November 22nd, 2023
Celina vs. Columbus Bishop Watterson
Division III State Semifinal - Doug Adams Stadium, Xenia
By Daily Standard Staff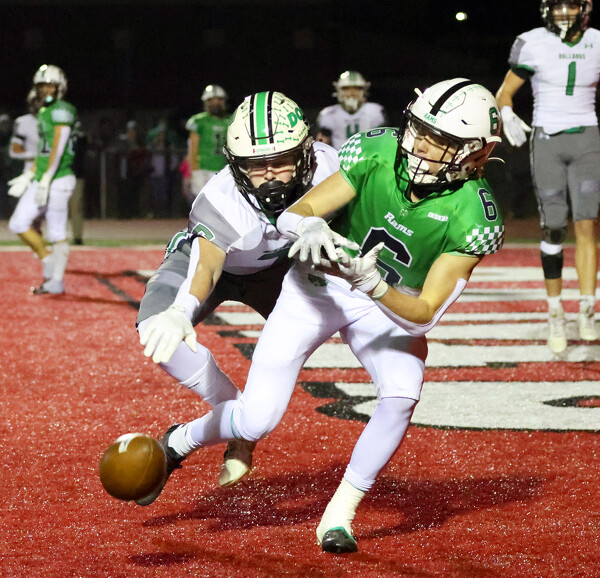 Photo by Paige Sutter/The Daily Standard
First-ever meeting between the programs.
About the Eagles
Playing in the Central Catholic League, Watterson hasn't been to the final four since 2010. Coach Brian Kennedy's team opened the season 9-0 before losing to CCL rival DeSales 27-24 in Week 10. In the playoffs, the Eagles got two big wins before beating Bloom-Carroll 20-10 in the Region 11 quarterfinals and then outlasting Bellefontaine 19-13 in the regional finals.
The best player on the team is linebacker Dominic Purcell, the Central District Defensive Player of the Year who will play at the United States Naval Academy next fall. Purcell has 162 tackles, eight sacks, four interceptions and has scored touchdowns on interception return, fumble recovery and blocked punt. Playing tight end on offense, Purcell has five receptions, four for touchdowns.
Quarterback AJ McAninch, who will pitch next season at Marshall, has thrown for 2,944 yards with 36 touchdowns this season. His favorite target is Jake Uhlenhake, whose father Jeff was an All-American center at Ohio State and started 112 of 119 career games in the National Football League. Uhlenhake has 54 receptions for 912 yards and 13 touchdowns. Cal Mangini adds 43 catches for 565 yards and three scores while running back Zack Weber has 772 yards rushing and 12 TDs.
About the Bulldogs
The Celina express keeps rolling after beating previously unbeaten Hamilton Badin 37-25 for the first regional championship in 25 years. It's the fourth time in school history Celina has reached the final four (1983, 1995, 1998 the previous years, with the 1983 team finishing as the state runner-up).
All-around athlete Braylon Gabes set the school record last week for points in a season with 198, breaking the mark set by Bret Swaney (194) in 1995. Gabes' 24 rushing touchdowns ties him for second-most in the season with the legendary Jim Otis and his 1,324 rushing yards ranks fifth all-time, needing just 20 yards to tie Brad Manier (1,344 yards in 1974). Jon Lutz adds 761 rushing yards with Parker Bertke chipping in 451 yards.
Dalton Chilcoat, Tucker Ackley and Kaden Murlin have combined for 16 sacks this season, with Chilcoat leading the way with eight. Braylon Gabes has two defensive touchdowns after his interception return score last Friday against Badin that sealed the victory.
Wednesday, November 22nd, 2023
Marion Local vs. Patrick Henry
Division VII State Semifinal - Lima Spartan Stadium
By Daily Standard Staff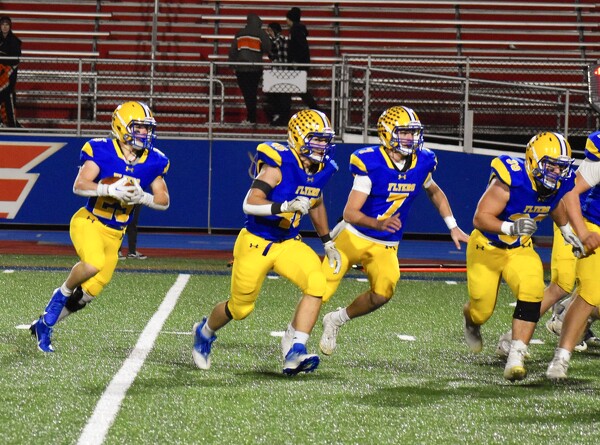 Photo by Zachary Hesse/The Daily Standard
The Flyers and Patriots will meet for the sixth time in school history (Marion won the previous five meetings) and the fourth time in the state semifinals, with the last meeting in 2019. Marion won that one 40-6 to advance to play Lucas in the Division VII final.
About the Patriots
Veteran coach Bill Inselmann has his team coming in at 12-2, with the only losses in Northwest Ohio Athletic League play. The Patriots fell to Division V state semifinalist Liberty Center 62-0 in Week Seven, then to Archbold 59-22 in Week Nine before coming back to score 40 points in four of the next five games to reach the state semifinals. PH has only won one state semifinal game in history, beating South Range in the 2005 Division V semifinals en route to a state title. Five times the Patriots have lost to a MAC team in the state semis, three times to Marion and once each to St. Henry and Coldwater.
The Patriots have been solid with Lincoln Creager at quarterback after Nash Meyer was lost for the season with a knee injury in Week Five after passing for 1,371 yards and 11 scores. Creager has passed for an even 1,000 yards with 12 touchdowns. Landon Johnson and Thomas Smith are the two lead receiving threats with Johnson recording 57 receptions for 899 yards and nine scores and Smith adding 39 catches for 732 yards and eight TDs. The rushing game is led by Houston Miranda, who has tallied 1,645 yards and 25 touchdowns this season. Defensive lineman Grant Smith has recorded 23 sacks this season to go with team-highs in tackles (95) and tackles for loss (11). Creager has snagged four interceptions and forced two fumbles.
About the Flyers
The Flyers cranked up the offense in the second half against previously unbeaten Ansonia to take a 48-0 win, reaching the state semifinals for the 16th time in the past 18 seasons. Marion has not lost in the state semifinals since 2009, when it fell in overtime to Delphos St. John's.
Quarterback Justin Knouff (1,945 yards, 25 TDs) is 55 yards away from becoming the ninth Flyer QB to reach 2,000 passing yards in a season while receiver Victor Hoelscher is the fifth Marion player to reach 1,000 receiving yards in a season. The Flyers' "pick your poison" backfield has four players with at least 490 rushing yards that combine for 46 of the team's 54 rushing touchdowns this season, and Knouff leads the way with 645 yards.
The Flyer defense continues to be potent, as opponents are only averaging 158.7 yards of total offense and 6.9 points per game. Marion has outscored teams 383-43 in the first half of games, and when the reserves are put in for the second half, it is still outscoring teams 238-53. Linebacker Landon Arling went over the 100-tackle mark last week, reaching 104. Flyer defenders have recorded 40 sacks this season.