Thursday, October 15th, 2020
Flyers begin defense of title
By Gary R. Rasberry
After a week off to rest up, ease any pains and do a little scouting, Marion Local officially begins defense of its Division VII state championship on Friday night at Booster Field in Maria Stein.
Making the trip from Greene County will be the Indians of Cedarville, which opened Region 28 playoff action with a 35-6 victory over Mississinawa Valley last week.
The Flyers, the region's top seed, will look to have a long homestand as higher seeds will host games through the regional semifinals and possibly the regional final set for Nov. 6.
Some insights into Friday's game:
WE MEET AGAIN
Marion and Cedarville will face off for the fifth time in history with the series knotted at 2-2.
The Indians beat the Flyers in regular season matchups in 1997 and 1998 under previous management for the Flyers. However Tim Goodwin is 2-0 against Cedarville, with both matchups taking place in regional semifinals with Marion winning 42-0 in 2000 and 38-0 in 2001 as the Flyers captured the first of 10 state titles under Goodwin.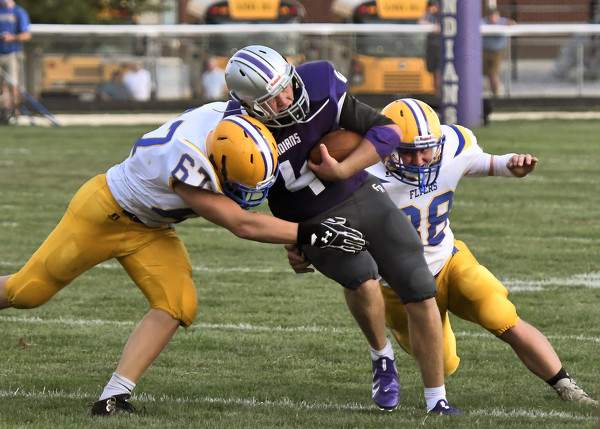 Photo by Nick Wenning/The Daily Standard
JUST GETTING STARTED
The Flyers are 6-0, but there were a few anxious moments in the first half of the season. Marion came away with wins over Fort Recovery (23-14) and New Bremen (21-13) where the Flyers pulled away in the second half, and then against Versailles, the Flyers needed a stop on a Tiger two-point conversion try in overtime to escape Hole Field with a 21-20 win.
The Versailles battle might have been the elixir Goodwin had been looking for.
The final three games of the regular season were all shutout wins for the Flyers, beating St. Henry and Minster by matching 28-0 margins before shutting out Delphos St. John's 49-0. The last time the Flyers shut out three straight opponents was in 2017 when Marion shut out Parkway to end the regular season and then posted three straight goose eggs against playoff foes Fort Recovery, Spencerville and Coldwater.
Marion's defense has racked up 17 sacks (five by Robby Buschur) and 11 interceptions in a very unselfish defense (Grant Meier leads the team with 54 tackles, but four other players have between 29 and 43 tackles).
SCOUTING REPORT
The Indians are 2-5 and finished 1-4 in the Ohio Heritage Conference. The lone conference win came over Springfield Catholic Central before losing Week 6 to Southeastern, which is at New Bremen on Friday.
Quarterback Hunter Baldwin is the catalyst on offense. The 6-3 senior passed for 447 yards with three touchdowns and 10 interceptions and rushed for 282 yards and four scores in the regular season. Kane Odon leads the team in rushing with 309 yards and had two touchdowns, Jackson Howdyshell has eight receptions for 158 yards while Max Pollander has a team-high 13 catches for 129 yards.
PICK YOUR POISON
Flyer quarterback Carson Griesdorn (55.9% completion, 889 yards) has two main weapons to throw to this season.
Peyton Otte leads the team in receptions (28), yards (459) and touchdown catches this season (4) while Charlie Huelsman adds 16 catches for 382 yards (23.9 yards per catch) with three scores.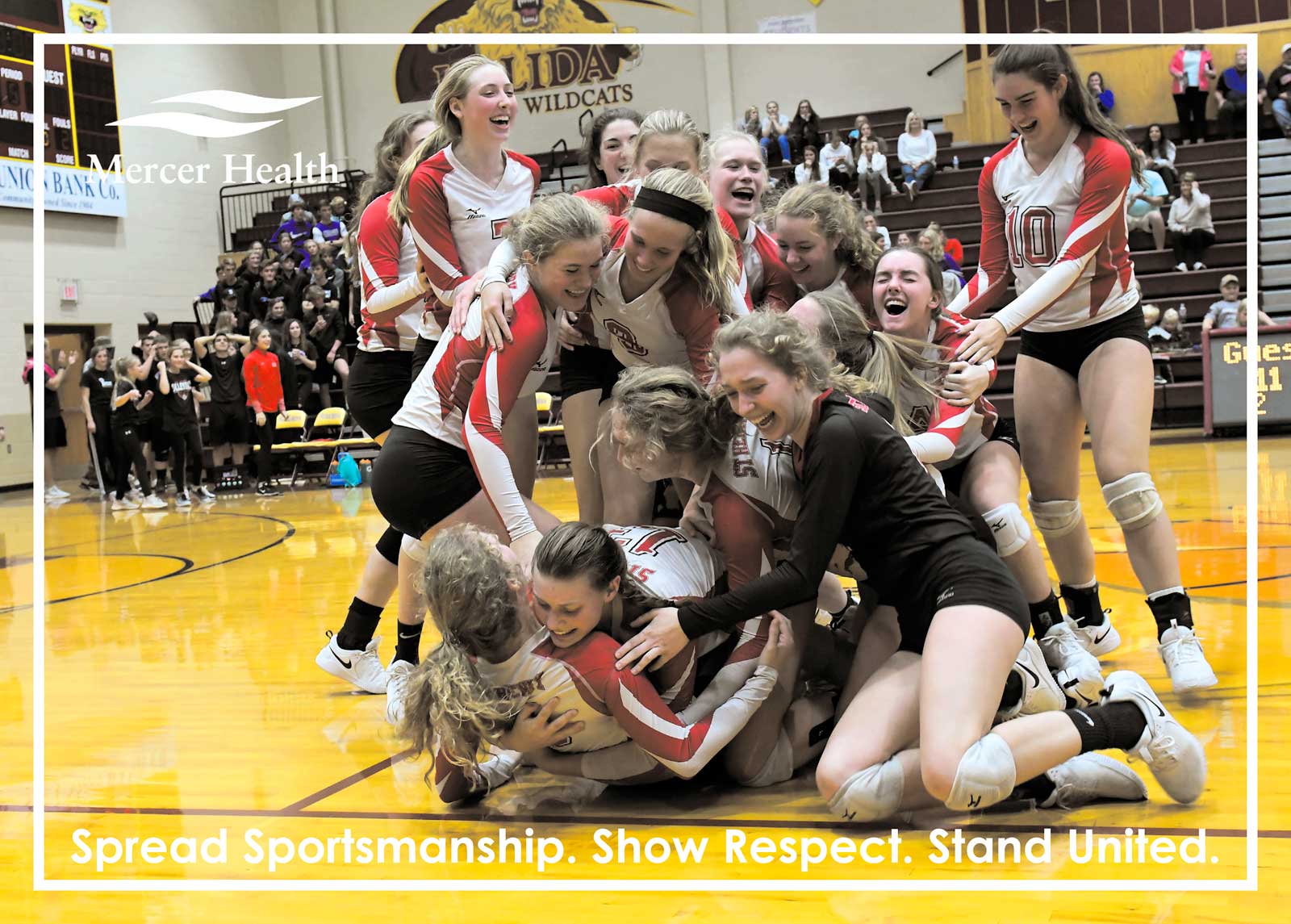 Thursday, October 15th, 2020
Computer Points In Review
Which teams do the computers think will win this week?
By Bruce Monnin
The playoffs are underway, and it was a fairly good start to the postseason for teams from the WBL and the MAC.
The WBL went 4-3 during the opening weekend of the postseason. The three WBL teams which had byes last week (Van Wert, Kenton and Ottawa-Glandorf) will get to host games this week, as will St. Marys. The other three WBL squads remaining in the playoffs (Wapakoneta, Lima Bath and Defiance) will travel to face higher-seeded teams.
The MAC had a perfect 3-0 start to the postseason, as Parkway, Anna and Delphos St. John's all were victorious. Those three teams, and Minster, will all be visiting teams in this weekend's games, while the other six MAC teams will be playing at home.
Again this week, besides noting which team in each of these 17 playoff games was seeded higher by the coaches, we will be using the Harbin computer points as well as the Calpreps.com website to give us additional pieces of information as we preview area playoff games.
The complete computer points for all OHSAA teams can be found throughout the season at: user.nktelco.net/bdmonnin/football.htm.
Division III Region 12:
Team - Ranking (Computer Points)
Hamilton Badin - 2nd (24.94)
St. Marys - 9th (12.35)
Elida - 11th (11.35)
Franklin - 12th (11.15)
Celina - 16th (8.85)
Wapakoneta - 19th (8.02)
Lima Shawnee - 20th (7.75)
No. 8 seeded St. Marys (5-2) hosts once again this week, this time against No. 9 Franklin (4-3). St. Marys has 11% more computer points than Franklin, and Calpreps says St. Marys will win 21-10. With a victory, the Roughriders would move on to play the winner of the game between Bellbrook and Chaminade-Julienne.
No. 18 Wapakoneta (3-4) goes on the road for the second straight week, facing No. 2 Hamilton Badin (6-0). Badin has over three times as many computer points as Wapakoneta, and Calpreps says Badin should beat the Redskins 35-0. If they can pull off an upset victory, Wapakoneta would play win winner of the Tippecanoe-Mount Healthy matchup.
Division VI Region 24:
Frankfort Adena - 2nd (18.33)
Coldwater - 3rd (15.06)
West Jefferson - 4th (13.91)
Allen East - 6th (8.88)
Milford Center Fairbanks - 10th (7.51)
North Lewisburg Triad - 12th (5.06)
Fort Recovery - 15th (3.54)
Minster - 16th (2.90)
Anna - 17th (2.89)
Parkway - 19th (2.40)
Top-seeded Coldwater (6-0) plays host to No. 17 North Lewisburg Triad (3-4). Not only do the Cavaliers have three times more computer points, but Calpreps anticipates Coldwater winning with a running clock, 44-3. With the expected win, Coldwater will host the winner of the following game.
No. 8 Fort Recovery (2-4) hosts No. 9 Fairbanks (4-2) for the right to likely travel to Coldwater next week. Fairbanks has almost twice as many computer points, but Calpreps prefers the Indians with a 42-28 victory.
No. 11 Minster (2-5) starts their official postseason a week later than expected, going on the road to visit No. 6 Allen East (4-2). While Allen East has three times more computer points, Calpreps only expects them to defeat the Wildcats in a close game, 24-19. If they win, the Wildcats will play the victor of the following matchup.
No. 19 Parkway (1-6) will attempt to pick up its second playoff road win in as many weeks as it continues to travel far and wide to take on No. 3 Frankfort Adena (6-0). Both the computer points (Adena has over seven times more) and Calpreps (who favors Adena 44-14) do not yet believe in the Panthers.
No. 13 Anna (2-5) will be visiting No. 4 West Jefferson (5-1). The computers are against the MAC school again, as West Jefferson has almost five times as many computer points and Calpreps thinks the Rockets will lose 40-14.
Division VII Region 28:
Marion Local - 2nd (16.82)
Fort Loramie - 5th (11.42)
New Bremen - 7th (9.58)
St. Henry - 8th (7.60)
Grove City Christian - 11th (6.71)
S. Char. Southeastern - 15th (3.68)
Cedarville - 17th (1.52)
The three MAC teams in this region are all huge favorites this week.
No. 1 seeded Marion Local (6-0) will host No. 16 Cedarville (2-5). The Flyers have 11 times the computer points and are heavily favored by Calpreps to win 62-0. Marion Local would then host either No. 8 New Miami (4-0) or No. 9 Fayetteville-Perry (4-2) next week.
No. 3 New Bremen (4-2) will be hosting No. 19 South Charleston Southeastern (3-4). The Cardinals have 2.6 times the computer points and Calpreps likes them to win easily, 58-0.
No. 6 St. Henry (3-3) will also be playing at home against No. 11 Grove City Christian (4-2). The Redskins have only 13% more computer points, but Calpreps likes them in another blowout 56-0.
With wins, New Bremen would be hosting St. Henry (4-2) next week.
Other Regions of Interest
Division III Region 10: No. 19 Defiance (1-6) opened the postseason with a 27-10 win over 1-4 Bay Village Bay. This week the Bulldogs will travel to No. 3 seeded Bowling Green (5-1). Calpreps has Bowling Green favored by a 31-10 score.
Division IV Region 14: Fifth-seeded Van Wert (5-1) will host No. 12 Port Clinton (4-3). Van Wert has twice the computer points and is favored to win 38-21 by Calpreps. Meanwhile, eighth-seeded Kenton (3-3) hosts No. 9 Ontario (5-2). Despite being lower seeded, Ontario has 47% more computer points and is favored by Calpreps 38-21 over the Wildcats.
Division V Region 18: No. 3 Ottawa-Glandorf (5-1) starts its playoff run by hosting No. 14 Orrville (3-3). The Titans have almost four times more computer points and Calpreps likes Ottawa-Glandorf to win 31-7. No. 11 Lima Bath (2-5) will be traveling to play No. 6 West Salem Northwestern (5-1). The Wildcats have less than one-third the computer points, but Calpreps likes Lima Bath in a mild upset, 17-14.
Division V Region 20: No. 4 Versailles (4-2) opens its postseason by hosting No. 13 Preble Shawnee (3-4). Versailles is only 15% higher in the computer points, but Calpreps likes the Tigers in a runaway, 35-8.
Division VII Region 26: No. 16 Delphos St. John's (2-5) won its playoff opener, but now face top seeded Lima Central Catholic (5-1). Not only do the Thunderbirds have six times more computer points than the Blue Jays, but Calpreps envisions a 44-13 LCC win.

Thursday, October 15th, 2020
Two-Minute Drill
By Daily Standard Staff
FRIDAY
FRANKLIN at ST. MARYS
Grand Lake Health System Field
The Roughriders and Wildcats face off for the second straight postseason and fourth time in history. St. Marys won 13-10 at Franklin last season to run their series record to 3-0.
About the Wildcats: Franklin finished 3-3 and 2-3 in the Southwestern Buckeye League this season before beating Vandalia-Butler 14-6 in the opening round of the playoffs last Friday. Two of the three losses came by seven or fewer points with only a 34-0 drubbing by Bellbrook breaking up the margins. Most of the starters from last year's matchup graduated. Cyre Williams led the team in rushing with 371 yards and four touchdowns during the regular season.
About the Roughriders: St. Marys cruised to a big win over Greenville in the opening round matchup last week. Ten different players carried the ball and combined for 400 yards rushing in the win as coach Doug Frye gave the subs plenty of playing time in the victory.
SOUTH CHARLESTON SOUTHEASTERN at NEW BREMEN
Cardinals Stadium
First-ever meeting
About the Trojans: Southeastern enters at 3-4 after beating Lehman 21-19 last week. Southeastern plays in the Ohio Heritage Conference South Division. The Trojans led the OHC in rushing offense with 1,298 yards in seven games. Tanner Stoops is the go-to back, leading the team wth 631 yards, including 161 in the win over Lehman. Nick Harris adds 313 yards and quarterback Wade Eriksen has 291 yards on the ground to go with 328 passing yards and five touchdowns to just one interception. Stoops also leads the team with 55 tackles while lineman Brady Spears has a team-best four sacks.
About the Cardinals: After beating Versailles in Week 6, the Cardinals earned a bye for the first round, which should have everyone ready for the Trojans. Running back Zach Bertke (418 yard, 2 TDs) and quarterback Mitchell Hays (387 yards, 6 TDs) continue to handle the bulk of the offense. The Cardinal defense will be challenged by the Trojan rushing game. New Bremen's defense has allowed just 107.3 yards on the ground per game this season.
GROVE CITY CHRISTIAN at ST. HENRY
Wally Post Athletic Complex
First-ever meeting
About the Eagles: GCC plays in the Mid-State League Cardinal Division and went 4-2 before getting a bye to advance and play St. Henry. The Eagles' first loss came against Worthington Christian, which is coached by former Redskin great Jeff Hartings. The Eagles are a run-heavy offense out of a power-counter scheme. Senior running back Christian Lautenschleger (5-9, 210 pounds) has rushed for 1,021 yards (7.7 yards per carry) with eight touchdowns this season. The team's losses (Worthington Christian and Troy Christian) were by margins of 34 and 37 points while their four wins included one blowout win (40-0 over Bishop Rosecrans) and three close wins (14-7 to Fisher Catholic, 19-18 to Fairfield Christian and 13-6 to Miller).
About the Redskins: St. Henry had the bye in the opening round, but are coming in with two straight wins, including rallying from down 21-0 to beat Fort Recovery 22-21 in Week 6. After missing the Parkway win in Week 5, KJ Jacobs returned to rush for 151 yards and a touchdown against Fort Recovery, giving the Redskins added depth in the backfield along with Owen Lefeld, who primarily played defense against Fort Recovery.
REGULAR SEASON
CELINA at GREENVILLE
Good Samaritan Stadium at Harmon Field
The longtime season-opener for the teams, the Bulldogs and Green Wave last played in 2004 with Celina winning 41-27 at Celina Stadium.
About the Bulldogs: After a tough 42-39 playoff loss to Dayton Carroll, Celina looks to end the season on a positive note. Senior Jaxson Silliman had a career game in rushing for 206 yards and four touchdowns against the Patriots.
About the Green Wave: After scoring just 25 points in the regular season (with all the points coming in the final three games of the regular season), Greenville scored 21 points in a 56-21 loss at St. Marys in the playoffs. The Wave were held to 249 yards of offense. Hayden Sharp rushed for 61 yards to lead Greenville.
SATURDAY
TRIAD at COLDWATER
Cavalier Stadium
First-ever meeting
About the Cardinals: Triad enters at 3-4 and on a two-game winning streak after beating National Trail 42-7 in the playoff opener. The Cardinals have a strong passing quarterback in Coleman Hauck, who has passed for 1,016 yards and nine touchdowns and rushed for another 299 yards and four scores this season. Ayden Sanford leads the team with 448 receiving yards and four touchdowns while Batal Lease adds 374 yards and three scores. Jackson Cordell is the top rusher on the team with 357 yards and three touchdowns. Defensive end Isiah Leasure leads the team with 68 tackles and 6 1/2 sacks. Sanford has four interceptions on defense.
About the Cavaliers: After shutting out Anna 40-0 to wrap up the regular season, the Cavaliers got a break to get prepped for the postseason. The Cavalier defense is giving up 212 yards of offense on average this season with 127 coming on the ground. The defense has stepped up with eight interception and 12 1/2 sacks as a team. Look for the defense to put the pressure on the Cardinals from the start. Offensively, quarterback Myles Blasingame should be a favorite for MAC Offensive Player of the Year with his 13 passing touchdowns and another six rushing scores in rushing for 547 yards.
MINSTER at ALLEN EAST
Goodwin Field
First-ever meeting
About the Wildcats: After getting the ticket to the next round when Delphos Jefferson had to forfeit, Minster tuned up with a non-conference game at Pandora-Gilboa. The Wildcats played their subs for most of the game in a 49-0 loss to the Rockets.
About the Mustangs: Allen East went 4-2 in the regular season and was the best passing team in the Northwest Conference, averaging 265.2 yards per game. Quarterback Tyler Crum threw for 1,456 during the regular season with 13 touchdowns and six interception. Bradden Crumrine leads the Mustangs with 40 receptions for 621 yards with Carter Young adding 21 catches for 282 yards. When the Mustangs run, Blake Hershberger is the go-to back in running for a team-best 238 yards. The Mustang defense ranked third in the NWC in yards allowed with just over 297 per game and are even on turnover ratio (nine takeaways, nine giveaways).
FAIRBANKS at FORT RECOVERY
Barrenbrugge Park
First-ever meeting
About the Panthers: After going 4-2 during the regular season (3-2 in the Ohio Heritage Conference North), Fairbanks comes to Fort Recovery for the playoff opener. The Panthers are run-heavy, averaging 187.2 yards per game. Brogan Green leads the team with 616 yards and seven touchdowns with Riordin Stauffer adding 242 yards and two scores. Quarterback Ethan Kise has passed for 527 yards and four touchdowns this eason with Braylon Green (6-3, 210 pounds) leading the team with 17 receptions for 288 yards and two scores. Stauffer leads the team in tackles (45) and sacks (5) from a linebacker spot with Green adding 44 tackles, 2 sacks and a pick-six.
About the Indians: Brent Niekamp's team had a week off to try and exorcise the Week 6 22-21 loss to St. Henry in which the Indians were leading 21-0 in the fourth quarter. The Indians will be challenged by Fairbanks' running game. Fort Recovery gave up an average of 162.7 rushing yards per game during the regular season. Receiver/defensive back Gavin Thobe has been blistering on both sides of the ball, recording a team-high 25 receptions for 324 yards with three touchdowns on offense and leading the team in tackles with 73.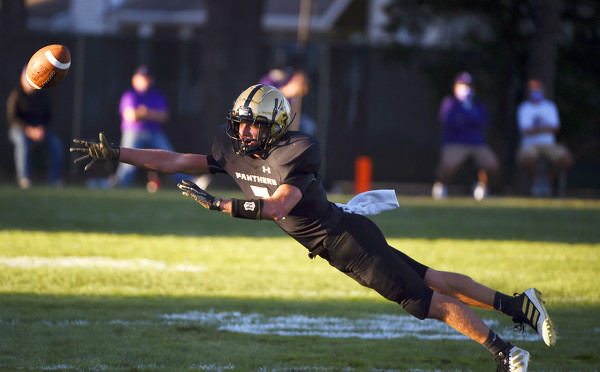 Photo by Dan Melograna/The Daily Standard
PARKWAY at FRANKFORT ADENA
Adena Field
First-ever meeting
About the Panthers: After having solid efforts in the regular season but unable to get a win, the Panthers won their first game of the season - and just the second playoff game in program history - in beating St. Bernard-Elmwood Place 36-6 last weekend. The Panther have used a number of players to handle the offense as five players have 100 or more yards rushing and 12 players have at least one reception. Justan Felver leads the team with five interceptions after two picks in the playoff win.
About the Warriors: Adena has been state-ranked all season and dominated the Scioto Valley Conference, ranking first in scoring offense (48.0), scoring defense (12.3) and margin of victory (35.7). Quarterback Preston Sykes and running back Nate Throckmorton are the key cogs on offense. Sykes has rushed for 591 yards and leads the SVC in scoring with 85 points while Throckmorton adds 560 yards on the ground with seven scores. Sykes has completed nearly 62% of his passes (26-of-42) for 508 yards with Logan Bennett snagging 12 receptions for 151 yards. Sykes also leads the team in tackles with 37 and adds four interceptions with teammate Clay Wilt leading the SVC with five picks.

Thursday, October 15th, 2020
Football Schedule
All Games Start at 7 p.m.
FRIDAY
Division III Region 10
Defiance at Bowling Green
Division III Region 12
Franklin at St. Marys
Wapakoneta at Hamilton Badin
Division VII Region 26
Delphos St. John's at LCC
Division VII Region 28
Cedarville at Marion Local
South Charleston Southeastern at New Bremen
Grove City Christian at St. Henry
REGULAR SEASON
Celina at Greenville
SATURDAY
Division IV Region 14
Ontario at Kenton
Port Clinton at Van Wert
Division V Region 18
Bath at West Salem Northwestern
Orrville at Ottawa-Glandorf
Division V Region 20
Preble Shawnee at Versailles
Division VI Region 24
Triad at Coldwater
Fairbanks at Fort Recovery
Anna at West Jefferson
Parkway at Frankfort Adena
Minster at Allen East