Thursday, March 29th, 2012
Officials debate college readiness
Area students need fewer remedial classes
By Amy Kronenberger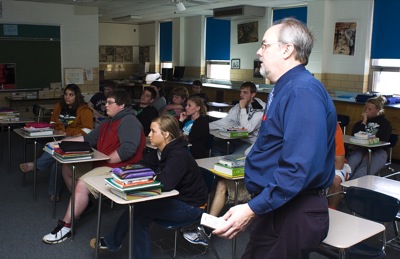 A recent report on remediation rates for college freshmen has the governor scrutinizing high schools, but a local superintendent says the focus should be on colleges.
The report, which was presented by the Ohio Board of Regents and did not include private universities, showed 41 percent of Ohio college freshmen in fall 2009 needed to take either remedial math or English. Schools in the Grand Lake area scored better, with the average rate at 34 percent in Mercer County and 25.5 percent in Auglaize County.
Celina City Schools Superintendent Matt Miller called the numbers "flawed."
"What concerns me is there is no set standard for college remediation," he said.
A student who would have to take a remedial class at one college may not have to take that class if he or she attended a different college, he said.
"If all colleges were on the same playing field, it would be different," Miller said. "But the percentages in that report are flawed."
The governor should not base his judgements on the current data, he continued.
Gov. John Kasich at a recent forum spoke of his disappointment in Ohio schools, saying high schools need to better prepare students for college or the workforce. He assigned top education advisers to solve the problem and close the gap on remediation.
"We just have to tell the truth about what's going on in our education system," he said. "That doesn't mean we don't have great schools and teachers, but we have to let people know that things have to get better."
The report showed the highest remediation rate locally was St. Henry, where 42 percent of its students entering college need remedial courses.
High school principal Frank Griesdorn said he has a hard time believing those numbers are correct.
"That surprises me that it's that high," he said. "We've never had kids or parents complain about not being prepared. In fact, I've always heard that most of our kids test out and don't need to take remedial classes."
Miller also pointed out that most colleges are for profit, therefore, the potential exists for colleges to require a remedial class when it may not be necessary.
"The more classes a student has to take, the more money a university makes," he said. "I'm not saying they're not on the up and up, but it's possible."
Kasich's budget signed last year requires all colleges and universities to develop and implement standards for defining remediation requirements. The budget also mandates the development of new readiness tests.
Thomas Sudkamp, associate provost for undergraduate studies at Wright State University, was appointed to the state advisory panel working on these standards.
"We've only had one meeting so far, and we really only discussed time tables," he said. "We're still in the earliest stages."
Sudkamp said faculty panels will spend the next few months researching the best way to standardize remediation within the schools. Kasich has asked the committee to give a recommendation by Dec. 31, with implementation shortly after.
"It's a relatively short timeframe to have that completed," Sudkamp said.
He also hopes to tie annual testing in grade school and high school into college-readiness factors.
Discussions through the federal Race to the Top program have focused on annual performance tests and being able to track each student's progress, he said. If a student falls behind, the school would have an intervention program to help the student.
"It hasn't been decided what that college readiness measurement will be, but I think testing in grade school and high school will coordinate with remediation standards," he said.
Minster Local Schools Superintendent Brenda Boeke agrees with Kasich's push to make sure high school students are college and career ready.
"I think the entire department of education is going through changes to make sure every student is ready," she said. "I fully support creating an intervention program for kids who need help."
Minster High School's remediation rate was 12 percent, second lowest in Auglaize County after New Knoxville at 7 percent. Boeke attributes the low numbers to the hard work and dedication of the students and parents.
"We set very high expectations," she said. "They know that coming in, and they achieve that."
Remediation rates:
High school
Percentage in
remediation
math or English
Source: Ohio Board of Regents