Saturday, June 9th, 2012
Former Shelby County sheriff gets probation
Sexual assault charge dismissed; Kimpel pleads guilty to felony use of state computer
By Shelley Grieshop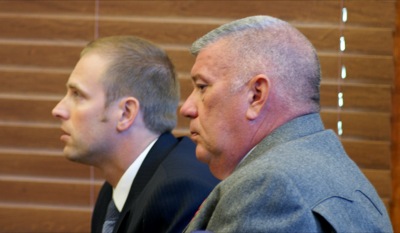 SIDNEY - A former Shelby County sheriff on Friday dodged jail time for misusing a state computer system by agreeing to officially resign from his post and never work in law enforcement again.
Dean Kimpel, 57, is the first sheriff in Ohio to be ousted from office during his term. He was sentenced Friday morning in Shelby County Common Pleas Court to two years of community control sanctions and ordered to pay a $1,000 fine after pleading guilty to the fifth-degree felony.
Kimpel faced a maximum sentence of 12 months in jail and a $2,500 fine. Visiting Miami County Judge Robert Lindeman warned him he could serve up to nine months in prison if he violates CCS terms.
Kimpel last fall temporarily stepped down from his position as sheriff and was placed on paid administrative leave after being indicted in Auglaize County for sexually assaulting former Shelby County sheriff's deputy Jodi Van Fossen. The assault allegedly took place in Van Fossen's Wapakoneta home in 2010. Nine days later he was indicted in the Shelby County case.
In the recent plea agreement between Kimpel's attorneys and Miami County Special Prosecutor Gary Nasal, the third-degree felony charge of sexual battery was dismissed. A brief hearing to close that case took place Friday in Auglaize County Common Pleas Court, less than two hours after the sentence hearing in Sidney. Officials have not said why they opted to dismiss the charge, which carried a maximum sentence of five years in prison.
Terms of the Shelby County sentencing include an order to have no contact with Van Fossen.
Kimpel, of Botkins, was dressed in a suit and tie and showed little emotion during the 30-minute hearing inside the Shelby County Courthouse. Prior to sentencing, defense attorney Michael Rumor thanked prosecutors for their "professionalism" in handling the case. He continued by telling the court his client served the public most of his life starting in 1972 with a tour in Vietnam. He admitted Kimpel used the state's web-based system for "something he wasn't supposed to" but begged the court not to place him behind bars.
"Dean has learned his lesson," he said.
Rumor assured the judge that Kimpel would not violate probation terms. He said the former sheriff has reconciled with his family, including his wife who was diagnosed several weeks ago with cancer. Kimpel did not speak on his own behalf.
Nasal briefly asked the court to deliver an appropriate sentence based on the pre-sentence investigation.
Judge Lindeman read through the statute before announcing that Kimpel qualified as a candidate for CCS without jail or prison time.
The Shelby County charge accused Kimpel of using the Ohio Law Enforcement Gateway computer system to perform personal background checks on four women, including Van Fossen. The original indictment charged Kimpel with five counts of misuse of a government computer system, all fifth-degree felonies. The plea agreement dismissed four of those counts and amended the single charge to unauthorized use of a computer, cable or telecommunication device, also a fifth-degree felony.
Kimpel refused to comment to the newspaper after sentencing. His attorney said the sentence "appropriately dealt with the totality of the facts in both cases."
Nasal said he was "disappointed" with the outcome and had anticipated "some amount" of local incarceration.
Shelby County officials said they are seeking reimbursement from Kimpel for the pay he received during pendency of his case from September until he pleaded guilty in April. A dollar amount was not available.
One unhappy resident, J.B. Schemmel of Anna, nearly was evicted from the courthouse Friday by sheriff's deputies after loudly objecting to the judge's ruling.
"I want to know how we're going to get our money back!" he yelled from the courthouse lawn, referring to the paychecks Kimpel received while on administrative leave.
Schemmel said the expense shouldn't fall on the backs of law-abiding taxpayers.
"And he should have been incarcerated," he added.
Kimpel was never officially jailed; he posted bond in both cases and was released on his own recognizance.
Interim Shelby County Sheriff John Lenhart - who was appointed while Kimpel's case was pending - told The Daily Standard the sentencing should bring closure.
"It's been two years since this started. I think the people of Shelby County are just glad it's over," he said.