Saturday, June 9th, 2012
Berry, Deaton pitch gems for Celina and St. Marys
By Gary R. Rasberry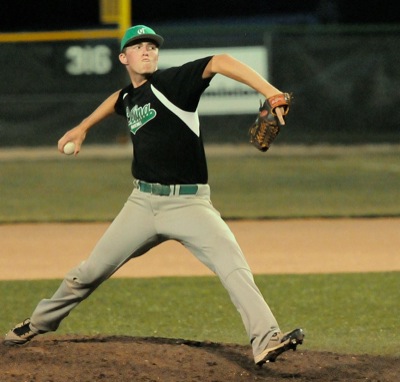 CELINA - Solid pitching was in abundance during the first night of the four-team ACME round-robin event at Celina's Montgomery Field.
Celina's Kyle Berry pitched a gem in the nightcap as the righthander shut down St. Henry in a 3-1 win to even the Bulldogs record at 3-3.
In the opening game, St. Marys' Cody Deaton won a pitching duel against Crestview's Damian Helm as the Roughriders picked up a 4-1 win.
Action resumes today at noon with an adjustment in matchups. Celina and Crestview face off in game one with the Knights taking on St. Henry in game two around 2:30 p.m. St. Marys takes on St. Henry at 5 p.m. with the Grand Lake rivalry between the Bulldogs and Roughriders capping off the evening around 7:30 p.m.

Celina 3, St. Henry 1
The only bump in the road for Berry came in the top of the first when he walked Brian Kremer to start the game. Kremer was able to work his way to third base, where Jason Jacobs singled him in to give the Redskins (0-4) the first run of the game.
After that, though, Berry was in command. At one point, Berry struck out five straight St. Henry batters and allowed just one more walk and three hits over the final six innings. Berry capped the Bulldogs' win by striking out the side in the seventh to finish with 13 strikeouts.
"We got into a little trouble in the first inning getting ahead in the count," said Celina's coach Todd Steinbrunner. "But we talked a little bit after the first about throwing strikes and getting ahead. He did that. ... We didn't have any errors, which I think is the first time this year we've had a game without any errors. Kyle pitched well. Everything was working well: fastball, curveball. He did a great job tonight."
"You have to give (Berry) credit. He was pumping them in there," said St. Henry's coach Andy Mikesell. "But a lot of it was on us, too."
Redskins' starter Jeff Paul had just one rough inning, but it was enough to tag him with the loss. In the second, Berry started a Celina rally with a single and went to second on a throwing error. After Jimmy Luebke bunted Berry to third, Kaleb Kuhn reached on an error that also scored Berry to tie the score at 1-1. Damon Smith, who had the game-winning hit on Thursday against Parkway, came through again with a triple to score Kuhn and break the tie. Andy Sneddon added an insurance run with an RBI single for a 3-1 Bulldogs' advantage.
"Damon had another big hit tonight," said Steinbrunner. "That's two games in a row he's come up big for us. Hopefully, he can continue to do that."
Paul settled down in holding Celina to just one hit over the final four innings.
"Celina played well. Jeff pitched well, but it was just our hitting," said Mikesell. "We didn't hit in clutch times. We stranded a lot of runners (seven) and taking way too many strike threes (four). I thought overall, Jeff pitched a great game. We just couldn't hit."

St. Marys 4, Crestview 1
It looked like Deaton and Helm would work their pitching duel all the way to the end as the teams were tied at 1-1 after five innings.
St. Marys, though was finally able to touch up Helm for two runs in the sixth. Luke Leffel walked and Tyler Rose followed with a single before Marcus Wagner's one-out single to center scored Leffel for the game-winner. Rose later scored when the throw to second on a Wagner steal went into the outfield.
The Roughriders (2-1) got another run off reliever Cam Etzler in the top of the seventh when Deaton helped his own cause with an RBI double to score Nathan Vogel.
Deaton finished with a complete game three-hitter, walking two and striking out 10. Helm also struck out 10 and walked two in his six innings of work.