Wednesday, August 26th, 2015
Local bust nets pot worth $240,000
Task force, deputies confiscate 125 plants
By Jared Mauch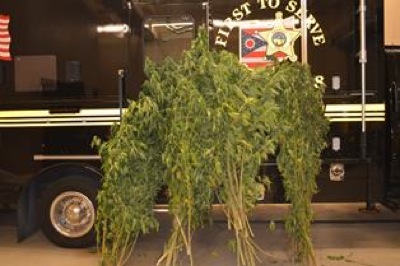 CELINA - Local law enforcement seized about $240,000 worth of marijuana during an eradication operation on Monday.
The Grand Lake Task Force and Mercer County Sheriff's deputies located a total of 125 marijuana plants during the annual activity.
The flyover by helicopter led deputies to a home at 5234 state Route 29, west of Celina, where 41 of the marijuana plants were found outside. Also located were 33 plants drying in a garage, an estimated 30 pounds of stored marijuana valued at $115,000, drug paraphernalia, three long guns and a handgun.
Deputies - who had obtained a search warrant for the residence - also recovered $19,952 in cash. The street value of one marijuana plant is about $1,000, Mercer County Sheriff Jeff Grey said.
No charges have yet been filed and the investigation is continuing, he said. The case will be forwarded to the county prosecutor, he added.
A total of 92 plants were found during the flyover on property along Mercer Road, Mud Pike and near several railroad tracks. Grand Lake Task Force members removed six plants from the area along Mud Pike, according to the sheriff's log.
Grey said it is unlikely anyone will be charged for the plants found in farm fields because it is difficult to identify the person or persons responsible.
In September, deputies seized 196 marijuana plants valued at nearly $295,000 in Blackcreek Township in the northwest part of the county.
In 2013, a Mendon-area farmer discovered 64 marijuana plants in his cornfield along Hickernell Road and immediately notified authorities. The plants - ranging in height from 6-24 inches - were found early in the growing season and uprooted before reaching maturity. No other plants were located during a flyover several months later in August.
Grey encouraged the public to call authorities if any suspicious-looking plants are found growing on area properties.
"We don't get upset when it turns out that it isn't marijuana. We'd rather have a call and go check it out," he said.