Wednesday, August 26th, 2015
Celina's McDonough, Mitchell win titles
Mercer County Cross Country Invitational
By Colin Foster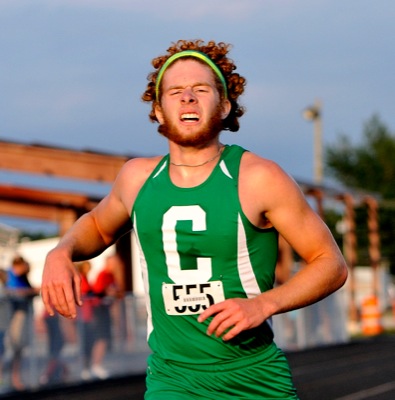 COLDWATER - Celina's Roman Mitchell and Lauren McDonough added their names to the illustrious list of Mercer County Cross Country Invitational Champions, a list that includes some very good runners.
"I was pleasantly surprised to get the two kids who have been grinding and paying their dues - Roman and Lauren - to finally win," Celina coach Dan Otten said. "To be honest, Lauren didn't have Seas or Kanney (former Coldwater standouts Lauren Seas and Sarah Kanney) ahead of her, plus she was injured her first year a little bit. Roman's just paid his dues, and as a senior, he wants to be good. Last year, he kind of underachieved cross-country wise. I think this might have been better than he ran all of last year. That was good for him confidence-wise."
Roman's performance helped Celina defeat St. Henry for the boys' team title. And to the surprise of nobody, the St. Henry girls showed exactly why they have been back-to-back state qualifiers, placing five runners in the top eight to claim the championship trophy. Celina wasn't too far behind in second with 37 points.
Several other runners turned in fine performances in the season-opening race in Coldwater as well and they will all be at the same meet again on Saturday at the Celina Rotary Invitational.
BOYS
Mitchell's highest finish at the Mercer County Invitational prior to Tuesday was sixth against a stacked field of future college runners at last year's meet.
"There was good competition last year," Mitchell explained. "A kid from Coldwater moved and a kid from Coldwater graduated and then a St. Henry kid graduated. ... So I knew I had my chance this year."
With the lead pack tight for a few miles, Mitchell broke away at the two-mile mark and cruised to the win in a time of 17:29.21.
"I knew I'd have competition," Mitchell said. "I mean, Caleb Rollins has been running well in the summer, but I knew at the end of mile two I could get him. He was breathing hard and I just went for it."
St. Henry's Devin Huelskamp placed second in a time of 17:43.30, Fort Recovery's Travis Sutter third (17:50.05), Celina's Stetson Miller fourth (17:56.87) and Parkway's Matt Gaerke fifth (18:00.74).
Including Mitchell and Miller, the Bulldogs placed their top five runners in the first 12 spots. Adrian Hurley placed sixth (18:04.58), Nathan Robinson was 11th (18:44.90) and Hunter Lynch 12th (18:50.40). Celina tallied 34 points compared with St. Henry's 56. It was Celina's seventh Mercer County title since 1986 and first since 2008.
Parkway placed third with 84, Coldwater was fourth with 97, Marion Local, led by Devin Heitkamp (15th place), took fifth with 117 and Fort Recovery ended sixth with 133.
The Redskins had another top-10 finisher in Braydon Hoying, who placed seventh in a time of 18:24.20.
"We've just got to close that gap between two and three," St. Henry coach Dan Hemmelgarn said. "I think we've got some guys who are going to do it, it's just a matter of can we get there fast enough. Celina's a good team. I can't take anything away from them as far as them beating us. It's just a matter of can we improve and where can we go from there."
A pair of Cavaliers earned top-10 finishes in Cody Tebbe (eighth, 18:26.62) and Andrew Schoen (10th, 18:40.31). Sandwiched in-between them was Parkway's Caleb Rollins, who took ninth with a time of 18:35.71.
GIRLS
McDonough wanted to at least finish in the top 10 at Tuesday's meet.
She did a little better than that.
"I wanted to get in the top 10 for sure, that was my goal," McDonough said. "Getting first was a nice surprise."
The junior out-dueled St. Henry's Alexis Heath by a 20:22.12-20:26.97 margin to win her first County championship.
"I wanted to stay behind her for the first mile, let her lead a little bit," she said. "The first mile or so of the race, I was just getting into the pace and then after that, I knew it was go time."
A trio of St. Henry girls rounded out the top four, including Riley Post (third, 20:31.09) and Makayla Hoying (fourth, 21:19.28). Two more Redskins finished in the top eight in Erin Clune (seventh, 21:55.47) and Lindsey Schulze (eighth, 22:02.06). Sixth runner, Olivia Hemmelgarn, placed 12th in a time of 22:31.75.
"We talked about it earlier in the week, and they just executed and ran as a team real well," St. Henry coach Dan Hemmelgarn said. "We packed it up and took care of business. I'm really excited with how they ran. Hopefully it's one of many highlights to come."
Twelve of the first 13 finishers were from St. Henry or Celina. The only exception was Fort Recovery's Hannah Heitkamp, who placed fifth with a time of 21:40.12.
The Bulldogs Sawyer Weitzel placed sixth (21:48.81), while Lauren Jackson took ninth (22:10.25), Sara Wenning 10th (22:17.09), Nicole Bowsher 11th (22:21.06) and Ashley Robinson 13th (22:33.25).
"They followed the lead of the veterans, and they all followed their plans pretty well, every girl," Otten commented.
"The girls ran exceptionally well - all of them."
Fort Recovery placed third with 98 points, Coldwater, led by Maddie Steinke (15th place), took fourth and Marion Local, paced by Vivian Garmann (14th place), placed fifth.
JUNIOR HIGH
Celina's junior high teams swept the individual and team titles Tuesday.
Ethan Ly won the boys' crown with a time of 11:56.21 and the Bulldogs tallied 35 points to best runner-up Fort Recovery's score of 45.
Kennedy Newell edged St. Henry's Lauren Hemmelgarn 12:59.56-12:59.99 for first place in the junior high girls race. The Bulldogs totaled 49 points for the team title and Coldwater placed second with 70.