Saturday, May 11th, 2019
Elections deputy director leaving post
Changes coming
By William Kincaid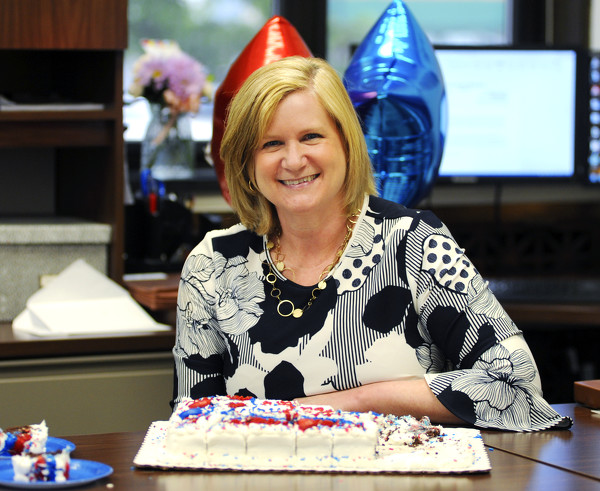 CELINA - One of two women who have been at the helm of the Mercer County Board of Elections for almost a decade spent her last day in the office on Friday ensconced with friends, associates and one massive cake.
Many stopped by the open house to share memories, offer kind words and say farewell to deputy director Laura Bruns, who on Monday will take over as director of the Miami County Board of Elections in Troy.
The day also marked the end of a fruitful partnership.
Bruns, a Republican, and director Deb Sneddon, a Democrat, joined the board as clerks in 2008 before climbing the ranks. Some time ago, the board decided to alternate the roles of director and deputy director - Bruns and Sneddon - every two years because their duties often overlap and are interchangeable.
"She was here when I came in, and Laura, from the beginning, taught me everything about the voter-registration system," Sneddon recalled. "It's always been a real comfortable relationship. We've been able to bounce ideas off of each other and work things out."
The two vowed to establish a strong framework for the election process in Mercer County, one built on competency, transparency and accountability.
"We've continually made it better since 2010," Sneddon said, pointing to a streamlining that brought about faster unofficial results on election night.
"Deb and I have always just had the ability to be truly honest with each other and tell each other whatever needed to be said and always be OK with it," Bruns added.
The two, Bruns said, always strove to improve the elections process and often experimented with new ideas, such as when they tested Any Line Any Time. Instead of hosting different sign-in stations for each precinct at a polling location, all voters were directed to a single table to obtain their ballot.
Mercer was one of the first counties to implement the initiative, which was later emulated by other boards in Ohio.
"Now everybody does it," Bruns said.
Sneddon and Bruns in January 2016 took home the Ohio Election Official of the Year awards.
The awards - for a Democrat and a Republican official of the year - were announced by then-Secretary of State Jon Husted during the Ohio Association of Election Officials Winter Conference.
Board member Phil Long said he cannot say enough good things about Bruns and the professionalism, integrity and knowledge she applied to every action she took.
"Laura was extremely helpful when I was appointed to the board," he told the newspaper. "I wish her the very best in this new chapter. I will be looking for similar qualities in a new employee, recognizing the learning curve."
Board of elections chairperson Toni Slusser said Bruns has been a great asset to the board.
"She's been with us for 11 years … and I think during her time here we've seen some great things done at the board," Slusser said. "She's going to a much larger county, one that's double the size of Mercer County. I think it's going to be right up her alley and a good opportunity for her."
Bruns said her tenure with the board was the best job she has ever had and is confident those experiences will serve her well at the Miami County Board of Elections.
"The things I've learned over the last 11 years, I can't even list them there's so many," she said. "Three presidential elections behind me, I think I'll be able to help them get ready for the presidential (election) next year."
Slusser said the board hopes to have a new deputy director in office by mid-June. So far, about 18 applications have been submitted, she said.
Eligible candidates must be Republicans since Sneddon is a Democrat. State elections requirements specify that a deputy director must affiliate with a different major political party than the director.
The board will continue to accept resumes up until a new deputy director is hired, Slusser said.
Board members will weigh election experience, administrative abilities and technology skills when vetting applicants, Slusser said.