Saturday, May 11th, 2019
2019 Midwest Athletic Conference Track and Field Championships
A historic run
Fort Recovery's boys win 1st MAC track title; Cav girls earn 1st crown since 1997
By Colin Foster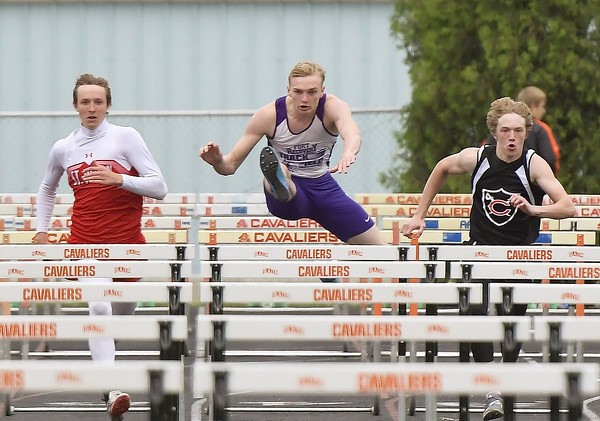 COLDWATER - Fort Recovery's Robby LeFevre upped his individual MAC track and field championship total to an estimated 14 on Friday.
Being a part of a MAC team championship … that was a first.
LeFevre scored 40 points with victories in the 100-meter, 200, 110 hurdles and 300 hurdle races - and the Fort Recovery boys earned their first MAC track and field team title by edging Marion Local 123-122 at Cavalier Stadium.
"It would be a big golden lining for me and Butch's (Brayden Schoen) high school career to get one," LeFevre said midway through the meet as Fort Recovery and Marion Local were neck and neck in the team standings.
Fort Recovery's gold wasn't locked up until the final event. Marion Local held a one-point lead entering the 4x400 relay. The Flyers had a faster seed time in the race than the Indians, too.
Indian 4x400 anchor Drew Muhlenkamp had already won the 800 for a second straight year and competed in the 1,600. Fatigue, however, wasn't a factor when Muhlenkamp stepped to the line one last time.
His teammates, Owen Moorman, Jacob Acheson and Jared Timmerman, got Fort Recovery a nice lead through three legs. Muhlenkamp anchored home the victory. Fort Recovery had a time of 3:30.09 with Marion behind in second (3:34.81).
"It was pure adrenaline," Muhlenkamp said. "I put it down for my teammates, for a MAC championship. It was a lot to think about. But now that it's over with, I can say we are MAC champions."
The Coldwater girls can say that, too.
For the first time in 22 years, a team other than Minster or Versailles won the MAC girls championship. The Cavaliers had a winning score of 118 points. Versailles was runner-up (103 points) and Minster third (94 1/2).
Coldwater was also the last team to win it before the Minster-Versailles streak began in 1997.
"For us to be able to finally do that - after 22 years - I'm speechless. I don't know what else to say," Coldwater coach Mark Bruns said. "I knew we were talented, but I didn't think this was going to be the year. But it worked out in our favor."

BOYS
LeFevre posted times of 11.56 seconds and 23.24 seconds to claim wins in the 100 and 200 dashes.
The Fordham University commit added hurdles to his repertoire this year. In the 110 hurdles, LeFevre got the better of teammate Riley Pearson by a 15.75-16.55 margin. Later in the 300 hurdles, LeFevre's mark of 41.37 seconds gave him a comfortable margin over runner-up Tyler Schwieterman (43.14 seconds) of Coldwater.
"I knew that I could win at MAC, and that's the whole reason I've been practicing," LeFevre said. "I had to work a little to get to that point. But I knew I could do it."
Muhlenkamp held off Versailles' Brooks Blakely by a 2:02.72-2:04.25 to secure back-to-back MAC 800 titles.
The Indians also won the 4x100 and 4x200 relays, events in which they qualified for state last season. Running the 4x100 were Pearson, Timmerman, Brayden Schoen and Acheson. Members of the 4x200 team are Pearson, Moorman, Schoen and Acheson.
Making Fort Recovery's accomplishment more impressive is the fact that only 13 athletes are on the team.
"It's really tough against (Marion Local)," Pearson said. "They have a lot of really good field events and we have to try to sweep as many sprint events as we can. But they're a really good team.
"Fort Recovery has never won a title in track in field," Pearson added. "To be the first ones to do that, with low numbers, it's really something that I'm proud of."
Marion Local's John Tangeman captured the 400 crown.
Tyler Schwieterman (300 hurdles, 200) had two second-place finishes for Coldwater. Teammate Galen Backs was runner-up in the pole vault.
Matt Gaerke and Kyle Roth went 1-2 in the 3,200 for Parkway. Teammate Ryan Hesse (400) earned a runner-up finish.
Minster's Broc Miller was pole vault champion. Taking home runner-up honors for the Wildcats were Alex Albers (1,600) and Joseph Winner (100).
Minster was third in the team standings with 108 points. Rounding out the list were Coldwater (78 points), Versailles (65), Parkway (61), St. Henry (54), St. John's (39), New Bremen (10) and New Knoxville (2).

GIRLS
The Cavaliers' lone win of the meet was Katie Alig in the shot put. Other than that, it was a lot of solid finishes across the board.
Scoring second-place finishes for Coldwater as individuals were Haley Alig (1,600, 3,200) and Beth Honigford (800). The 4x200 relay (Mallory Kremer, Shelby Giere, Ava Giere and Maria Clune) and 4x400 team (Sara Honigford, Beth Honigford, Clune and Ava Giere) also placed second.
"The crazy part about this is we won with only winning one event," Bruns said. "Katie Alig won the shot put. Everybody else did the best they could. They dug it out. Depth won because we got enough points from everyone else. It took everybody. We had to be good in all the events."
Minster had its bid for a seventh straight title end. The Wildcats still won a lot of events, though. Kaitlynn Albers (1,600), Madeline Magoto (800) and Gwen Meiring (3,200) all captured individual titles. The 4x400 relay of Albers, Jenna Heuker, Mason Pohl and Magoto cruised to victory in a time of 4:07.27.
Parkway's Rachel Barrett edged New Bremen's Macy Puthoff for the 400 title.
New Bremen freshman Kaylee Freund won the 300 hurdles. Freund was also runner-up to Versailles' Ava Moran in the 100.
For Marion Local, Sam Hoelscher (300 hurdles) and Aubrey Thobe (100 hurdles) picked up silvers. Marion's 4x100 (Lynn Schwieterman, Brooke Homan, Lizzy Homan and Natalie Rethman) also placed second.
The Flyers finished fourth in the team standings with 90 points. Rounding out the list were New Bremen (89 points), Fort Recovery (49), New Knoxville (44 1/2), Parkway (33), St. Henry (24) and St. John's (17).