Monday, August 12th, 2019
Yea verily, jousting is some fun
Gallant young knights take to the Mercer County Fairgrounds
By Leslie Gartrell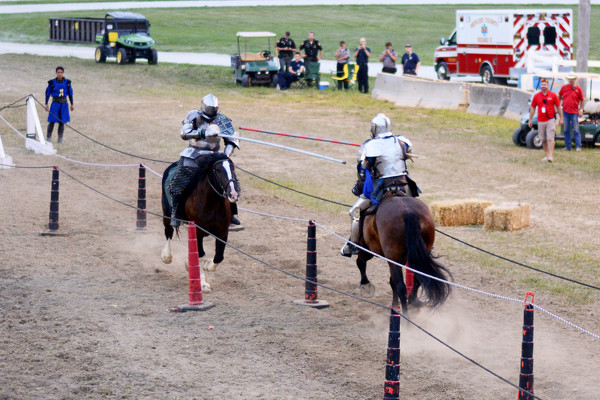 CELINA - The modern world was transformed into the medieval on Sunday evening at the Mercer County Fair grandstand as knights in suits of armor competed in full-contact jousting for honor and glory.
The Knights of Valour Extreme Jousting Troupe has been entertaining North America since its inception in 1997 by Shane Adams, a decorated jousting veteran with over 26 years of experience. Adams, a 6-foot-4 Canadian whose red hair and large grin give him the air of a jolly viking, has been a dedicated promoter of the sport and life-long enthusiast.
"My favorite part of the show is seeing my childhood dream of knights fighting in the modern age come to fruition," he said.
The Knights of Valour began the evening with a quick skill competition to get their horses and the crowd ready for the big event. Jousters attempted to catch rings with their poles, throw spears into hay targets and slice a melon off of the head of Steve the squire, who Adams joked was being punished for not selling enough swords.
As the jousting began, Adams let audience members know the 11-foot Douglas fur lances the group uses could break, a feat that requires 1,800 pounds of tensile strength. He added that the jousters are barreling towards each other at a combined pace upwards of 40-50 miles per hour and the jousters collide with 2,500 pounds of force each when taking the weight of their 2,000 pounds horses, 125-165 pounds of stainless steel armor and the added weight of equipment into consideration - a delivery of 5,000 pounds of force total.
Bryan Stephenson, a 6-foot-5 electrician by profession and a jousting veteran of 18 years, said injuries are common in the profession. Broken hands and ribs, concussions and dislocated shoulders are frequent. However, it's all worth it to be a knight in shining armor for the kids who come to their shows.
Jaclyn Ziemniak will celebrate her seven-year anniversary with the troupe this month added that there are several different types of jousting. Ziemniak, Ontario, said she was the only woman competing in the full-contact style of jousting for six years until mate Fiona Cormack joined in January. She added that she was immensely proud to be a female jouster and was remembers the first time a little girl told her that she was her knight in shining armor- her hero. Now she and Cormack get to represent women in the tough-as-nails sport.
"You can't be what you can't see," said Ziemniak.
Cormack said something she had to work on when she started was her upper body strength to handle getting onto a horse and pulling herself back up after being flattened out on her horse. Ziemniak added that the lances are long and are be awkward to handle at first.
Adams said he was pleased with how the show went and added he loved meeting Mercer County residents before and after the show.
"The people are fantastic," he said with a smile.
The Knights of Valour will continue on to Montana next, but can be found on their website at extremejousting.com and can be seen on the History Channel show "Full Metal Jousting."
See our video.
Mercer County Fair schedule:
Today
• 8 a.m. - gates open
• 9 a.m. - swine show at the Coldwater Young Farmers Arena
• 10:30 a.m. - nursing home lunch and activities at the entertainment tent
• 1 p.m. - kids' Jeopardy sponsored by the Coldwater Explorers 4-H Club at the junior fair tent; Show Me Safari
• 2 p.m. - floral judging (second show); Rock Island Plow at the entertainment tent
• 3 p.m. - K-9 demonstration at the junior fair tent; Show Me Safari
• 4 p.m. - rides and games open; Rock Island Plow at the entertainment tent
• 4:30 p.m. - dairy goat and other non-market breeds show and showmanship at the Coldwater Young Farmers Arena
• 6 p.m. - crowning of species royalty at the junior fair tent; harness racing at the grandstands
• 7 p.m. - "What Every Parent Should Know About Vaping/E-Ciga rettes" by Mercer County Sheriff Jeff Grey at the junior fair tent; Rock Island Plow at the entertainment tent; Show Me Safari; horse contesting show at the horse arena
• 8 p.m. - Kaitlyn Schmit and the Move at the Beer Garden

Tuesday
• 8 a.m. - gates open
• 10 a.m. - beef showman followed by the beef judging contest at the Adrian Debrosse Arena
• 11 a.m. - senior citizens' lunch and activities for ages 65 and older at the entertainment tent; Rock Island Plow at the entertainment tent; Show Me Safari; alpaca show at the Coldwater Young Farmers Arena
• noon - registration deadline for the showman of showmen contest at the junior fair office
• 12:30 p.m. - senior citizens' king and queen contest at the entertainment tent
• 1 p.m. - scavenger hunt sponsored by the Coldwater Explorers 4-H Club at the junior fair tent; Show Me Safari
• 2:30 p.m. - Rock Island Plow at the entertainment tent; Rhonda Hager painting demonstration at the junior fair tent
• 3 p.m. - Show Me Safari
• 3:30 p.m. - senior citizens' trivia at the entertainment tent
• 4 p.m. - rides and games open
• 4:30 p.m. - Rock Island Plow at the entertainment tent
• 5 p.m. - open swine show followed by men/women/peewee showmanship at the Coldwater Young Farmers Arena; Show Me Safari
• 6 p.m. - veterans' ceremony at the grandstands; beekeepers presentation at the entertainment tent; bubblegum blowing contest at the junior fair tent
• 6:30 p.m. - rabbit fun show at the Adrian Debrosse Arena
• 7 p.m. - DCTPA tractor pulls at the grandstands; doubles horseshoe tournament; Celina High School Dance and Cheer Team performs at the junior fair tent
• 7:30 p.m. - St. Marys Tri-Squares square dancing at the entertainment tent
• 8 p.m. - Shifferly Road at the Beer Garden