Monday, August 12th, 2019
Golden voice
Celina's Ballinger entering 50th year of calling harness racing
By Gary R. Rasberry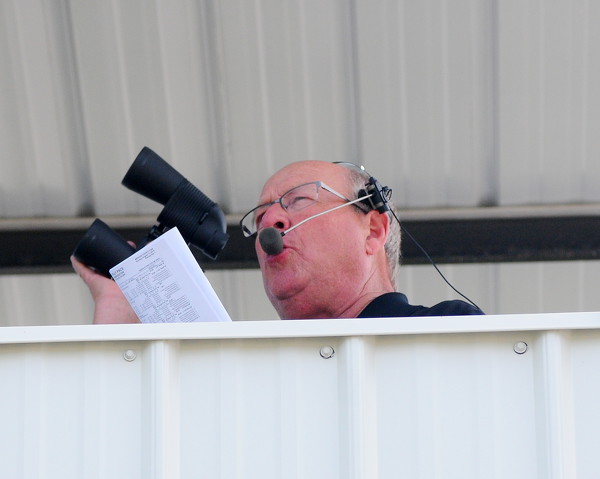 CELINA - Fans who have attended harness racing at the Mercer County Fair for nearly five decades have heard the voice of Doug Ballinger calling races from the top of the judges' stand located at the finish line.
This year begins the Celina native's 50th year of calling harness racing, something he does not only at Mercer County's fair but also at more than a dozen fairs across Ohio.
Ballinger began his job quite by chance. He was a high school student helping tend to harness horses in the area.
"I was helping take care of a horse named Katfish that raced at the Champaign County Fair in Urbana,"said Ballinger before going to work during Sunday's racing program. "Don Hay from Coldwater owned him and I went to help take care of him."
Katfish won his race. Later, Hay received a card from race announcer Roger Huston to see if he wanted a tape of the race call.
"(Hay) bought a copy of the tape and I began listening to it over and over again until I knew it word for word," said Ballinger.
"I was always fascinated by the race announcers and couldn't believe the voice coming across the speakers that night. It was a voice that actually gave me chills when he was doing his race calls."
Ballinger's first calls were with his high school friends as they raced bicycles around the track.
"I tried to mimic (Huston) and sound just like him," said Ballinger.
The next year Ballinger was at Scioto Downs south of Columbus taking care of horses and also calling some of the qualifying races. There he met Huston.
"He heard me and started working with me," said Ballinger. "That's how our relationship began. He used to do 16 fairs in the summer and go to Florida in the winter and call at Pompano Park.
In 1974, Huston left Ohio to work at the Meadows race track in Pittsburgh, Pennsylvania, where he continues to call races. Huston has been inducted into the United States Harness Writers Association's Hall of Fame as well as the Little Brown Jug Hall of Fame and has called over 180,000 races.
When Huston moved on, Ballinger got the chance to take over as the race announcer at the fairs Huston worked.
"I'll call between 550 and 625 races per year," said Ballinger. "That's about 32,000 races overall. I'd like to do about 10 more years."
Ballinger has called fair programs as far away as Washington Court House as well as serving as a fill-in announcer at Hoosier Park in Anderson, Indiana, for 10 dates a year.
"They have their races on television on TVG (a cable channel dedicated to all forms of horse racing)," said Ballinger. "Who would have thought having started calling races in 1970 that I would be calling races on TV. My parents, both in their late 80s, get to sit at home and listen to me on TV."
Although he loves calling harness racing, Ballinger said his favorite role was that of the public address announcer at Celina High School basketball games, a role he held until retiring to Florida in the winter several years ago.
"It was my favorite job," said Ballinger of basketball. "(Calling harness racing) is a job. I enjoy it. Doing this, I've been able to winter in Florida (with his wife Nancy). We spend six months there because of the job. It's a hobby, but it's a job."
And it's a job Ballinger is happy to do in this area.
"I've had offers from New York years ago, but I didn't want to work the big tracks," said Ballinger.