Saturday, November 9th, 2019
Rockets keep running
Anna rushes for over 400 yards in beating fellow MAC co-champ Minster
By Bruce Monnin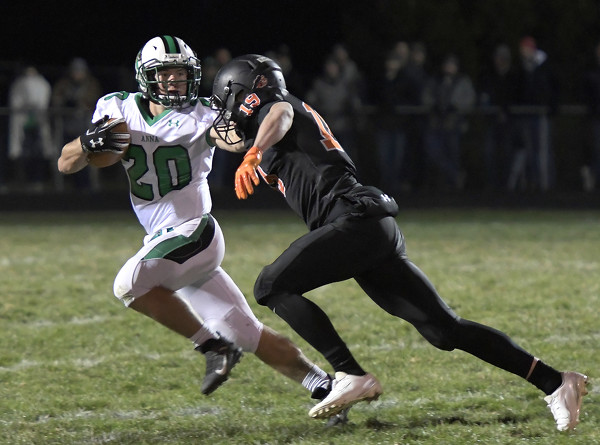 MINSTER  - It was a matchup of two MAC co-champions and two of the highest-ranked teams in Division VI in Friday's playoff opener. 
While the Minster Wildcats had the home field advantage, it was the Anna Rockets who proved to be unstoppable - compiling more than 600 yards on their way to a 47-21 victory.
It started with the respective running attacks, as Anna ran for 438 yards, while limiting Minster to just 94 yards on the ground.
"We brought a lot of pressure (to limit Schmitmeyer)," Anna coach Nick Marino said. "We have a couple of talented kids up front who did a good job getting pressure on them.  And those offensive linemen work their butts off, too.  We have a good line and two dynamic kids in the backfield."
"It was an awesome matchup," added Minster coach Geron Stokes. "Only one team is going to win this whole thing.  We were excited about it.  We couldn't stop them.  If they'd had a couple more possessions they'd have gone for 800 yards."
Anna, Minster and Marion Local shared the MAC championship with matching 7-1 records. After not meeting during the regular season, the top-ranked Rockets and fifth-ranked Wildcats squared off in Week 11. 
The first three drives of this high-scoring game resulted in punts.  Riley Huelskamp opened the scoring for Anna by running 27 yards for the only points of the first quarter.
Minster responded on the following drive.  After Jacob Niemeyer ran around the left end for 31 yards to pierce Rocket territory, the Wildcats completed a key fourth down pass to Trent Roetgerman.  Alex Schmitmeyer then pushed it over from one yard out to tie the score at 7-7.
The score seemed to energize Anna, as it tallied the next 20 points.  On the second play of the next possession, Bart Bixler slashed through the Wildcat defense for a 62-yard score.  After a Huelskamp interception, the Rockets ran the ball eight straight times, with Huelskamp running the last three yards to increase the lead to 21-7.
Huelskamp ran for 52 and 19 yards to set up Anna's next score. Bixler finished off the drive with a 3-yard run. With the score 27-7 and only 38 seconds until halftime, an Anna win was looking to be a foregone conclusion.
However, the Wildcats were not out of contention yet.  Minster worked in six plays before half, scoring on an 11-yard Niemeyer-to-Roetgerman connection to tighten the deficit to just 27-14 at intermission.
Anna seemed unfazed as it marched right down the field to open the second half.  After four plays netted 58 yards, Huelskamp attempted to run around the left end, but was cut off in the backfield.  He reversed direction and attempted a pass to avoid taking a big loss.  Adam Ketner intercepted the toss at the 9-yard line and kept the Wildcats' hopes alive.
A few plays later, Niemeyer found Roetgerman again, this time for a 49-yard touchdown which dwindled the Anna lead to just six points.  Roetgerman ended the game with a school record 11 receptions, which netted 202 yards and two touchdowns.
With momentum on their side, the Minster defense stopped the Anna offense and forced a punt.  However, it was the Wildcats' turn to make a costly mistake.  Minster jumped offsides on the punt and gifted the Rockets a first down.  Anna capitalized on the next play, with Bixler hitting a wide open Jeffrey Richards for a 52-yard dagger to end Minster's postseason hopes.
The Rockets had run the same play in the first half but Bixler didn't notice that Richards was wide open.  Marino said that play was mentioned at halftime.  
"We found him this time," the Anna coach said. 
"We got a little itchy in the third quarter," Marino continued. "Some guys tightened up a little bit."
"We were right back in it," Stokes added. "I loved our kids' effort.  Our kids kept swinging tonight.  Those two backs are just really good."
Huelskamp added two fourth-quarter touchdown runs of seven and 39 yards to provide the final victory margin of 47-21. Huelskamp's final statistics were 32 carries for 291 yards and four touchdowns.  Bixler added in another 139 yards and one score on 23 carries.  Whenever Minster managed to put Anna in a long yardage situation, Bixler would hit one of his eight completions for 165 yards.
Anna held Niemeyer to just 52 yards rushing on eight carries and Schmitmeyer to 42 yards on 12 carries.  Minster did get 263 yards and two touchdowns from the passing game, but three interceptions reduced their effectiveness through the air.
Both coaches were complimentary of the other team after the game.
"That's probably the best team we've seen all year, and Marion Local too," stated Marino.
"These guys (Anna) should be going for their third straight state title," opined Stokes.  "They need to go win one."
Next week Friday, fifth-seeded Anna (10-1) will face eighth-seeded Sherwood Fairview (10-1), which upset top-seeded Lima Central Catholic 29-27. Minster ends its season with a 9-2 record.