Tuesday, March 31st, 2020
County prepares new absentee ballots for primary
By William Kincaid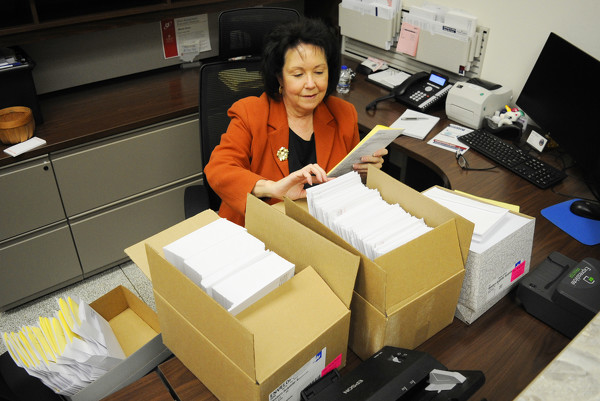 CELINA - The first wave of absentee ballots left the Mercer County Board of Elections office on Monday in accordance with recently enacted state legislation that, among other provisions, extends absentee voting-by-mail for the primary election due to the coronavirus pandemic.
"It's going to be a vote-by-mail election for the most part of it," Mercer County Board of Elections Director Deb Sneddon said on Monday. "If you have a disability or a handicap where you need to come in and use a machine to assist you in person, that's only going to happen on one day, and that's April 28."

House Bill 197 signed into law by Republican Gov. Mike DeWine on Friday permits Ohioans who have not already voted in the primary election - and who had registered to vote by Feb. 18 - to cast an absentee ballot.
Absentee ballots must be delivered to the board of elections by 7:30 p.m. April 28 or postmarked by April 27 and received by the board of elections by May 8, LaRose said.

From 6:30 a.m.-7:30 p.m. April 28, voters with a qualifying disability or who cannot receive mail will be permitted to vote in-person at the board of elections, LaRose noted in an elections directive.

Board of elections members contacted by the newspaper said the unprecedented new procedures enacted by state officials are designed to protect the public from exposure to the coronavirus. Election Day was originally scheduled for March 17, but DeWine's administration shut down the polls the night before out of fear the coronavirus would spread among voters and elections officials.
"I'm actually fully in support of the steps that (state health director) Amy Acton and Gov. DeWine have taken to try to limit this," Democratic board of elections member Craig Klopfleisch said. "I regret that the Legislature only gave us a month. To me, that's my biggest complaint in this whole process."
Klopfleisch bemoans the limited time to inform local voters of how to cast their ballot if they have not done so. LaRose had wanted in-person voting to occur on June 2 but was overruled by the state Legislature.
"We've got such a great, streamlined system so I regret that we don't have the time to really emphasize, publicize (public awareness) that the June 2 date would have given us. Beyond that, I think that we have to do this. There's no choice," he said. "We're going to do what the Legislature and Secretary of State have told us to do, and we'll carry out an election where people are still going to have an opportunity to make their wishes known."
Board chairwoman Toni Slusser, a Republican, said she supports the new measures.
"I think it's a good (process) considering the situation that we have with the coronavirus and caring about the safety of both employees and the public," Slusser said.
The board was set to convene at 10 a.m. today in the courthouse auditorium to further discuss plans to carry out the primary election.
Since more people may be voting via mail-in absentee ballot, elections officials are looking possibly to purchase additional preprinted ballots to meet demand.
When voting in person on the county's new voting machines, voters receive a ballot card containing a barcode, which they insert into the marking system. Voters cast their votes on a touchscreen and then print out the ballot card, which they can review to ensure their votes are marked as desired. The ballot card is then placed into a scanner/ballot box.
Elections officials are additionally required to keep a certain number of preprinted ballots that can be completed by hand at each precinct on Election Day.
"We did have a small number of those preprinted for each of the political splits that we have for Mercer County, so we will probably be using those to get ballots out right away," Slusser said.
The board of elections also has a ballot-on-demand printer.
"But it's not made to do large quantities of ballots so to produce our own would not be a good use of the equipment," she said. "We'll start printing ballots for some of them until we get our preprinted ballots."
Sneddon also commented about the ballot-on-demand printer.
"We do have some blank stock (ballots) that we can print here in-house but I don't think it's going to be enough for the whole election," she said.
Another issue they're reviewing is LaRose's directive to install a dropbox outside of the board for the return of ballots. Per LaRose's orders, a secure receptacle must be monitored 24/7 and at least one Republican and one Democrat member must together collect the ballots in the drop box daily.