Tuesday, March 31st, 2020
Panthers perched atop Dream Team
By Colin Foster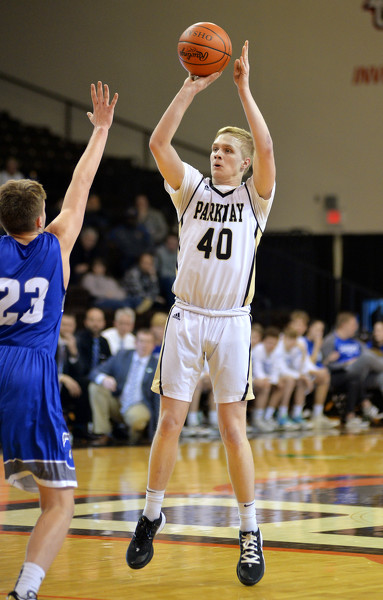 Parkway senior forward Caleb Kinney has piqued the interest of college basketball programs, but he has yet to commit. 
His final high school season was more important.
"He was really trying to focus on making his senior year a memorable one and winning as many games as he could," explained Parkway coach Doug Hughes last week.
Although the Panthers' historical season is officially over, Kinney and Hughes aren't done winning just yet.
The duo has been named The Daily Standard Dream Team Boys Basketball Player and Coach of the Year - which was sort of a no-brainer after they helped the Panthers reach new heights this season.
Parkway won a school-record 19 games, claimed its first-ever district championship and reached the regional final. But the Ohio High School Athletic Association was forced to cancel all remaining winter sports tournaments before the Panthers could play Columbus Grove for a state berth due to the COVID-19 pandemic.
The Daily Standard Dream team has been running since the 1994 season. A first team All-Midwest Athletic Conference and a Division IV special mention All-Ohio selection, Kinney is the first from Parkway to ever win Player of the Year.
"We're in a pretty basketball-rich area in Ohio, and it's truly an honor to be the first Parkway player," Kinney said.
Hughes is just the second Panther coach earn the honor - that last being Don Vogt in 2001. He shared the award that year with Marion Local's Keith Westrick.
"It's a nice honor," Hughes said. "You know what they say, if you've got the Jimmys and Joes you're a pretty good coach, and we've got the Jimmys and Joes this year. It makes sense."
Kinney averaged an area-best 19.0 points per game and 7.9 rebounds while shooting 54.8% from the field. He scored 19 in Parkway's district-semifinal win over Minster at Wapakoneta High School, 17 in the district final against Marion Local and then 14 to help his team edge Tiffin Calvert in the regional semifinal in Bowling Green.  
In his senior season, Kinney broke Parkway's single-game scoring record with 46 against Bradford and surpassed Josh Fisher's career scoring mark of 1,192. Kinney's record total stands at 1,279 points.
"It means a lot to me, but I think it's an award for the team," he said. "I mean, the past four years, I'm not scoring unless I get the ball from my guys in great spots. I get a lot of great looks from my teammates in a lot of great spots. They always set me up real well." 
Hughes considers Kinney one of the more unique players he's coached. He watched Kinney up close throughout the year, but Hughes has still been in awe while putting together Kinney's highlight-reel from this season.
"He is so good with his footwork, whether it be burst to the basket, Euro steps or in the post," Hughes said. "The use of the pivot foot and just the way he is able to score and slither and get to the rim and create shots for himself is really unique, I think, in this day and age from a basketball perspective. He doesn't jump extremely well. Kind of reminds you of a Kevin McHale with his footwork in the post. But yet, he's really at his best in the open floor and running the break or finishing on the break. He's a really unique player in this day and age."
After a run as Parkway's head coach from 2005-11, Hughes resigned to become the school's athletic director. He had a 56-72 record in that stretch to become the Panthers' second-winningest coach. In 2016, Hughes reclaimed the head-coaching position. He is now Parkway's all-time winningest boys basketball coach with a record of 103-120.
This season, Parkway went 2-3 out of the gate but lost just four times over its final 21 games. The Panthers went 7-2 in MAC play to earn second place, their highest finish since 2000-01. They had won six straight games before their season was stopped.
"It all goes back to what we talked about," Hughes said. "We talked about three things; enthusiasm, team work and playing hard. That's always kind of been our focus, and this year was no different. We really tried to emphasize with our guys that individually we're OK, but collectively, we have a chance to be special."
The Panthers were that.
After defeating Marion Local 41-31 in the district championship, the basketball team got a celebratory bus ride through Willshire, Mendon and Rockford. It hadn't been done by a boys basketball team in the previous 58 years of the school.
"To see the elation and the expressions on the kids faces, they knew it was something extremely special," Hughes said. "They knew it was something that their parents had talked about. A lot of their parents had graduated from Parkway, and to see just that joy and I think it was kind of a sense of relief and a sense of we have accomplished something. But at no time did I ever think they were satisfied."
A handful of days later, Parkway defeated Tiffin Calvert 44-42 at the Stroh Center on the campus of Bowling Green State University to set up a showdown with top-ranked Columbus Grove. But the Panthers never got their shot.
"That tournament run we had was the most fun I've ever had in sports," Kinney said.
"Matters that are out of our hands kind of prohibited that, but we still had a great run this year," he added.
Starters Dylan Hughes and Caden Slusher will return next season, but seven seniors will graduate from this year's team in Kinney, Nick Hawk, Corey Walls, Gavin Stober, Ryan Hesse, Kendall Roof and Jason Luth.
Kinney listed Defiance College and Bluffton University as potential landing spots to continue his basketball career.

Caleb Kinney:
Player of the Year
Parkway HS Senior
6-4 Forward
19.0 ppg
7.9 rpg
54.6% FG

Doug Hughes:
Coach of the Year
19-7 overall, 7-2 MAC
First district title in school history
Regional finalist

2019-20 Daily Standard Boys Basketball Dream Team:
FIRST TEAM
Caleb Kinney, senior, Parkway, 19.0 ppg; Nolan Bornhorst, senior, New Bremen, 13.2 ppg; Dylan Hughes, junior, Parkway
14.9 ppg; Riley Link, senior, St. Henry, 12.3 ppg; Carson Bierlein, sophomore, New Knoxville, 16.6 ppg; Ethan Steger, senior,
St. Marys, 15.9 ppg; Justin Nixon, junior, Minster, 12.5 ppg.
Player of the Year: Caleb Kinney, Parkway
Coach of the Year: Doug Hughes, Parkway

HONORABLE MENTION
Celina: Max Thobe, Ethan Wilson
Coldwater: Ethan Post, Noah Miller
Fort Recovery: Brian Bihn, Grant Knapke, Clay Schmitz
Marion Local: Alex Eyink, Matt Everman, Charlie Huelsman
Minster: Jacob Salazar, Eric Schmidt
New Bremen: Reece Busse, Dan Homan
New Knoxville: Patrick Covert
Parkway: Caden Slusher, Nick Hawk
St. Henry: Ben Evers, Jackson Heath
St. Marys: LeTrey Williams, Austin Parks