Wednesday, July 22nd, 2020
COVID complications
Husband contracts virus; couple still waiting on aid
By Leslie Gartrell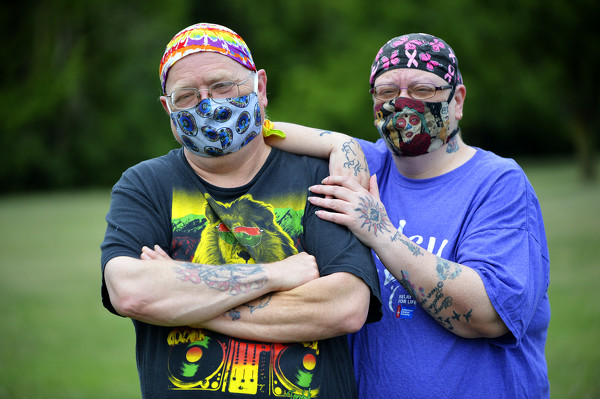 ST. MARYS - When Don Ring tested positive for COVID-19 on June 23, he and his wife, Angel, thought he would receive unemployment benefits within a couple of weeks.
Nearly a month later, the Rings are still waiting for their application to be processed and have said the situation is a nightmare.
A line worker in the raw meat department at Cooper Farms in Van Wert, Don Ring said he began applying for unemployment benefits the day after he tested positive for the virus.
Gov. Mike DeWine issued an executive order in March allowing Ohio residents who test positive for COVID-19 as well as people who are quarantined by a local health department, to apply for jobless benefits while off work.
However, the Rings say the application process has been confusing, inconsistent and very frustrating. Don Ring said he was instructed to apply for Pandemic Unemployment Assistance, a program offered through the federal Coronavirus Aid, Relief and Economic Security Act.
PUA extends unemployment benefit eligibility to people who wouldn't traditionally qualify for assistance, such as freelancers or the self-employed.
Although the Ohio Department of Job and Family Services website says PUA is available to residents who have missed work because they were sick or quarantined due to the virus, the program is open only to people who are ineligible for traditional unemployment benefits.
And while Ohioans who miss work due to a COVID-19 diagnosis or quarantine are eligible for unemployment, the state's website doesn't clarify whether those individuals should apply for regular unemployment benefits or the PUA program.
After attempting to apply for PUA, Don Ring said he was directed to instead apply for regular unemployment benefits, wait to have his application rejected and then apply for PUA.
"We're just in limbo," Angel Ring said. "I truly feel like we're living in a nightmare."
Over a month, they have tried to sort out what they need to do, what the status of their application is and when they can anticipate the financial assistance they desperately need. But the Rings said the more they try to figure out what's going on, the less they understand.
JFS spokesperson Bret Crow said the Rings' story is not all that uncommon. Although jobless claims in the state have decreased since April and May, the department is still seeing five times the number of jobless claims it usually does.
"We understand the frustration and hardship people are under," Crow said. "But these are unprecedented times."
The department operates under U.S. Department of Labor guidelines to issue benefits within 21 days, he said. However, that's normal usual circumstances.
Crow acknowledged the application process is often confusing.
"The system we have isn't intuitive," he said.
Applicants were told during the peak of claims that they may have to wait an additional week to get benefits, Crow said, but noted each case is different.
Today marks Day 31 since Don Ring began the application process. He still hasn't been cleared for work by the local health department, and his wife is disabled and unable to work. The only income the pair received during July was Angel Ring's monthly disability insurance payment.
"We have nothing," Don Ring said. "We're slipping through the cracks."
Although unemployment benefits should be retroactive to Don Ring's application date and include the additional $600 federal pandemic unemployment compensation, the couple said the damage has already been done.
"We have no rent. We have no money for bills. We can't afford the prescriptions we need," Angel Ring said. "We're probably not going to make it another week or two."