Thursday, December 31st, 2020
Much-needed shot in the arm
Health, safety workers get first COVID vaccine
By Leslie Gartrell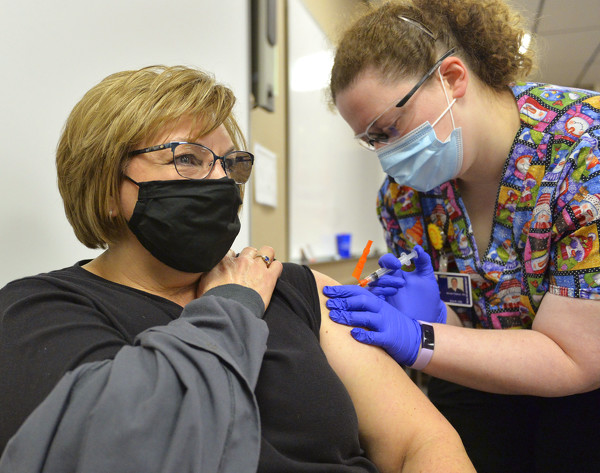 CELINA - Recipients described their first dose of the COVID-19 vaccine as quick, easy and painless during the county's first vaccination clinic for Phase 1A groups on Wednesday morning.
Mercer County Health District officials were enthusiastic and emotional when asked for their thoughts on the long-anticipated clinic. Director of nursing Julia Shaffer stifled tears as she expressed her excitement.
"We are just so excited," she said. "It felt like we weren't making any progress. … Now, it feels like we're progressing. I've talked to people and done their (case) interview, and they've died the next week. I've talked to spouses and done the (case) interviews, and their spouses died. This is exciting for us."
Shaffer anticipated officials would administer about 140 doses of the Moderna vaccine during the clinic, which was closed to the public and only for people eligible in Phase 1A.
Participants included personnel from county agencies such as Mercer County Emergency Medical Services and area fire departments as well as staff at doctors' offices that practice outside of Mercer Health and dentists' offices, Shaffer said.
Mercer County EMS Director Kara Smith was among the first to be vaccinated and deemed the ordeal quick and painless.
"I couldn't even feel it," she said of the vaccination.
Smith believed roughly 15-20 people out of the 130-strong first responders would be vaccinated throughout the day. Like many area residents, Smith said some first responders are hesitant to receive the vaccine.
"People want to see what happens," she said.
Shaffer agreed, noting many people want to wait and see what happens to the first groups to be vaccinated before deciding whether or not to be vaccinated themselves. Officials hope people will be more willing if they see people they know and trust receive the vaccine.
Celina Fire Chief Doug Wolters was also among the first to be vaccinated and said it made him hopeful for the future. Wolters said 11 or 12 of his 23 staff members would be vaccinated on Wednesday.
"It's nice to get the vaccine, and I'm hopeful it works out," he said.
People who were vaccinated were encouraged to stay for at least 15 minutes after their shot to monitor for any side effects or adverse reactions. Shaffer said the side effects are usually mild and last for only a few hours or a few days.
People then received a card with information on the vaccine and a reminder of when to get their second dose. The Moderna vaccine requires a second dose after 28 days, although it has a grace period of three days before and seven days after, Shaffer said.
The second dose has to be from the same manufacturer, since using different manufacturers hasn't been studied, she said.
Typical side effects can include injection site reactions such as pain or tenderness, fatigue, headache, muscle pain, joint pain, chills, nausea, vomiting and fever. Shaffer said side effects are proof the body is reacting to the vaccine and making antibodies. People cannot get COVID-19 from any vaccine in development.
Those who do experience side effects are encouraged to participate in the Centers for Disease Control and Prevention's V-safe, a smartphone-based tool that uses text messages and web surveys to provide personalized check-ins after a person is vaccinated. The app also provides reminders for when to get a second dose.
The goal is to get people who are vaccinated to enter into the app any side effects they experience to help monitor vaccine safety. Shaffer emphasized that V-safe is made to track side effects, not people, and participation is voluntary.
No available COVID-19 vaccine can be mandated, Shaffer said. The Moderna and Pfizer/BioNTech vaccines have been approved for use under a U.S. Food and Drug Administration emergency use authorization permit, but the vaccines themselves have yet to be approved by the FDA.
However, that doesn't mean the vaccines are unsafe. The Pfizer/BioNTech vaccine is 95% effective and the Morderna vaccine is 94% effective. The FDA as well as independent medical experts have thoroughly evaluated the vaccines before granting emergency use authorization.
Both the Pfizer/BioNTech and Moderna vaccines use messenger RNA, or mRNA, as the basis for the vaccines. The Ohio Department of Health says the mRNA from COVID-19 vaccines can be thought of as instructions for the body on how to build an immune response.
The instructions tell the body how to make a harmless piece of spike protein, which allows the immune system to recognize that protein as something that doesn't belong in the body.
Essentially, vaccines that use mRNA work with the body's natural defenses to develop immunity to the virus safely, giving cells a blueprint of how to make antibodies.
Although the vaccines were developed in a shorter time period, Shaffer said that doesn't mean they are unsafe. The process condensed timelines and reduced or eliminated monthslong waiting periods. That time would usually be spent on preparing documents or waiting for documents to be reviewed.
While Wednesday's participants will have to wait until Jan. 27 to receive their second dose, Shaffer said the health district is planning the Phase 1B distribution.
Phase 1B will include Ohioans 65 years old and older and those living with severe congenital, developmental or early onset medical disorders. Officials hope to have a drive-thru vaccination clinic for participants in Phase 1B, which Shaffer said could be in mid- to late January.