Tuesday, June 1st, 2021
Hero's Long Journey Home
Community honors area man who died at Pearl Harbor
By Sydney Albert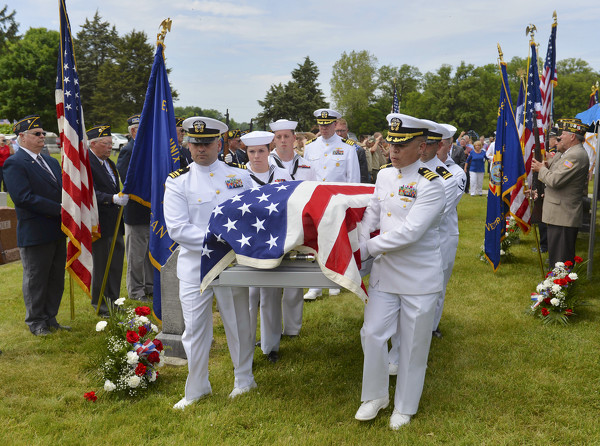 COLDWATER - On a day when many remembered friends and family members who never made it home, the family of Robert E. Bailey had a bittersweet homecoming of their own.
Bailey's surviving family finally saw the former Navy Shipfitter's remains returned after almost 80 years, burying him on Memorial Day beside his brother and parents, whose shared tombstone still bears the name of the son they had lost.
On Dec. 7, 1941, Bailey, formerly of Coldwater, was assigned to the USS Oklahoma, which was moored at Ford Island in Pearl Harbor when the Japanese attacked. According to the Defense POW/MIA Accounting Agency, the battleship was struck by multiple torpedoes, which caused the vessel to quickly capsize. Bailey and 428 other crewmen were killed.
Because his remains could not be identified at the time, Bailey was listed as "missing," and like many others who were killed during the sinking of the USS Oklahoma, his remains were buried in the National Memorial Cemetery of the Pacific in Honolulu, Hawaii. In October 1949, the American Graves Registration Service ruled Bailey, along with others who had yet to be identified, as unrecoverable.
Though time marched on, Bailey's family never forgot about him, and with advancements in forensic technology and DNA testing, Bailey's remains finally were accounted for on Jan. 19, 2021.
"Eighty years ago Robert was called home to heaven to be with the Lord, but this family has been left with an empty grave. A missing spot in the family," Rev. Matt Overman said during the funeral service Monday. "They have heard stories all of their life about their uncle, but today we gather to celebrate that Robert Edward Bailey's earthly remains have come home. No longer is the grave empty. No longer is there a comma, but a period. The unknown is now known. The power of science, medicine and faith have worked together to identify earthly human remains so that forevermore, this family will know their loved one is home."
When people live their lives in service to others, as Bailey did, then death is not in vain, Overman continued.
"Today is a different celebration," he said. "Today we grieve the loss of a 21-year-old man, killed during a surprise attack 80 years ago, but we also celebrate the fact that after 80 years, he is finally identified and back home. We gather to say thank you, Robert, for your sacrifice and your service. We gather to pledge to continue to live out your example of service and sacrifice and to know that in God's love we will see you again face-to-face to hear your stories and to have the ability to say thank you."
The Coldwater Veterans of Foreign War Post 5135 in Coldwater, which was later co-named after Bailey and First Lieutenant Luke Schockman, also of Coldwater, hosted his funeral service. Members of the public were invited to attend and honor Bailey as his body was transported from Cisco Funeral Home to the Coldwater VFW, and then to Swamp College Cemetery in Celina.
Local veterans and families along the path of Bailey's funeral procession showed their respect for the first Mercer County resident killed in World War II by holding flags or solemnly holding their hands over their hearts as the procession passed, escorted by Mercer County Sheriff's deputies and the Coldwater Fire Department. Others held large signs honoring U.S. veterans. A line of motorcycles joined the procession, as well.
As Bailey was committed to the ground, those in attendance prayed - not just for Bailey, but for all those with someone to mourn and remember on Memorial Day.
Bailey's sacrifice was never forgotten - and in the words of some of those who honored him Monday, it never would be.