Friday, July 14th, 2006
Cavs advance to winner's bracket final
St. Marys to face Crestview tonight in loser's bracket
By Gary R. Rasberry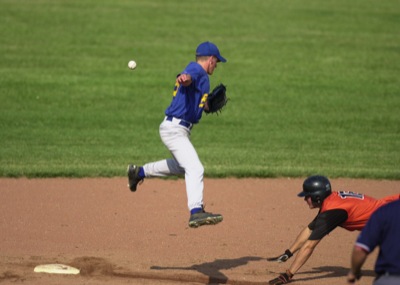 MINSTER - The 19-hour weather delay did not cool off the Coldwater Cavaliers.
After their winners' bracket semifinal with St. Marys was stopped due to lightning and rain on Wednesday, the Cavaliers returned and picked up a 7-1 over the Roughriders at the ACME district tournament at Hanover Street Park in Minster.
With the win, Coldwater advances to the winnes' bracket final on Saturday at noon against fellow Mercer County representative St. Henry. St. Marys plays an elimination game tonight against Crestview at approximately 8:30 p.m. in Minster following the conclusion of Minster's contest against Van Wert, starting at 6 p.m.
After getting shut out in the first two innings on Wednesday, Coldwater got off to a fast start on Thursday. In the bottom of the third, Tony Harlamert led off by reaching on an error, then stole second. Tyler James singled to move Harlamert to third and Ryan Geier was hit by a pitch to load the bases.
Klenke then stepped up and took four pitches to draw a walk and score Harlamert. Riley Muhlenkamp followed up with a long fly in foul territory to rightfield where Victor Long made the catch, allowing James to score. After Geier was caught stealing, Klenke scored on a wild pitch to make it 3-0 in favor of the Cavaliers.
That was all Klenke would need as he picked up the pace. After throwing 31 pitches on Wednesday, Klenke came back and found a groove, not allowing a walk until the seventh inning and striking out 10 in the game.
"We had him throwing all the time. We had a light on in the bullpen," quipped Coldwater coach Romie Schwieterman with a grin. "What people don't realize is that a pitcher throws 40 pitches warming up, not full speed, obviously, but you still get loose in the bullpen. He did it yesterday and did it today. He's a strong kid with a strong arm. He wanted it and he got it."
Coldwater added three more runs in the fourth with Geier and Muhlenkamp each collecting RBI singles. One more run came home in the fifth when Keith Schoenherr scored on the back end of a double steal with Harlamert.
St. Marys got a consolation run in the sixth. Doug Burke reached after being hit by a pitch but was retired on a fielder's choice off the bat of Hullinger, who reached first base on the play. Aaron Pfeffenberger singled to put two on for Long, who singled to left to scoring Hullinger making it 7-1.
James, Geier and Sam Slavik each had two hits to pace the Cavaliers while Muhlenkamp drove in two runs. Pfeffenberger had two hits to lead St. Marys.
Now the Cavaliers face off with the Redskins for the sixth time this summer and for the third time in the last 10 days. Given the outcomes of the past several games, ranging from a 6-5 nine-inning win by St. Henry on a hit batsmen to a Coldwater sweep in the sectional championship by a combined score of 18-15, Schwieterman is expecting the unexpected.
"Joe (St. Henry coach Joe Wourms) and I talk about this every game," said Schwieterman. "You sit there and say, 'What can this game bring that we haven't had already?' There's always a surprise.
"Who knows, it could be a 1-0, 15-inning game or it might be 27-26 game where we go for two on the extra point and get it."