Friday, July 14th, 2006
Area residents invited to join World's Largest Yard Sale
By Laura Walker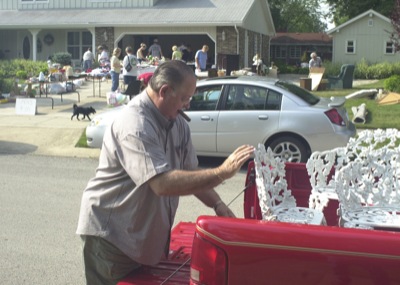 U.S. 127 may be bumper to bumper traffic Aug. 3-6, due to the World's Longest Yard Sale.
Houses and businesses along U.S. 127 are invited to participate, says Mike Niekamp. For the 110 miles of Ohio Yard Sale to be a success he says individuals need to set up sales along the route and sale goers need to be convinced to cross the Ohio River from the highly successful southern U.S. 127 Yard Sale.
The U.S. 127 Yard Sale was started 19 years ago, according to its official web site. The idea was to bring travelers from the busy Interstate System to the less traveled highways of Tennessee and Kentucky. The official sale runs from the Ohio River south to Gadsen, Ala. Next year the Ohio U.S. 127 Yard Sale plans to officially join the established southern sale for over 600 miles of yard sale.
Niekamp, local chambers of commerce and tourism bureaus have joined together to get the Ohio U.S. 127 Yard Sale off and running. Niekamp says in the past yard sale goers have stopped at Niekamp's Farm and Flea Market, rural Celina, on their way to and from the southern sale. He hopes farmers and families along U.S. 127 will clean out their attics and invite others to use their yard for a sale. If this doesn't sound good, he hopes landowners will allow cars to park in their yards.
Traffic may be slow, if the Ohio sale follows the footsteps of the southern sale. According to southern sale goer Dick Mosier, "Traffic is no big deal... It moves slow... you just take your time." In 2003, his group only traveled 20 miles the first morning! The next year they chose to start in the north and head south just covering the east side of the road. They returned completing the west side of the road the next day.
"Little towns we came through were booming," he said, "A place like North Star there could be a lot of things setting out."
He suggests going to Tennessee over northern Kentucky; but this year he plans to start in Celina and head south to Preble County. He adds he will also be going on the Lincoln Highway Buy-Way Yard Sale, Aug. 10-12.
The Lincoln Highway Buy-Way and the Ohio U.S. 127 Yard Sales make Van Wert a hot bed of bargains the first two weekends of August. In its second year the Buy-Way Sale includes collectible commemorative Buy-Way Yard Sale envelopes with a special cancellation from the post office. These will be available at Van Wert Courthouse and 39 post offices allow the sale route. The first year of the Buy-Way Sale brought over 80 group events and over 350 individual yard sales from Indiana to East Liverpool, according to the sale brochure.
Larry Lee, Van Wert Area CVB, says people who like yard sales usually share information about where to go and where they found the best deals.
Mosier says one of his best finds was a Calloway golf bag for $20. His friend, an antique dealer found some very rare bottles cheap and was able to make a nice profit with them. Mosier adds expect to see the typical yard sale stuff, tools, clothing, you name it.
Out of the ordinary yard sale items may be found in Celina, as all the local merchants will be holding special sales, says Pam Buschur, Celina Chamber of Commerce. As of press time she expects but has not confirmed sale participation with SOURCES, local churches and the Mercer County Fairgrounds.
For more information on the Aug. 3-6 Ohio U.S. 127 Yard Sale check related story on sale locations or visit www.127saleohio.com.

Local setup places:
The U.S. 127 Yard Sale will take place Aug. 3-6, specifically in the following places:
• Celina - The Parks and Recreation Department is selling sale spots in front of the old power plant and North shore Park for $10. These are 15 feet by 15 feet for a table or booth. All funds will go toward a skate park, which is in the planning stages.
• Niekamp Farm & Flea Market, rural Celina - Set up outside is free for vendors or anyone holding a yard sale. As of press time several vendors were registered, according to Niekamp.
• Winery at Versailles - According to office personnel they plan to have wine on sale and a big table with all sorts of odds and ends and one piece items at yard sale prices. "Just a lot of little goodies, you never know what might happen," they say.
• Eldora Speedway, Rossburg - Plans races as scheduled, Aug. 5, World of Outlaws Sprint and Aug. 6, Dirt Big Block Modifieds Advanced Auto Parts 100. Tickets can be purchased at the gate and camping is free. They expect clearance type deals from merchants and vendors, including Tony Stewart merchandise. Hot laps start at 6 p.m. and race time is 7:30 p.m. both days.
• Darke County Steam Threshers Association, corner of Reed Road and U.S. 127 - A minimum area of 20 feet by 40 feet will be allowed for each vendor in the fenced-in lot. A small fee will be charged and all unsold items are to be removed. The 20-acre property has restrooms, showers, ample parking, a wooded area for camping and a lunch stand. To join the over 30 booths selling their wares contact Eugene Weyrick, 937-423-0304.
Also at this location will be a hospitality camper courtesy of Poor Farmers in Fletcher. Manned by the Darke County Visitors Bureau this will serve as a cool spot, with free water, sale maps and other information. For more information call 937-548-5158.
• Van Wert - At the fairgrounds 10 feet by 10 feet space can be rented for $20, with $10 returned if spaced is cleaned upon departure. Camping is $12 a night also at the fairgrounds where they will have parking, food and restrooms. For space rental call 419-238-9270 or email vwfair@bright.net.
• City of Greenville - City Council waived the limit of one yard sale per month, one sign per yard sale and the need to register your sale for the U.S. 127 Yard Sale days. To be put on the sale map call 937-548-5158 or e-mail info@visitdarkecounty.org.
For more information on any of these items contact the corresponding visitor's bureau.

Secrets of the sale:
Yard sale secrets can help your selling be profitable and fun.
• Be sure to have plenty of change and be ready to bargain.
• Clean and repair the items you will be selling. Pump up old sports balls. Put new batteries in any electronic gadgets. Dust away cobwebs and dirt. The better condition your merchandise is in, the more money you'll get.
• Flip carefully through the pages of your used books. You don't want to leave pictures or personal items in them at sale time.
• If you have a few individual pieces of a larger set (for instance, one or two plates of china), display them proudly. Dealers and collectors will often pay a nice price for such items.
• If your vegetable garden or fruit tree is bursting with extra produce, consider selling it at your yard sale (e.g., "3 lemons for a dollar"). This is a great way to get rid of excess fruits and vegetables you won't be able to eat anyway.
• If your area is making a map of yard sales, make sure your sale is on it. Display signs on both sides of U.S. 127 before and after your sale. Drive by your signs to make sure they're easy to read.
• Have two or three reliable tape measures/yardsticks on hand. People often like to measure furniture or other items to make sure they will fit in a particular space.
• Check the location and times of other garage sales near your home. Direct customers to those sales after they're done shopping at yours - and suggest that they tell people about your sale.
• Price each item individually. This will keep you from having to answer the question, "How much is this thing?" every 10 seconds.
• Decide beforehand who will set the prices - a mother-in-law once sold several trinkets for 50 cents each, even though they were priced at $6.
• Place current advertisements next to some of the used merchandise you're selling. When somebody sees that the used roller blades you are offering for $30 would cost them $250 new, they'll feel like they're getting a bargain.
• Make sure that your garage is well lit, especially if you are displaying or selling items in your actual garage (as opposed to your driveway or lawn).
• Keep careful records of all items sold (and money collected) during a multi-family sale. After a successful sale, the last thing you need is bickering - and potential hard feelings - between the families.
This information was compiled from the U.S. 127 Yard Sale site and www.bestgaragesalesecrets.com.