Thursday, July 27th, 2006
Tackling the heat
By Shelley Grieshop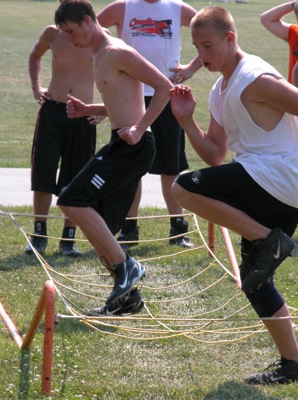 It's July and festival season is in full swing.
But so are the dog days of summer when the glaring sun and high humidity can cause health problems if precautions aren't taken. Temperatures this weekend are expected to stay in the upper 80s with the possibility of high humidity.
Sally Bowman, nursing director for the Mercer County-Celina City Health Department, reminds the public to stay hydrated when enjoying the great outdoors.
"Drink plenty of water but stay away from sugary drinks," she said.
Sodas, fruit juices and other drinks containing sugar prevent the body from absorbing fluids rapidly, she explains. Other choices like sports drinks such as Gatorade are fine, but plain water is really best, she added.
Alcohol also should be avoided when activities take place in the sun because it dehydrates the body, Bowman said.
Too much sun and hot temperatures can quickly lead to heat exhaustion or heat stroke. Symptoms of both can include weakness, fatigue, dizziness, nausea and body cramps. People who don't get treatment quickly can lose consciousness and/or die.
Festivals, picnics and afternoons on Grand Lake aren't the only activities going on outside these days. Student athletes are currently conditioning for fall sports such as football, soccer and cross country, and that can mean long hours in the sun, performing strenuous exercises.
St. Marys Memorial High School Athletic Director Jason Alexander said each year coaches are instructed on what signs to look for to prevent overheating their athletes.
"It's about being alert and looking for symptoms," he said. "We tell them to keep an eye out for kids who start getting googly and glassy-eyed, and pull them out."
A certified athletic trainer advises the coaches before the beginning of each season on how to avoid health problems, Alexander said. The coaches themselves are trained in CPR techniques and general first aid, he added.
Coaches also are instructed to avoid summer practices during mid-day and to give their players frequent water breaks. A mist machine is available on the practice field for Roughrider football players.
Bowman says all outside physical activities, including lawn mowing and jogging should be scheduled in the early morning or late evening to avoid the hottest time of the day. Loose clothing is suggested.
Although many people have air-conditioned homes these days, those who don't can help keep temperatures lower inside by closing blinds and preventing the sun's rays from warming the house. Fans can be valuable for circulating the air and providing a slight breeze indoors.
Bowman also said time outside should be limited for young children and senior citizens who are the most susceptible to health problems from the heat.
"People with chronic health problems that affect the lungs and heart need to be more careful," she explained.
Also, patients taking certain medications should avoid the sun altogether, she said.
"The best advice is to limit your exposure if you can during those really hot days," Bowman said.

Surviving the heat:
• Slow down, avoid strenuous activity
• Avoid areas without shade
• Stay indoors during the hours of 11 a.m. and 3 p.m., on the lowest floor out of a home or building
• Dress in lightweight, loose-fitting, light-colored clothing that covers as much of your skin as possible to avoid sunburn
• Drink plenty of fluids even if you don't feel thirsty
• Never leave children or pets alone in closed vehicles
- Source: Ohio Committee for Severe Weather Awareness