Thursday, August 3rd, 2006
Making something from nothing in the kitchen
By Shelley Grieshop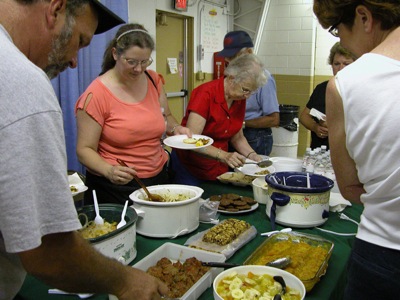 WAPAKONETA - It's too hot to cook and everyone's sick of the sight of mushy leftovers pulled from the microwave.
What else is there?
"I don't know if your family is like ours, but we seem to eat the same thing all the time," Lois Clark told a crowd of people gathered at the Junior Fair building Wednesday during the Auglaize County Fair.
Clark, an adviser for the Auglaize County Homemakers, was helping give a presentation on "Creativity with Foods," to guide families on how to make leftovers and easy meals welcome in their home.
Clark offered a suggestion that her own family used this summer: Their favorite meals were written down on slips of paper and placed in a container. Then, once a week, they drew enough meal ideas to plan a weeklong menu and everyone was happy with the variety.
"You just have to learn to use your imagination. You can usually use what you have in your cupboard and refrigerator to fit your own family's busy schedule," she said.
Simple, right? Well, it must be. Several women in the crowd came forward to share recipes they make with common ingredients or from leftovers. Several of the meal ideas were crockpot recipes - a great idea for those hot days in August when turning on the oven is out of the question.
Evelyn Reinhart, 75, told The Daily Standard she is good at making "stone soup" - using "what I have on hand first before going to the grocery store."
"I used to do that all the time when I was raising my family, I still do," she says.
When asked what her favorite dish to prepare is, her grandson, Weston Hirschfeld of New Bremen, chimed in "noodles!"
"If I don't fix my noodles for them, they think something's wrong with grandma," Reinhart says, hugging her young grandson.
The crafty homemakers club gave four presentations on Wednesday, including one on dog training by Gill's Police Canine Academy, safe driving tips by the Ohio State Highway Patrol and a services awareness program for the elderly.
During the food session, numerous handouts were distributed with recipes and tips on everything from how to freeze foods to planning shopping lists for the grocery. The helpful advice tells how to quickly turn bread into French toast or bread pudding, turkey into wraps and vegetables into an easy quiche.
To make the sound of "leftovers" more attractive, the group dubbed them "plannedovers" instead.
"Now doesn't that sound much better?" Clark asked, getting an agreeable nod from the audience.

Chicken and rice:
Cooks can take a break from the oven and turn a few staple ingredients into a hearty meal by using a crockpot:
Chicken and rice casserole
1 can cream of celery soup
1 can mushrooms, with liquid
1/2 c. Uncle Ben's converted long grain white rice
2 c. chicken breast, cooked and cubed
1 tbsp. dry onion soup mix
Combine soup, mushrooms and rice in greased crock pot. Place chicken on top. Sprinkle with onion soup mix. Cover and cook on low for 4-6 hours.