Thursday, August 3rd, 2006
Grand Lake pulls upset over Columbus
By Ryan Hines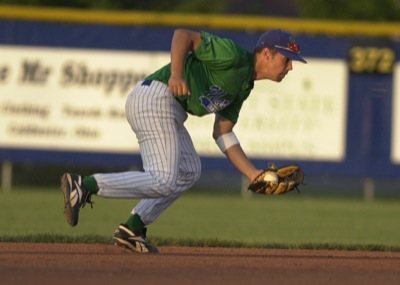 The Columbus All-Americans were unhappy with the Great Lakes Summer Collegiate League tournament bracket prior to its start, and after the opening game, their opinion of the postseason pairings isn't likely to change.
Columbus won the regular-season crown, but Grand Lake handed the All-Americans a 7-6 loss in the GLSCL tourney opening day at Jim Hoess Field on Wednesday night.
Grand Lake, which finished with the sixth-best record during the regular season, now plays Southern Ohio at 4 p.m. today while Columbus will try to battle out of the loser's bracket taking on Delaware at 1 p.m. Southern Ohio defeated Delaware, 11-8 in the first of two games in the Grand Lake bracket played at Jim Hoess Field.
Columbus voiced its displeasure with having to play a lower-seeded team on their home field, but due to a business decision voted on months ago during an owners meeting, the All-Americans dispute went unheard.
"I have no comments on their thoughts on the situation. If I was in their shoes, maybe I would be upset too, but the fact of the matter is that this was voted on months ago," said Grand Lake first-year manager Scott French. "It's a sore subject with them and they voiced their opinion, but it was upheld and we just came here to play baseball."
The All-Americans didn't play like a team that warranted the top seed committing three errors which helped lead to five unearned runs and a Mariners victory.
Sloppy play wasn't limited to just Columbus, but a five-run seventh inning helped Grand Lake overcome three errors of its own.
"This was a sloppy game at times on both sides and that is uncharacteristic of these two teams," pointed out French, pointing to the six total errors combined by the two teams. "There were a lot of ups and downs for both teams in this game."
Columbus turned to Lou Laslo Pitcher of the Year Mark Sorensen to get the tourney off on the right foot, but Sorensen was chased after 6 2/3 innings with the All-Americans nursing a 4-3 lead.
Sorensen, who was 6-0 with a 1.71 ERA in the regular season, left the mound with the bases loaded turning the ball over to fellow first-team All-GLSCL representative Ryan Mullins.
Mullins, who was 7-1 with a 1.14 ERA in the regular season, came on and walked Dock Doyle and David Doss to force home the game-tying and go-ahead runs.
"We've been hurt this season by walks by our staff, but it was nice to see us battle and take advantage of those walks for runs tonight," said French.
Columbus made another pitching change but Grand Lake scored two more runs on the third All-American error of the inning pushing the Mariners' lead to 7-4. In all, Grand Lake scored five runs on just one hit in the inning while Columbus pitching walked four in the frame with a hit batsman.
Doss, who came on in relief of an ineffective Chris Kupillas, worked four innings to get the win giving up two unearned runs on five hits with with six strikeouts.
"Chris had a rough outing but David Doss kept us in the game and did a great job," lauded French. "He's a true baseball player with an old-school mentality. "He throws pitches from different angles and the best way to describe him on the mound would be to say that he's sneaky."
The two unearned runs off of Doss came on three Grand Lake errors and clipped the Mariners' lead to a single run.
A one-run lead against the top-hitting team in the GLSCL was good enough for Grand Lake standout Kyle Heyne.
Heyne, who was snubbed from first-team All-GLSCL honors as a second-team selection, worked 2 1/3 shutout innings to earn a save.
Derek Martin and Doyle each had a pair of hits to pace Grand Lake's nine-hit attack while Kevin Cislo and Dusty Hammond contributed two runs scored apiece.
J.B. Shuck, Jacob Howell and Hayden Johnston each had three hits with Shuck, the Gary Henschen GLSCL Player of the Year, driving home a pair.
It was a rare rough outing for Kupillas, who threw just 2 2/3 innings allowing four runs on five hits with five walks and three hit batsmen.