Thursday, August 24th, 2006
Panel: Grand Lake needs help
By Nancy Allen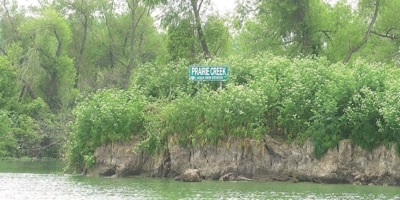 Most of the nutrients entering Grand Lake come from the largest land use in the 71,862- acre watershed - farmland.
But there a multitude of facets to the lake's water quality problems rather than just agriculture, panel members agreed at Wednesday's lake summit, including an explosion of development on the lake that has put the bright green pool under more scrutiny and a lack of funds for shoreline erosion controls and dredging.
Amidst armed sheriff's deputies there for crowd control, about 200 people gathered peacefully Wednesday at Wright State University-Lake Campus to hear this information and lots more during a three-hour summit on a hot topic, Grand Lake. The event was sponsored by State Rep. Keith Faber, R-Celina, and Mercer County Commissioners.
The crowd included representatives from the business and farming communities, as well as various state and local officials.
"I have investigated a number of pollution events and have been able to see where the nutrient load is coming from," said Rick Wilson of the Ohio EPA. "The data show very increased nutrient loading during runoff ... phosphorus, nitrogen and potassium... from the predominant land use in the area, agriculture."
The summit covered a wide range of information, from the construction of the 13,500-acre lake from swamp land in the 1830s and '40s to feed the Miami & Erie canal, to its present day use of drinking water for the city of Celina and recreation.
Though there are numerous, voluntary management practices and government-funded programs that farmers can follow and/or use to lessen this influx of nutrients during flow events, more money is needed in these programs to make it financially worthwhile for farmers to use them, said panel members representing the agriculture community.
Rick Muhlenkamp, chairman of the Mercer Soil and Water Conservation District board of supervisors, said more money should be put in programs that help farmers implement best management practices. He noted that just a handful of farmers who applied for funds that pay part of the cost to install manure storage facilities were actually approved for any funds.
"There are always many more applicants than funds available," he said.
Folks living around the lake on manmade channels need to pay more attention to what they are putting on their lawns, because it is going to end up in their channels, said Lake Campus biology professor Dr. Robert Hiskey.
"What draws people to this lake and the area is the water itself," said panel member Greg Schumm, associate dean of the Lake Campus. "There are so many variables that affect this lake and so many priorities."
A panel of 13 state and local officials with a common goal of improved lake water quality answered questions posed to them by moderator Chris Gibbs, executive director of the Mercer County Farm Service Agency. Gibbs also took written questions from the crowd via index cards.
Grand Lake St. Marys State Park Manager Craig Morton said a great deal of the lake's 52 miles of shoreline is unprotected, which results in bank erosion. Some of the islands in the lake have all but washed away due to wave and wind action over the nine-mile wide lake, he said.
More dredging would help too, he said, but funds are always a limiting factor.
Todd Haines of ODNR's Division of Wildlife said fishing in the lake has not been good in recent years due to low hatch rates that could be attributed to poor water quality.
Excess nutrients in the lake feed the blue-green algae, which blooms and gives the lake its characteristic green color. When the algae dies, it depletes the water of oxygen for fish and other aquatic life.
"Fish like good cover, a deeper lake with low to medium load of nutrients and plant life cover," Haines said.
Haines and other panel members noted there are not the lily pads and cattails found on the lake like there used to be in years past. The absence of such water plants is an indicator of poor water quality, he said.
This morning, Mercer County Commissioner Jim Zehringer said once all the information from the summit has been gathered, it will be put out for the public to see on the commissioners Web site.
"The next step is that we are going to sit down with our watershed coordinator and go over the issues brought up and see if we can resolve some and decide what would work best for the county and lake," he said.
Numerous questions that were not able to be presented to the panel during the three-hour summit will be forwarded to the panel members and their answers posted on Faber's Web site or the Mercer County Commissioners Web site.