Tuesday, August 29th, 2006
Storm winds cause local damage
By Shelley Grieshop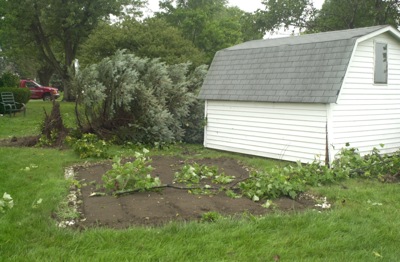 Damage was reported Monday night in rural St. Henry and in the village of New Knoxville after a slow-moving storm brought high winds and dumped several inches of rain throughout the Grand Lake area.
Sirens sounded in six Mercer County communities Monday night as cloud rotations threatened to produce tornadoes, said Monte Diegel, county 911 coordinator.
"St. Henry had (weather) spotters out and they were advised by the National Weather Service (NWS) to keep an eye on some unstable rotations they spotted on their radar," he explained.
The NWS called the sheriff's office about 9:15 p.m. to report the detected activity on radar. Sirens were subsequently activated in most communities from Celina south to Darke County, Diegel said.
Shingles were reportedly ripped from a rural St. Henry home along Fort Recovery-Minster Road and a nearby cornfield also suffered wind damage during the peak of the storm. No injuries were reported.
NWS officials did not issue tornado warnings for Auglaize County, however, substantial damage was reported on the southern edge of New Knoxville due to high winds. Investigators from the NWS promised to visit the area this morning to help make a determination on what type of weather condition, such as tornado or micro burst wind activity, struck the small village.
Emergency Management Agency (EMA) Director Troy Anderson told The Daily Standard this morning he used night vision goggles to examine the damage Monday night near the village park and along Hoge Street. Damage was noted to trees, large limbs, playground equipment and picket fences, he said. Tin was ripped off at least one building and roof damage was noted in the area, he added.
"The residents there said their homes shook for about 15 to 30 seconds when the damage occurred," Anderson said.
Other places in the village remained unscathed, he added. Fortunately, no one was injured, he said.
The only wind measurement available from officials today was a 38 mph reading obtained last night from the Neil Armstrong Airport near New Knoxville.
Other portions of Ohio also saw storm activity including unconfirmed reports of a tornado in Pickaway County, about 40 miles south of Columbus. The preseason Monday night football game between the Cincinnati Bengals and the Green Bay Packers was delayed for 40 minutes due to heavy rain and lightning, according to the Associated Press.
Rain amounts varied greatly across the Grand Lake region as the storm moved through the area. The NWS reported 2.18 inches fell in the St. Marys area overnight. At the EMA office in Mercer County, rain measured 2.91 inches from Monday morning until early today, however, rainfall since Saturday totaled about four inches, EMA Deputy Director Mike Robbins said.
Local weather forecaster Dennis Howick said the Grand Lake area received 2.22 inches of rain since Monday morning. The average rainfall for the entire month of August is 2.41 inches, Howick said. Following a chance of isolated showers today, highs will remain in the upper 70s for the rest of the week with no rain in sight, he added.