Wednesday, August 30th, 2006
Redskins roll past Bulldogs in three
By Ryan Hines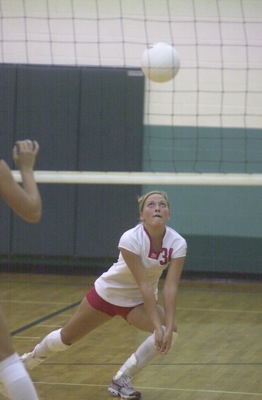 It was the first game of the season for the Celina volleyball team and it looked like the first game of the season for the Bulldogs.
St. Henry, playing in its fourth game already this year, traveled to the Intermediate School to play Celina and former Redskins head coach De De Stoner and left with a three-game victory. The Redskins took control late in game one to win 25-19, edged the Bulldogs 26-24 in the second game and again made the clutch plays late in the third game for a 25-19 decision.
No doubt it was a difficult game for Stoner to coach as the legendary mentor spent 20 years coaching the Redskins to five state titles before helping out Celina this season on a one-year commitment.
"With this game being against St. Henry, it's tough, and I think that it brought a lot on to this game and it was difficult. I wanted to puke all day long," joked Stoner. "It's not that I'm afraid to play St. Henry. I just didn't want to play this match because I spent 20 years coaching them and then 30 years teaching and I'm still teaching there, so that made it a difficult situation for me."
The emotional ties were tough enough but St. Henry is one of the more respected programs in the state and they played like it for a majority of the three games on Tuesday.
"I thought that we did a great job of capturing momentum and each time that they got on a roll we didn't let it get out of control," said Schwieterman. "I think that having already played three games before this one really helped us out."
The Redskins looked like a team that was running smoothly after a 1-2 start over the weekend, while the Bulldogs struggled to find consistency in their season opener.
St. Henry jumped out to a 10-3 lead in game one, but the Bulldogs came roaring back to tie the game on four separate occasions 13, 16, 18 and 19. After tying the game for the last time at 19-19, St. Henry's Kenzie Westgerdes stepped behind the service line and ripped off six straight points for a Redskins victory. Celina made four errors (net, rotation, serve receive and hitting) to aid in the game one conclusion for St. Henry.
Game two was a back-and-forth affair that saw neither team grab a lead larger than four points with eight lead changes. Celina led 24-22 following a kill from Betsy Hone, but then it was Hone that gave the lead and the win to the Redskins. A hitting error by Cenzie Yoder dropped the Bulldogs' lead to one point and that was followed by three straight Hone errors giving St. Henry the victory.
"We worked our tails off yesterday in practice because we knew that she (Hone) could put the ball in any hole that we left," said Schwieterman. "We worked on that really hard last night and I credit our blockers and the rest of our defense for taking her shots away from her."
"It boiled down to we made mistakes and they didn't make mistakes," said Stoner. "They won the match by not making mistakes and making plays when they had to."
The game two finish carried over into the Bulldogs' play early in game three as St. Henry got off to another quick start and led 10-5. Celina did rally to tie the game at 11, 12 and 19 but once again the Redskins pulled away late.
Tied at 19-19, back-to-back St. Henry kills from Chelsey Kremer and Shelby Buschur gave the Redskins an advantage before three straight Celina errors gave the visitors a strong cushion at game point, 24-19. Bethany Puthoff ended the match with a kill.
"We won our first match of the year and then lost two matches that we thought we should have won, so our focus was just to play to our capabilities against a very good Celina team," said Schwieterman. "De De will improve that team and they'll win a lot of games before this year is done."
Stoner knows that the season-opener against St. Henry is a tough task and that there's plenty of room for improvement for the Bulldogs.
"I thought that we would be much more aggressive than what we were tonight, I thought we would block better and I thought there were a lot of things that I thought we would have done better tonight, but we didn't," admitted Stoner. "I guess that just means that we have something to work on the rest of the season. It was our first game and there were some jitters on our side."