Saturday, September 9th, 2006
Bulldogs post first victory in impressive style
By Ryan Hines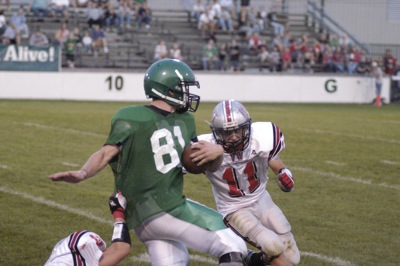 There were nothing but smiles for those wearing Green and White outside of Celina Stadium after Friday night's game against Van Wert.
Celina's offense put up 429 yards and the defense pitched a shutout in a 32-0 dismantling of the Cougars in Western Buckeye League action as Bulldogs head coach Jerry Harris picks up his first win in his second tenure with the team.
"It was a small step forward for us," said Harris. "We did some things well tonight that we hadn't done well the past couple of weeks. It was a step in the right direction. We're certainly happy to come away with our first win of the year, but like I told the kids, we beat a team that was undermanned tonight because of injuries.
"We'll all go home and sleep better because we got a win and watching films in the morning should be more fun than it has been the first two weeks," added Harris.
Celina had a balanced offensive attack as sophomore quarterback Derek Gagle had his best day as a Bulldogs passer completing 12-of-23 for 230 yards and three touchdowns with no interceptions.
Matt Paulus and Stu Amstutz were Gagle's favorite targets pulling in a combined nine receptions for 210 yards and three scores. Paulus had a team-best five grabs for 98 yards while Amstutz added four catches for 112 yards.
Paulus and Amstutz each had big plays for touchdowns to put the game out of reach for the Bulldogs.
On Celina's first possession of the second half, Gagle stood in the pocket with great protection from the offensive line and fired a strike to Amstutz on a slant pattern and the senior wideout shook loose from one tackle and sprinted for a 65-yard touchdown reception to put Celina on top 20-0. It was the second TD reception of the game by Amstutz, who put the Bulldogs ahead 8-0 in the first quarter with a six-yard reception for a score.
On the second possession of the second half for the Bulldogs, it was Paulus' turn to make a big play. Gagle turned and threw a quick bubble-screen pass to Paulus near the sideline and the senior wideout slipped a tackle attempt by Van Wert and streaked down the sidelines for a 73-yard scoring pass play.
"We didn't sustain a strong enough effort for four quarters to beat anybody tonight," said Van Wert head coach Hood. "Celina got up early with field position on us and then never looked back. When they scored those two long touchdowns in the third quarter that pretty much buried us. We have to make teams earn their scores and on those two long pass plays, we didn't make them earn it."
The Bulldogs' running game amassed 195 yards and added scoring runs on two occasions.
Scott Felver, who finished tied for the team lead in rushing during the game with Gagle, ran for 48 yards and scored from four yards out in the second quarter to give Celina a comfortable 14-0 advantage.
Backup halfback Josh Hedge wrapped up the scoring for Celina with a three-yard plunge for six points in the fourth quarter to put the Bulldogs on top, 32-0.
The Bulldogs' defense stood tall for the second straight week allowing Van Wert just 132 yards of total offense, including just 51 on the ground in 34 attempts. Celina also added a pair of interceptions by A.J. Mast and Kane Swaney.
"We couldn't win the battle at the line of scrimmage on either side of the ball very consistently," said Hood. "When that's the case, you're going to struggle."
Celina (1-2, 1-1 WBL) will look to make it two wins in a row on Friday hosting WBL contender Lima Shawnee while Van Wert (1-2, 0-2 WBL) returns home to host Defiance.