Friday, September 22nd, 2006
Redskins slip past Cavs in four
By Todd Henkle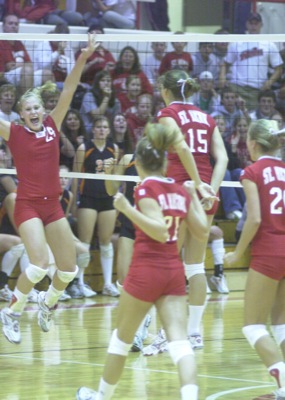 ST. HENRY - Thursday night's match pairing up St. Henry and Coldwater once again proved that you better bring you're A-game every night that your up against a Midwest Athletic Conference opponent.
The Redskins had just enough of their A-game going to beat the Lady Cavs in four games - 25-22, 25-23, 22-25 and 27-25 - at the Middle School Gym in St. Henry.
This match was not a deciding factor in the race for the MAC championship, but a measure of how these teams are preparing for postseason play.
"Right know that is what we are looking at, we don't have a shot at the MAC, and every time we talk about the season, we talk about the end of the season and where do we want to go," stated Coldwater coach Mandy Diller.
"This was a crucial game for the rest of our season, to get our momentum and confidence back," said St. Henry coach Lori Schwieterman.
Game one started out going Coldwater's way with Karla Niekamp posting seven kills to push the Lady Cavs to a 13-6 lead. However, St. Henry kept enough momentum with Bethany Puthoff posting four kills, to put the 'Skins back into the game tied with the Cavaliers at 18-18.
Both teams traded points to 22-22 until Betsy Hoying got a kill followed by a Janel Bruns ace and then the final kill came from the hand of Hoying to finish game one.
Game two was a virtual reversal of game one. The 'Skins pushed their lead to 13-9 off a balanced attack of Redskin kills. With the score knotted at 20-20, Chelsey Kremer put away two kills, however, Niekamp and Bruns countered with kills of their own to push the score to 23-23.
With another Hoying kill and an untouched downball from St. Henry, Coldwater watched game two also slip from its grasp.
The Lady Cavs showed why the MAC is so tough by coming out and posting a 22-15 lead. St. Henry would not go away and moved within a point as the scoreboard showed 22-21. After a Coldwater timeout, a Niekamp kill and a Lindsay Bruns solo block swung the score in favor of the Cavs, 24-21 before Bruns sealed game three with the final kill.
Game four promised to give the fans an edge-of-your-seat game, and that's what they got.
From the early score of 11-9, there was never more than a two-point differential in the score. With a Puthoff kill to set the score at 25-25, Coldwater sealed its own fate with a ball-handling error and a hitting error to allow the Redskins to take the match
"The girls came in and played hard tonight," said Diller. "I really think we're going to pull one off and that's going to give us that edge (going into tournament)."
Schwieterman felt her team's success came from keeping their offense up-tempo.
"We tried to stay aggressive, go as quick that we possibly could," said Schwieterman. "And if we eliminated some of our unforced errors that we had a good chance to win."
With the win, St. Henry's record goes to 8-7 overall and 3-2 in the MAC while the Redskins are off until next Thursday's match against New Knoxville. The Cavaliers record moves to 6-5 on the season and 0-4 in the MAC. The Cavs are at the Lima Shawnee Invite this Saturday.
The St. Henry junior varsity defeated Coldwater in 2 games.